Item number: 60002525
Caruso Fire Bowl
You save 18%
Unfortunately, no articles are currently available
Top features
Special atmosphere: 58 cm diameter fire bowl made of heat-resistant, powder-coated steel
Doubly practical: romantic fireplace and high-quality stainless steel grill in one
Decorative: elegant black design blends in with every ambience
Shipping costs: from 0,00 €
The item is ready to ship and will be shipped immediately after receipt of payment.
Caruso Fire Bowl Ø58cm | Ø55cm Grill Weather Protection Cover Steel Black
Text für Setartikel..
With the Blumfeldt Caruso 2-in-1 fire bowl, enjoy the special atmosphere of an open fire with the practical advantages of a high-quality grill.
With a bowl diameter of 58 cm, the Blumfeldt Caruso fire bowl offers enough space for a large campfire made of logs, charcoal or barbecue briquettes. The three extra-long legs provide an ideal working height and skilfully lift the shell in to the spotlight, giving the flickering flames even more focus. The Horiflex Swivel Grill - a removable swiveling grill grate made of stainless steel with a diameter of 64 cm - makes it easy for family, friends and guests to enjoy socialising around the fire bowl. In addition to two convenient carrying handles for easy moving, the Blumfeldt Caruso comes with a handy cutting board for side mounting, 5 hangers for various grilling accessories, and a catch tray for accumulating ash.
Whether with or without flickering flames: the Blumfeldt Caruso 2-in-1 fire bowl creates a special atmosphere of pleasant warmth in the garden, in the yard or on the terrace. Made of fireproof stainless steel, the fire bowl not only has a rustic charm, but is also particularly robust and insensitive to weathering. The protective powder coating on the legs also gives it an attractive look in simple black. For protection against wind and weather, as well as for keeping the fire bowl outside during the winter months, the set features a tear-proof and weatherproof cover made of 600D nylon.
For culinary delights and romantic moments: the Blumfeldt Caruso 2-in-1 fire bowl provides a cosy crackling atmosphere and sociable cooking pleasure.
Please note that the fire bowl is supplied as a mounting kit. The assembly can be accomplished in about 20 minutes, depending on the level of technical skill.
Set consists of
Caruso 2-in-1 Fire Bowl Ø58cm Swivel Function Ø55cm Grill Black
Item number: 10033384
Included quantity: 1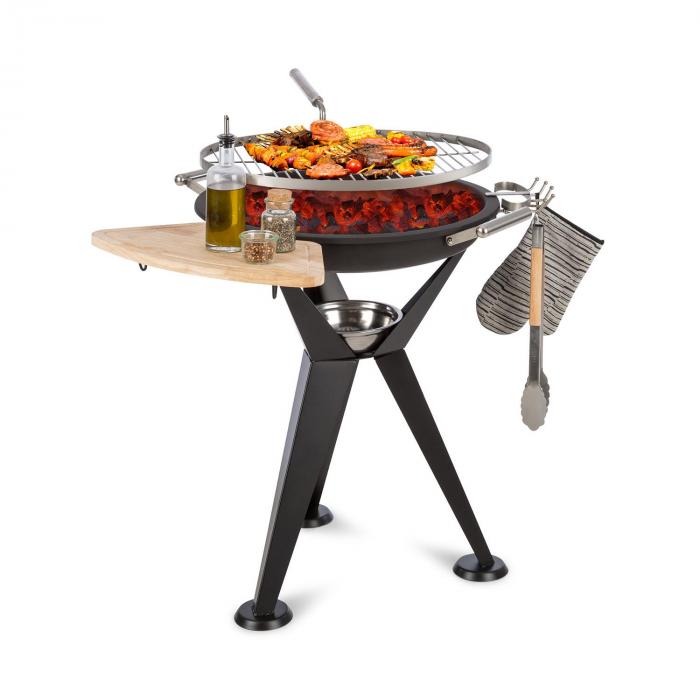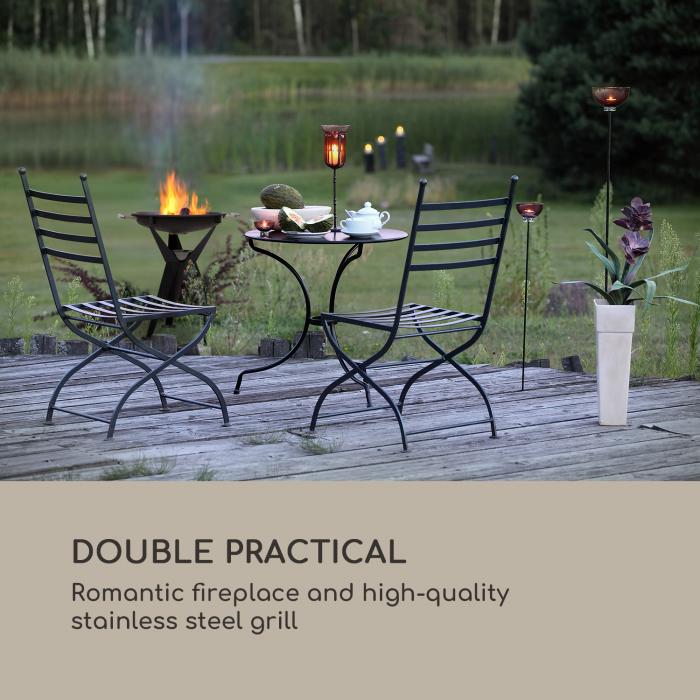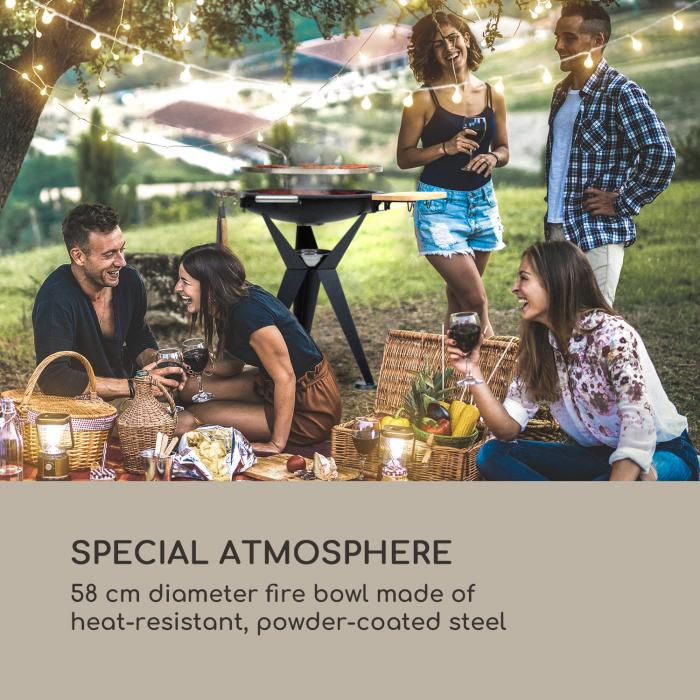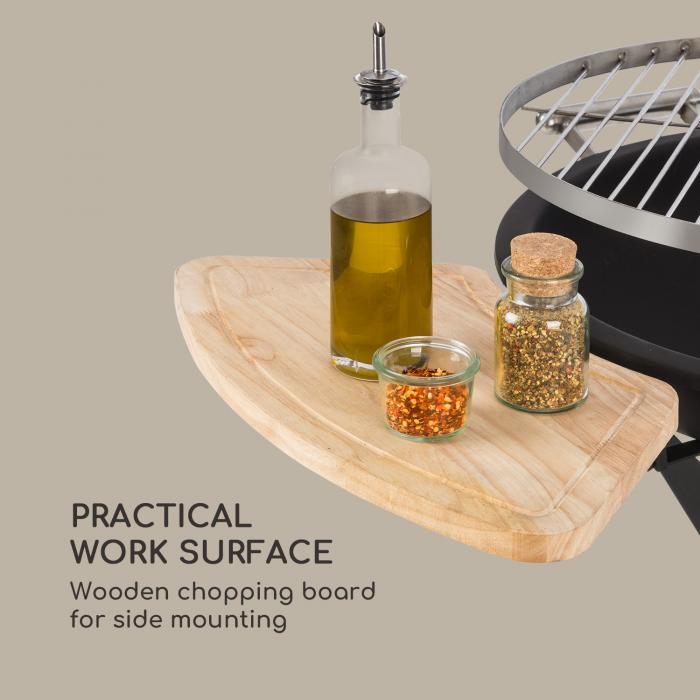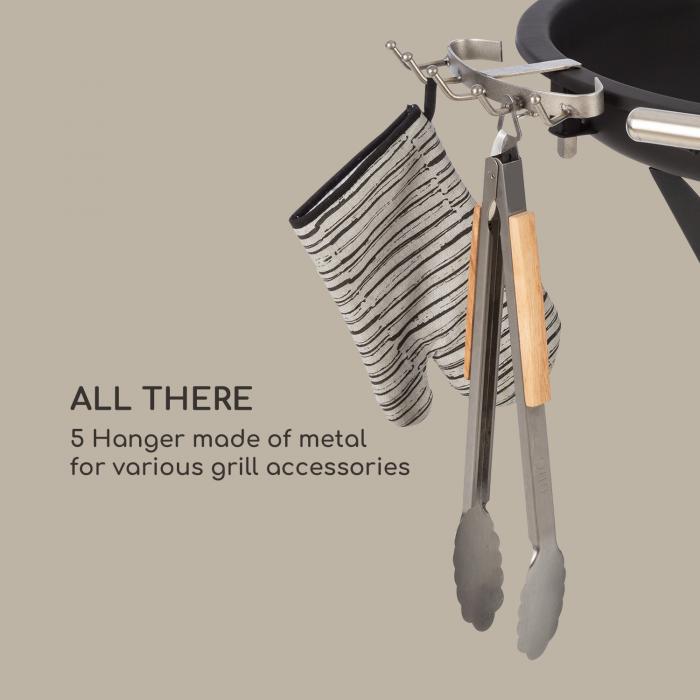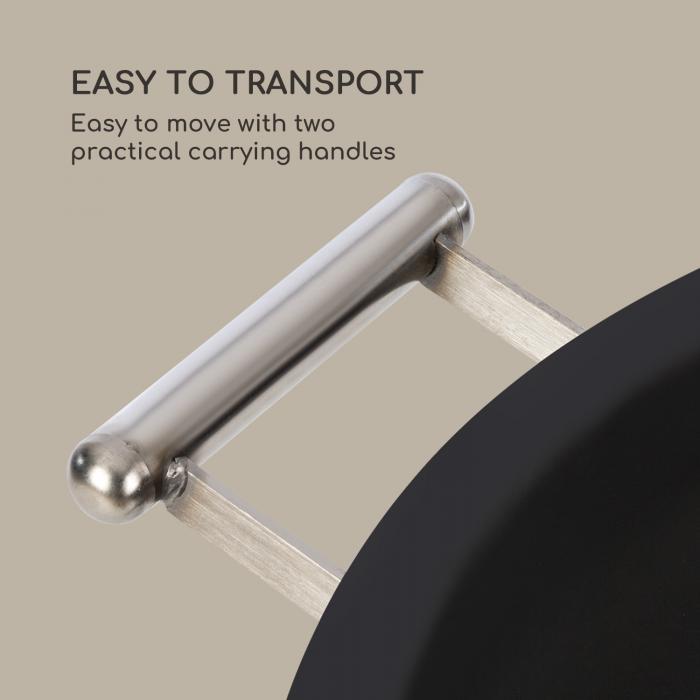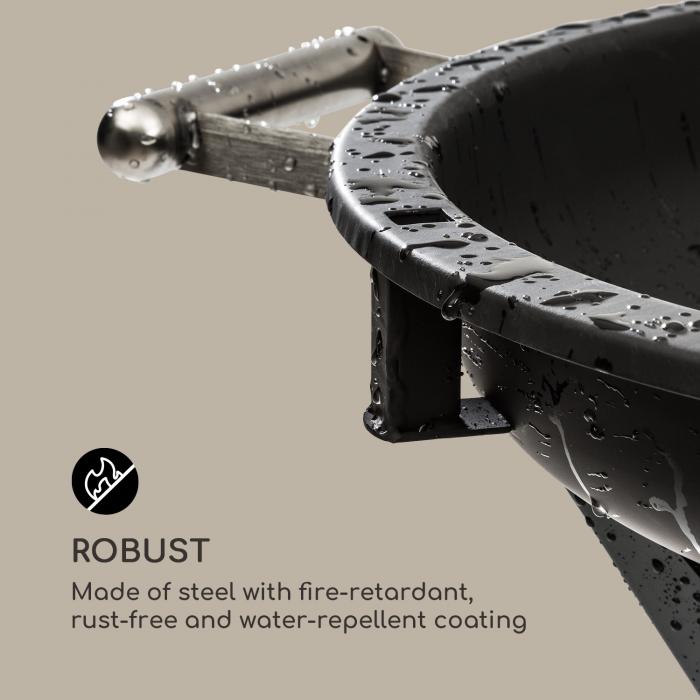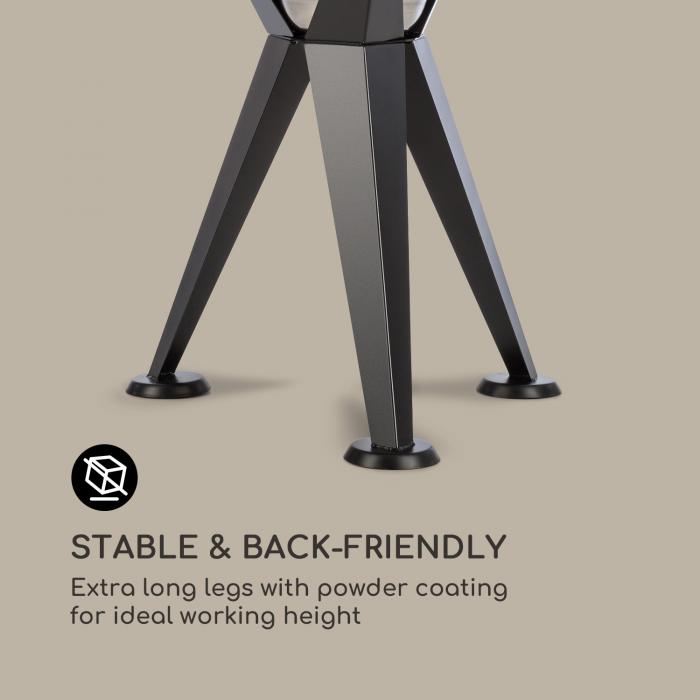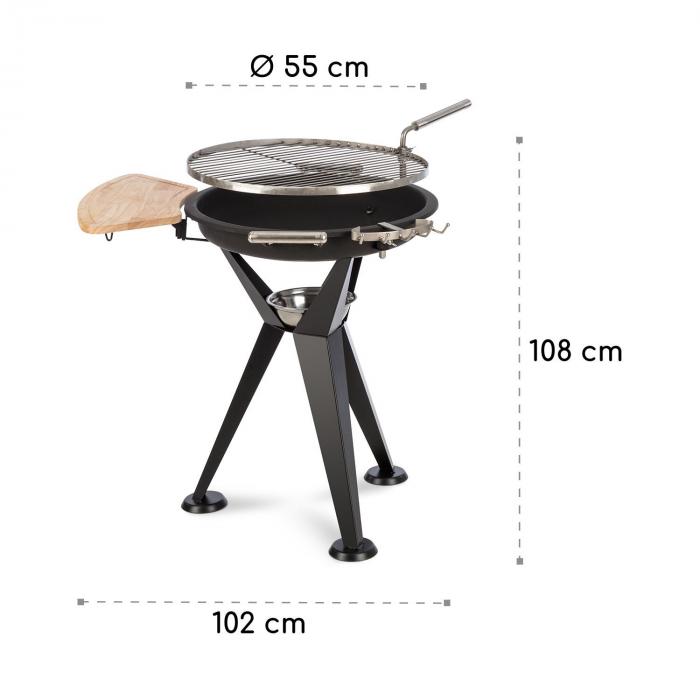 Top features:
Special atmosphere: 58 cm diameter fire bowl made of heat-resistant, powder-coated steel
Doubly practical: romantic fireplace and high-quality stainless steel grill in one
Decorative: elegant black design blends in with every ambience
Practical work surface: wooden cutting board for lateral attachment
Everything included: 5 metal hangers for various grill accessories
Easy to transport: easy to move with two convenient carrying handles
Robust: made of steel with fire-resistant rust-free coating
Stable & back-friendly: extra-long legs with powder coating for ideal working height
Properties:
For use with charcoal, logs or barbecue briquettes
Includes cutting board, 5 hangers for accessories and ash container
Safe and stable
Heat-resistant paint
Elegant black look
Rain cover with article number 10033388 optionally available
Dimensions:
Dimensions: 81 x 108.5 x 102 cm (WxHxD)
Grill grid diameter: 55 cm
Weight: about 11 kg
Caruso Weather Protection Nylon 600D Waterproof Black
Item number: 10033388
Included quantity: 1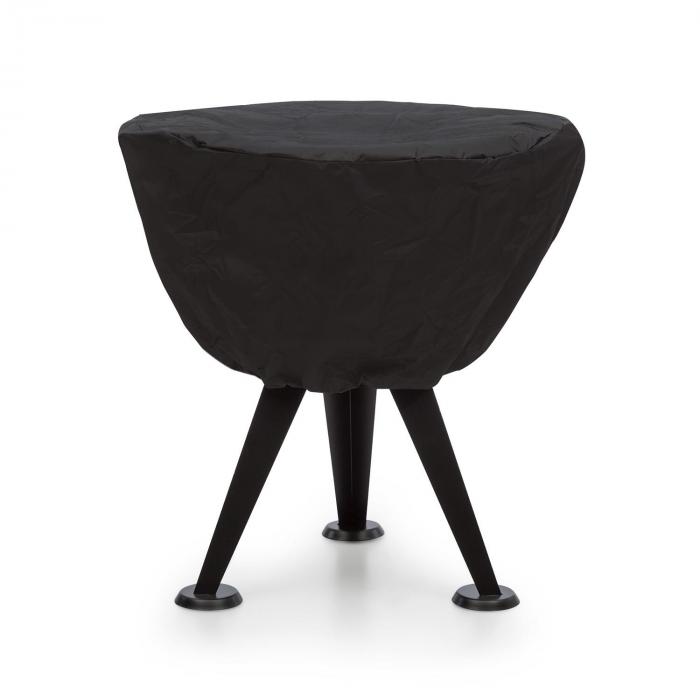 Top features:
Perfect fit: weather protection for the Caruso 2-in-1 fire bowl
Robust material: tear and waterproof nylon 600D
Easy cleaning: washable surface
Comfortable and space-saving: no tedious clearing, no large space requirement in the garage, basement or shed
Properties:
Suitable for the Blumfeldt Caruso 2-in-1 fire bowl (article 10033384)
Material: nylon 600D
Washability: hand wash
Elastic waistband
Colour: black
Dimensions:
Ø: ca. 68 cm
Weight: ca. 0.4 kg
Caruso Fire Bowl
Special atmosphere: 58 cm diameter fire bowl made of heat-resistant, powder-coated steel
Doubly practical: romantic fireplace and high-quality stainless steel grill in one
Decorative: elegant black design blends in with every ambience