Item number: 60000514
Platin Line 100 Car HiFi Set
Unfortunately, no articles are currently available
Car HiFi 'Platin Line 100' Subwoofer Amplifier 1200W Set
Text für Setartikel..
The 'Platin Line 100' first came into beingin a secret station for bass research with the purpose of beating the weaksound of modern car audio systems. The developers planted a powerful 10"(25cm) subwoofer into the Auna bass speaker's chassis to deliver 600W ofoutput. A built-in LED light effect makes it clear just where all the sound iscoming from.
The bass station is backed by a powerful1200W from the Auna amplifier. Due to its immense the strength the subwooferhad to be put behind bars as a precaution!
With the cabling already supplied you canstart fitting the set into your car straight out of the box. Get a sense fordrive and dynamics and fix those dull beats with the adjustable high and lowpass filters.
Each individual part of the set is alsoavailable separately
Please note the cables supplied may differfrom the ones displayed
Our support team is happy to put together apersonally tailored car HiFi set upon request.
Set consists of
10" In-Car Hifi Subwoofer Bassbox 600 Watts with LED lights
Item number: 10000091
Included quantity: 1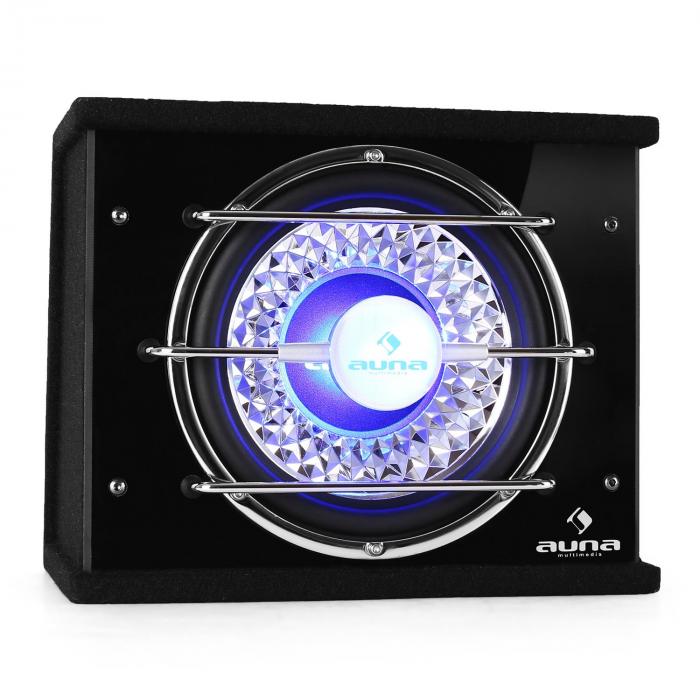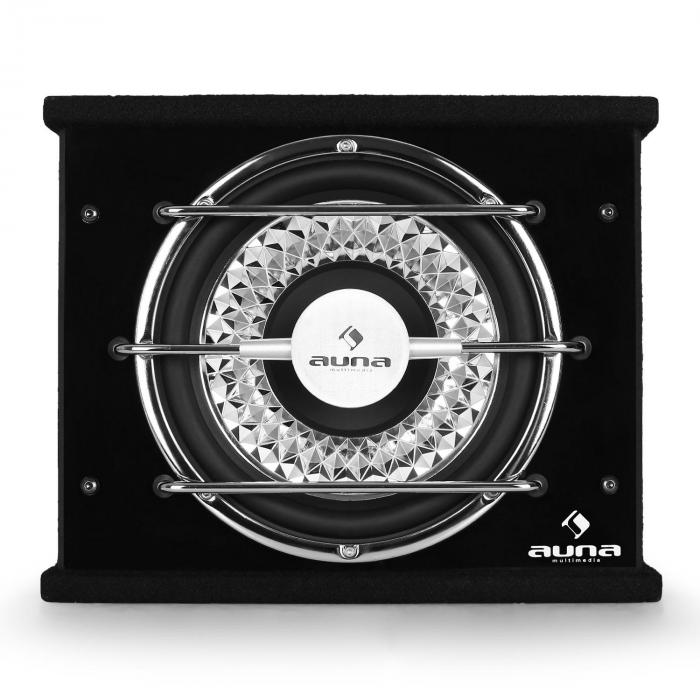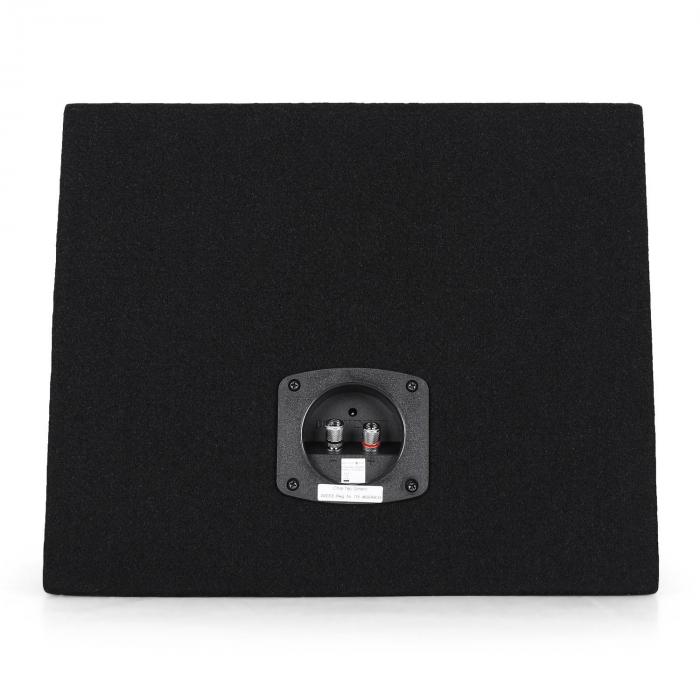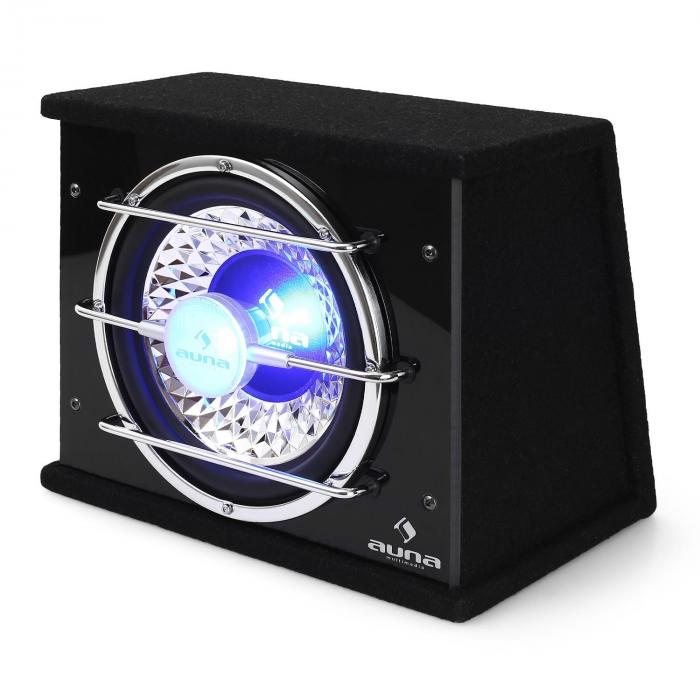 Top features:
300W RMS output power ( Max Power: 600W)
10" (25 cm) subwoofer with 30 oz magnet
1.5"(4 cm) voice coil
Stylish LED lighting (12 V connection)
Properties:
Polypropylene cone with rubber mount
Felt coating
Lattice chrome design Pair of gold plated screw terminals
Frequency response: 32 to 1000 Hz
Sensitivity: 92 dB
Dimensions:
Approximately 37 x 31 x 23 cm
Weight: approx 11 kg
Car Wiring Kit - Car Hifi Cable
Item number: 10002022
Included quantity: 1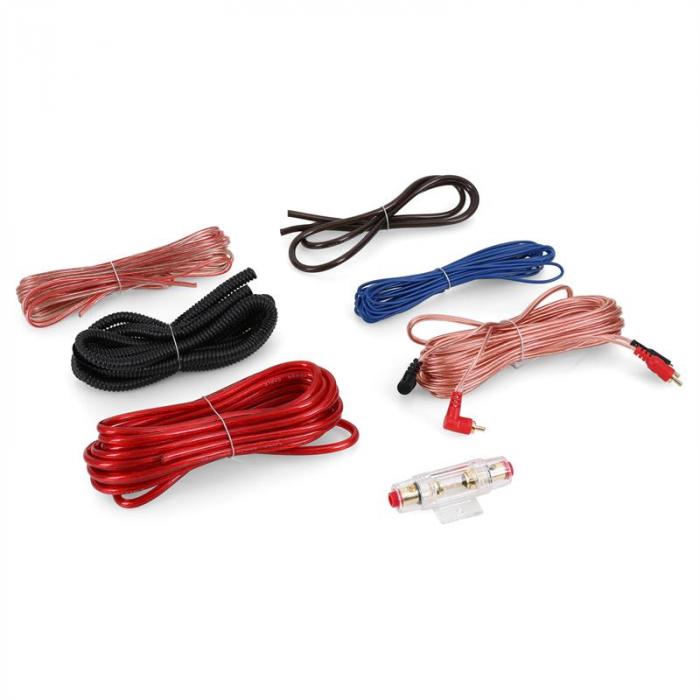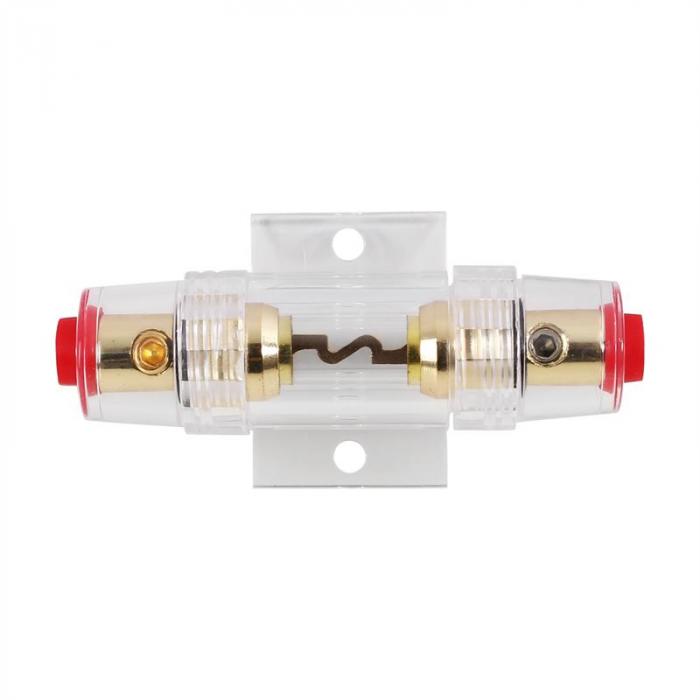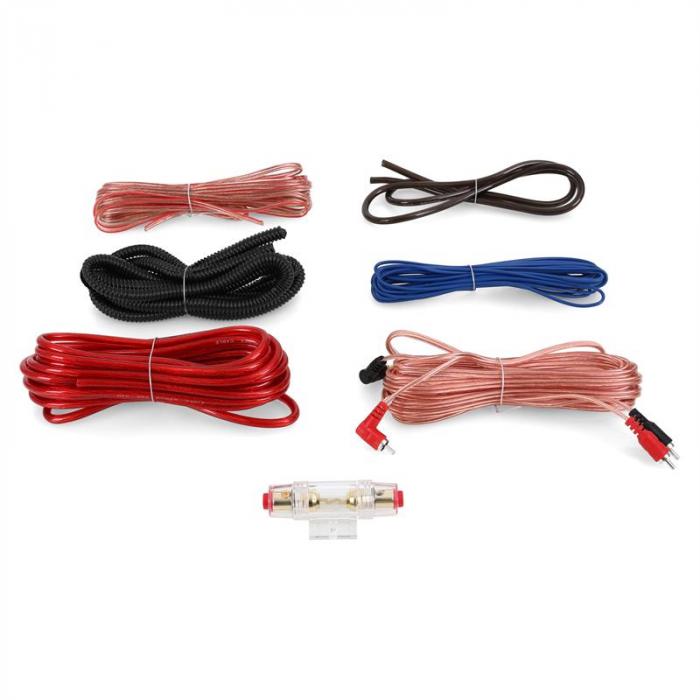 Properties:
All the cables you need to get great sound on the move!
Complete wiring kit for car hifi amps including power and speaker cables with all connectors.
6 meters power cable - 8 Gauge, 10mm ²
1.2 m ground cable - 8 Gauge, 10mm ²
6 meter remote control cable - 18 Gauge, 1mm ²
6-meter speaker cables - 12 Gauge, 4mm ² with 90 ° angled RCA plugs (on one end) - gold plated connectors
6 meter RCA signal cable
1.8 meters Cable Management
60 amps AGU fuse – gold plated, waterproof
Complete with cable ties and safety guides
Platin Line 100 Car HiFi Set