Mini Two Internet Radio
Unfortunately, no articles are currently available
Top features
DAB / DAB + tuner and FM receiver with RDS support to display additional useful information
WiFi and LAN interface for wireless and wired music playback from networks
Bluetooth interface for wireless music streaming from smartphones, tablets or laptops
Shipping costs: from 0,00 €
The item is ready to ship and will be shipped immediately after receipt of payment.
You may change your order at any time.
Selected reviews from the German press
Two Design Internet Radio WiFi DLNA Bluetooth FM Black inc. Battery
Text für Setartikel..
UNIVERSAL HIGHLIGHT IN DESIGN AND SKILLS
More pleasure for the eyes and ears
The NUMAN Mini Two in a timelessly elegant design, with a subtle retro touch and black finish is a true jewel for every room. The design radio convinces with its flexible combination of internet radio and music server with numerous connection possibilities as well as its space-saving dimensions.
Enjoy radio at the most modern level: thanks to internet radio, digital DAB + as well as analogue FM reception, the whole world of radio with thousands of stations is at your disposal. Use the uncomplicated Frontier Silicon Internet Radio Portal to create and store individual lists of your favorite stations.
Hundreds of other stations can be received by the NUMAN Mini Two either in the automatic search mode or manually set via the DAB / DAB + and FM frequency bands. Up to 20 favourite stations can be stored for quick access. As a special highlight, the TFT colour display of the NUMAN Mini Two allows you to crisply display DLS slideshows and RDS signals. You always know exactly what is being played!
For further listening enjoyment, the NUMAN Mini Two can be set up as a music server. With LAN, WLAN or Bluetooth connectivity, you can easily access your music libraries on your computer, on your smartphone, MP3 player or tablet.
Thanks to the clear menu navigation and the high-resolution TFT colour display, operation of the NUMAN Mini Two is extremely intuitive and simple.
SOUND TECHNIQUES IN MINI FORMAT
Flexible mini sound wonder
Despite its small size and ultra-compact housing, the most modern technology is used by the NUMAN Mini Two to generate the best sound and maximum flexibility.
A compact 6.35 cm (2.5") broadband speaker ensures accurate sound quality with precise frequencies and deep bass. Crystal clear highs and intense mids are enriched by pressure-loaded bass. The built-in sound dynamic compression function enables a simple balance of the dynamic range: loud sounds are quieter and quiet sounds are louder.
The AUX input on the back allows the possibility of connecting cabled devices such as MP3 and CD players. A built-in line out connection enables connecting to your stereo system or sound system. The headphone output promises discreet music enjoyment at any time.
Thanks to its elegant genuine leather handle and the possibility of battery operation, the NUMAN Mini Two can accompany you wherever you want. An automatic battery charging function during mains operation ensures that the radio is ready again for mobile use. The necessary Li-Ion battery can be purchased separately.
Look at functionality
WLAN and Bluetooth make wireless audio streaming easy. After an intuitive coupling, you have access to the music libraries of your home network as well as your Bluetooth devices.
Class instead of mass
Multimedia all-rounder in an ultra-compact design. The NUMAN Mini Two embodies brilliant sound, innovative technology and purist design.
Especially smart in the whole home
NUMAN Mini Two combines FM radio and digital radio (DAB +) with playback from various streaming services.
On air anytime
Connectivity is the radio's equipment. The NUMAN Mini Two streams WiFi and LAN music files from your smartphone, tablet or PC and connects you to your digital radio favourites globally. In addition, shared audio files can be played back via the built-in music player.
Intuitive operation
An easy-to-understand menu and a clear high-definition TFT colour display make music selection and control particularly easy. A remote control also allows convenient operation from the couch or armchair.
Surprisingly dynamic
The NUMAN Mini Two guarantees crisp sound through precise frequencies and deep bass. A compact 6.35 cm (2.5") broadband speaker produces multi-faceted sound with crystal-clear treble, intense mid-range and pressure-loaded bass.
Absolutely flexible
Via AUX-in and line-out, the NUMAN Mini Two also interacts with your MP3 player, stereo system or your sound system.
NUMAN Mini Two
Universal and patent - simply elementary. Encased in an elegant finish, it also looks stylish when not in use. Thanks to a battery compartment with an integrated battery charging function and a practical genuine leather carry handle, the NUMAN Mini Two can accompany you everywhere. Sound enjoyment at any time, any place.
NUMAN - subtle understatement, dynamic sound.
High-quality audio and sound systems from Berlin. NUMAN redefines design, sound and haptics. NUMAN Mini Two is the latest masterpiece.
Set consists of
Mini Two Design Internet Radio WiFi DLNA Bluetooth DAB/DAB+ FM Oak
Item number: 10030810
Included quantity: 1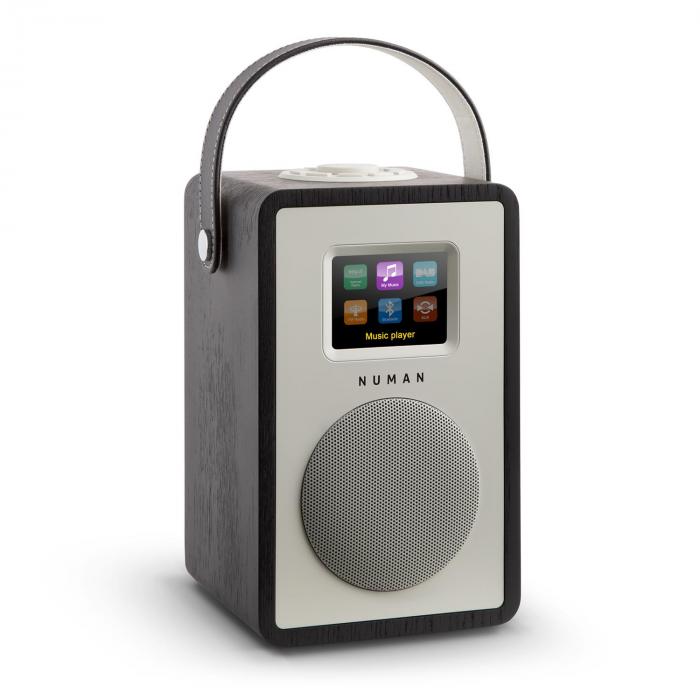 Selected reviews from the German press
Top features:
DAB/DAB+ tuner and FM receiver with RDS support to display useful additional information
Wi-Fi and LAN interface for wireless and wired music playback from networks
Bluetooth interface for wireless music streaming from smartphone, tablet or laptop
AUX input to connect external audio devices such as mobile phone, MP3 or CD player and computer
Alarm function with dual alarm and alarm period, snooze function and adjustable sleep timer
6 cm (2.4") TFT colour display with clear symbol display and time and date display
Mobile: real leather carrying handle, possibility to recharge battery and integrated rechargeable battery charger ensure music enjoyment at any location
Properties:
Connections: 1 x RJ45 LAN interface, 1 x 3.5mm jack AUX input, 1 x 3.5mm jack line output, 1 x 3.5mm jack headphone output
Supported transmission standards: DAB, DAB +, DMB, FM as well as internet radio
Supported encryption protocols: PSK, WPA, WPA2
Supported audio files: MP3, WMA, AAC, FLAC
DLNA, DHCP, and UPnP support
20 stations
Automatic and manual transmitter search
Easy operation with the upper operating section with operating dial and key
Multilingual menu guide
Equalizer Presets: normal, intermediate, jazz, rock, soundtrack, classical, pop, news, custom
2-band equalizer with loudness function (user-defined)
Integrated music player with adjustable playlist, repeat function and random playback
Wake-up signal with signal tone, Internet radio, DAB, FM
3-stage dimmable display background lighting
Mute switch
Device Wizard
DRC support (High, Low, Off)
Upgradeable software
Telescopic antenna
Anti-slip standing feet
Finish: walnut
Speaker cover made of metal
Standby mode
Electricity supply: DC 14 V, 1.5 A or via 3 x lithium battery (11.1 V, 2200 mAh) (not included)
Dimensions:
Dimensions: about 13 x 21.5 x 12 cm (WxHxD)
Weight: about 1500 g
Mini Two Battery rechargeable 11.1 V / 2200mA/h
Item number: 10030817
Included quantity: 1
Top features:
Li-Ion battery pack for the NUMAN Mini Two digital radio
Self-charging while operating via power supply
Properties:
Easy installation with plug-in connection
Suitable for all NUMAN Mini Two digital radios
Electricity supply: 11,1V 2200mAh
Dimensions:
Dimensions: about 6 x 7 x 2 cm (WxHxD)
Weight: about 136 g
Mini Two Internet Radio
DAB / DAB + tuner and FM receiver with RDS support to display additional useful information
WiFi and LAN interface for wireless and wired music playback from networks
Bluetooth interface for wireless music streaming from smartphones, tablets or laptops