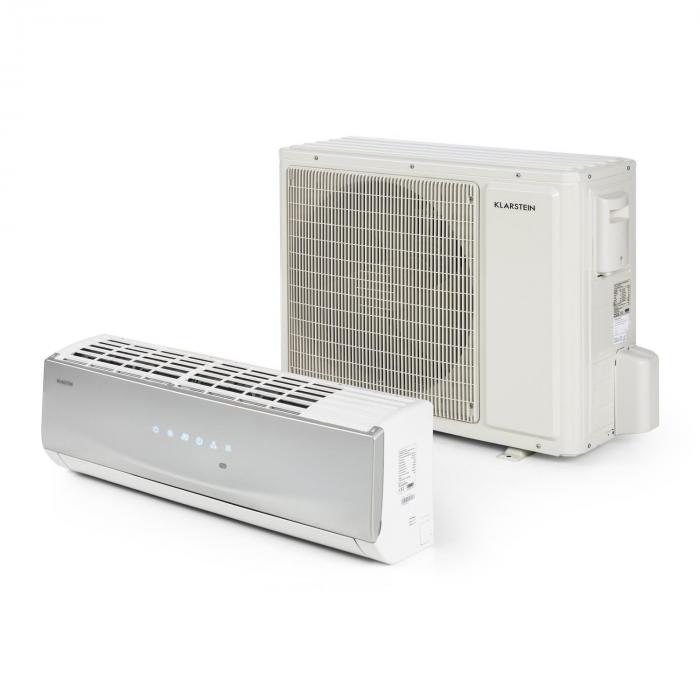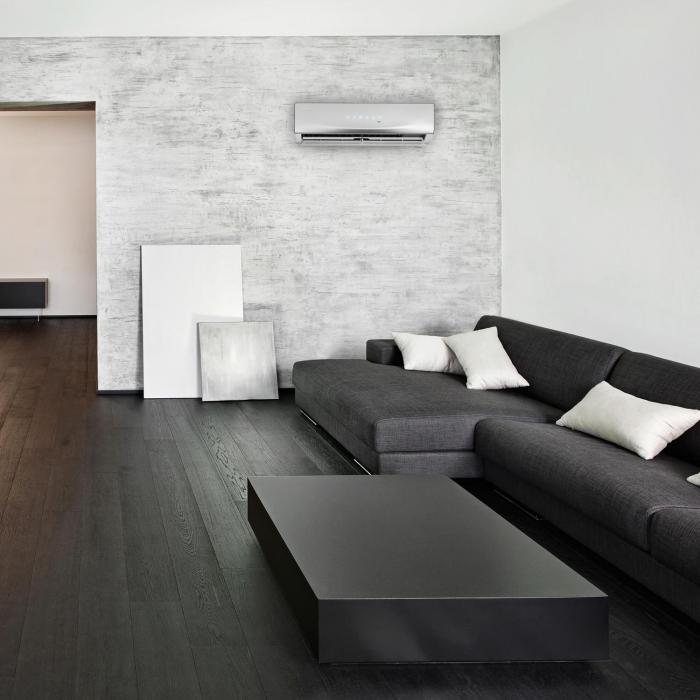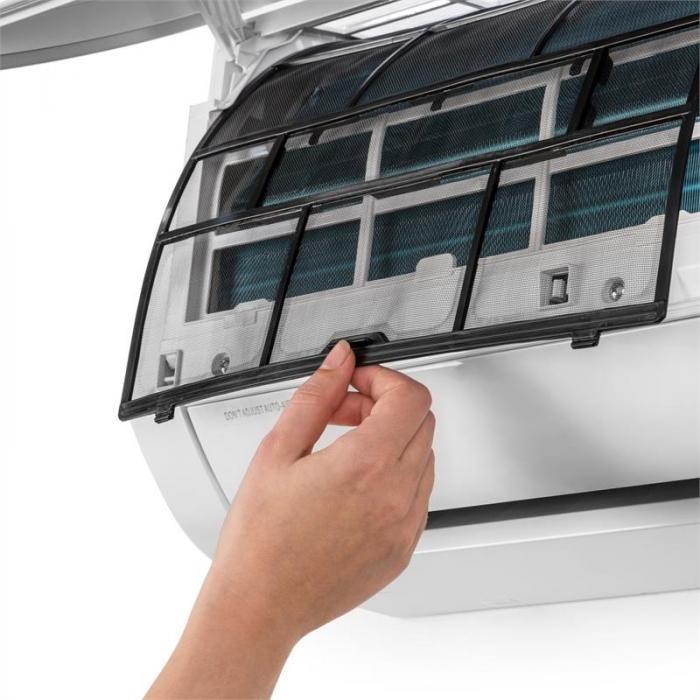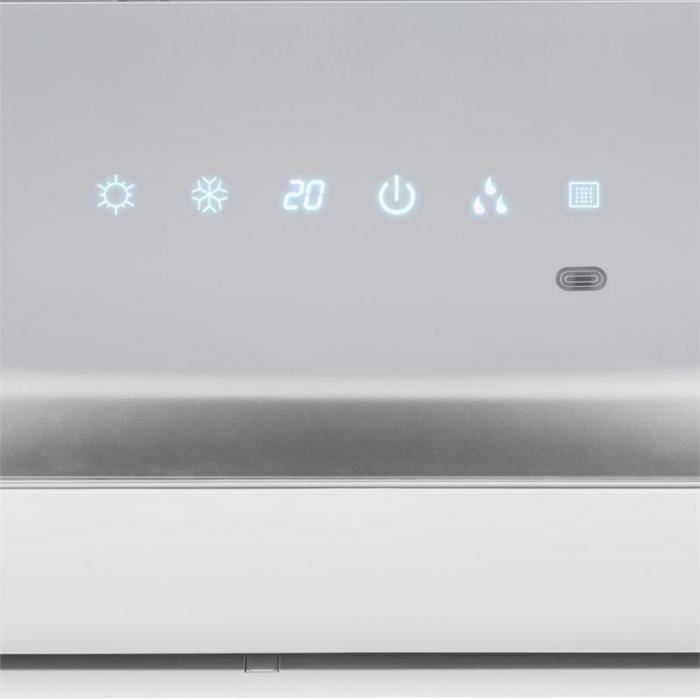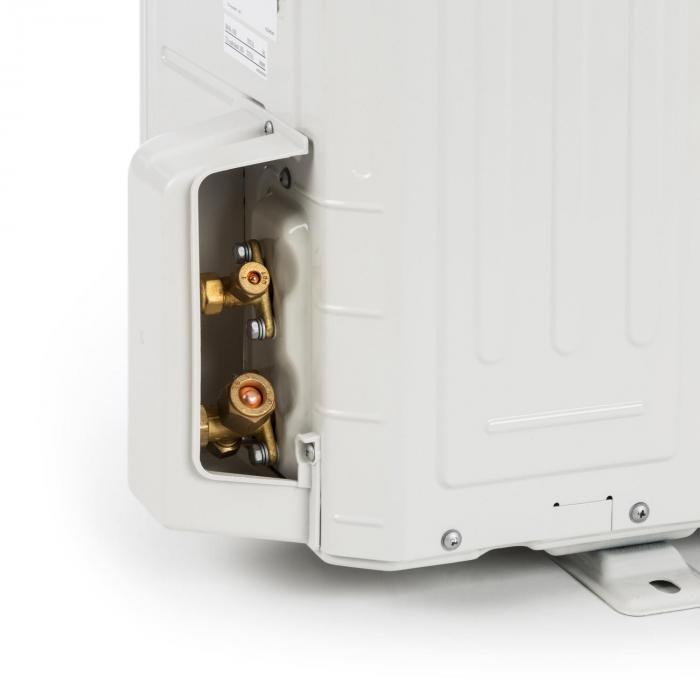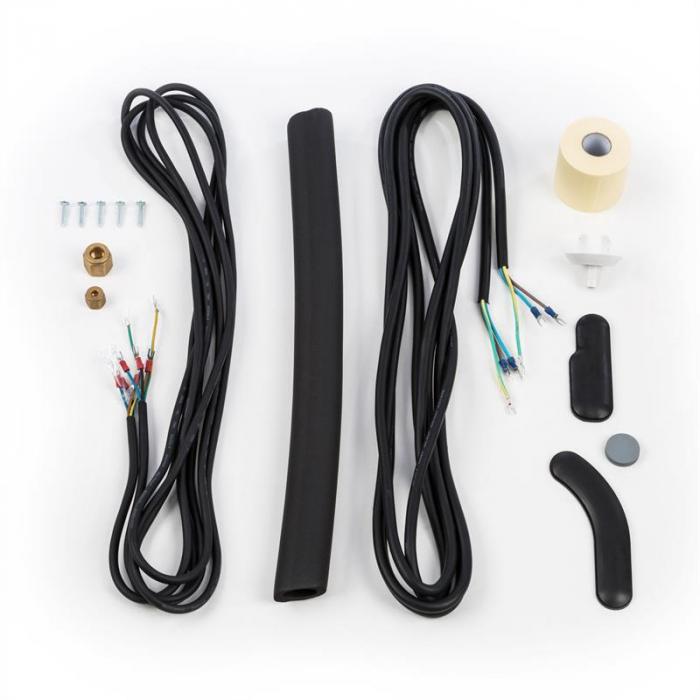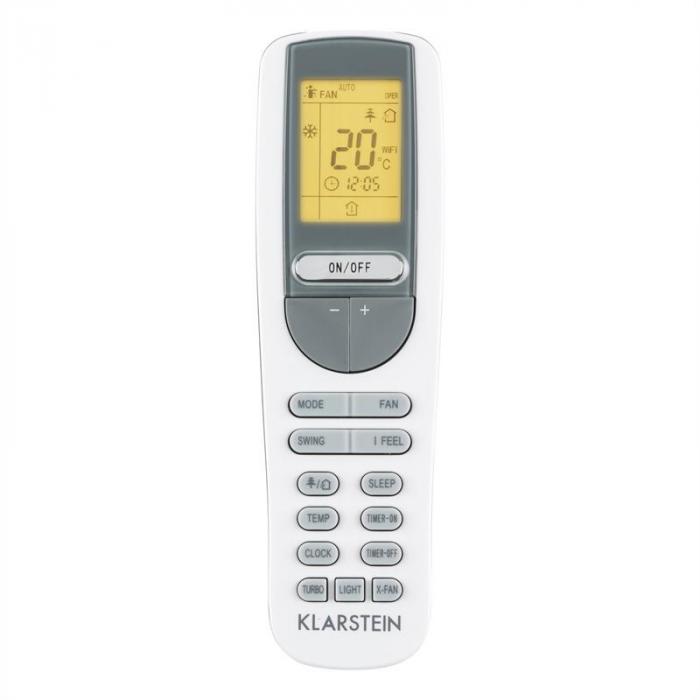 Manual
Item number: 10031432
Windwaker Pro 18 Split Air Conditioner
You save 7%
Delivery time: 8 - 10 workdays
Top features
Inverter technology for low energy consumption
4-stage integrated fan
Including remote control
Shipping costs: from 0,00 €
The item is ready to ship and will be shipped immediately after receipt of payment.
You may change your order at any time.
Windwaker Pro 18 air conditioner splitter 18000BTU A ++ DC inverter
Extremely economical split air-conditioning system for cooling, heating and dehumidifying all types of interior spaces with energy efficiency class A ++.
5 selectable operating modes: automatic, cooling, dehumidifying, fan and heating for comfort temperatures between 16 and 30 °C.
Low-noise indoor unit with up to xx m³/h airflow and xx l/h dehumidifying capacity.
Re-discovering the climate: attain a dream climate with feel good temperatures. The Klarstein Windwaker Pro 18 Split Air Conditioner ensures comfortable room temperatures, fresh air and a pleasant humidity throughout the year at home or in the office.
No matter how the weather is, with the Klarstein Windwaker Pro 18 air conditioning system you will always have full control over the temperatures in your interior spaces. Whether you want cooling or heating, fresh air supply or air dehumidification: the splitter is equipped for all needs in order to achieve the desired feel-good atmosphere at temperatures between 16 and 30 ° C. Power does not have to be expensive: Thanks to the inverter technology, the split air-conditioning system is so economical that it has earned its energy efficiency class A ++. Use the heating or cooling mode, the fan with horizontal and vertical oscillation and 3 speeds as well as various timer functions to adapt the unit to your needs. It can be operated comfortably from the couch or the desk with the supplied remote control including a large LED display. Thanks to the dual working principle, you can also enjoy heavenly silence thanks to a very quiet operation noise.
Creates climatic conditions: the Klarstein Windwaker Pro 18 Split air conditioning system always provides you with the best indoor atmosphere - the professional for your climate!
Please note that commissioning of split air-conditioning systems in accordance with EU regulation 517/2014 may only be carried out by certified specialist companies.
User manual PDF
Product details
Top features:
Refreshing split air conditioner with innovative inverter technology to control the interior climate
Powerful 18000 BTU / XX kW cooling capacity and XX kW heating output with economical consumption with energy efficiency class A ++
Inverter technology for low energy consumption, low noise, low temperature fluctuations, and to quickly reach the desired temperature
4-stage integrated fan with horizontal and vertical oscillation function for better air circulation
Properties:
Operating light on the device display and power switch on the remote control
DC inverter: Cooling operation down to -15 ° C outdoor temperature possible
5 operating modes: auto, cooling, dehumidification, fan and heating
Temperature display: set temperature - outside temperature - indoor temperature
Time display on the LED display of the remote control
Auto mode: the device automatically selects all measures for a comfortable room climate
Cooling mode: Standard operation for cooling rooms with temperature selection from 16 to 30 ° C
Heating mode: Standard operation for heating rooms with temperature selection from 16 to 30 ° C
Dehumidification mode: to reduce humidity of up to 1.4 l / h
Ventilator mode: separate operation of the fan without cooling
4 ventilation levels: automatic - low - medium - high
Health mode including air purification
Sleep mode: automatic adjustment of cooling or heating power for sleeping conditions
2 Timer Modes: Power On and Auto Power Off
Timer adjustable to specific time in 1 or 10 minute increments
Child safety
power saving mode
Turbo mode
Defrost function
Ventilation: Fan runs for 2 minutes to dry the indoor unit
Temperature display in ° C or ° F
Separate installation of the indoor and outdoor unit
Coolant: R410A
Power supply unit: 220-240V ~ / 50-60Hz
Remote control power supply: 2 x AAA battery (included)
Scope of delivery:
1 x indoor unit
1 x outdoor unit
1 x remote control
1 x installation set incl. 4 m copper pipes with Quick Connector Set
Instruction manual in English (other languages: German)
Dimensions:
Outer Dimensions: about 100 x 70 x 38 cm (WxHxD)
Inner Dimensions: about 93.5 x 29.5 x 20 cm(WxHxD)
Weight outside: about. 45 kg
Weight inside: about. 13 kg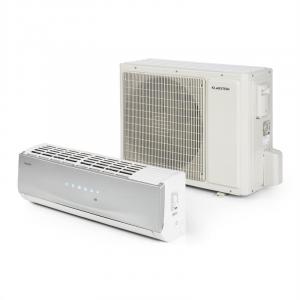 A++
Windwaker Pro 18 Split Air Conditioner
Inverter technology for low energy consumption
4-stage integrated fan
Including remote control
All purchases made between the 26th of October and the 31st of December can be returned till the 31st of January 2019.