Item number: 60001202
Skyscraper Office Set of 3 Desk Fans
Unfortunately, no articles are currently available
Top features
Individual adjustments over 2 speed settings and oscillation
Economical, only 16 watt power consumption
Quiet operating noise
Shipping costs: from 0,00 €
The item is ready to ship and will be shipped immediately after receipt of payment.
Skyscraper Office Set of 3 Desk Fans 16W Touch Black
Text für Setartikel..
Who doesn't know the familiar problem of trying to reconcile oppressive summer heat in the workplace with the divergent wishes of colleagues? Fan on, fan off. High speed, low speed. It's too loud. The draft doesn't reach everyone. Or perhaps the fan is on the other side of the office, and only benefits some people. Klarstein presents a remedy to this problem with the Skyscraper Office set of 3 table fans: their chic and especially space-saving column design, with its mere 11 cm diameter and 27 cm height, fits easily on desks, workbenches or in office cabinets. The clearly-designed body blends wonderfully both in modern and classic environments.
The mini tower fans blow fresh air in two speeds (high and low), in order to cool down your workspace. Switchable oscillation swings the column of the Klarstein Skyscraper Office fans in a 180-degree angle from left to right and back. A built-in timer function can be used to automatically turn the cool air fans off after a set amount of time. This way, you can always rest assured that they aren't running unnecessarily, even if you forget to switch them off manually. The timer can be set in 1-hour increments between one and seven hours.
With only 16 watt power consumption, these little fans are really big ones when it comes to economical continuous operation. They do not interfere with the work of your colleagues: a further highlight is their quiet operating noise. In addition, the Skyscraper Office fans feature a built-in filter to remove dust and dirt particles from the air, so that you can breathe in summer air deeply, refreshed - without disputes with coworkers about how and where the office fan will work.
The Klarstein pedestal fans are controlled via a charming top-side, 4-button touch panel. Illuminated displays show the selected settings in self-explanatory settings. Each fan has four non-slip rubber feet which provide stable footing, while a 1.6 metre long cable allows flexible placement in the workplace.
Available colours: set of 3 (black), set of 2 (white) (item no.: 60001199), set of 3 (white) (item no.: 60001200), set of 2 (black) (item no.: 60001201)
Set consists of
Skyscraper Office Pedestal Fan 16W Touch Black
Item number: 10027949
Included quantity: 3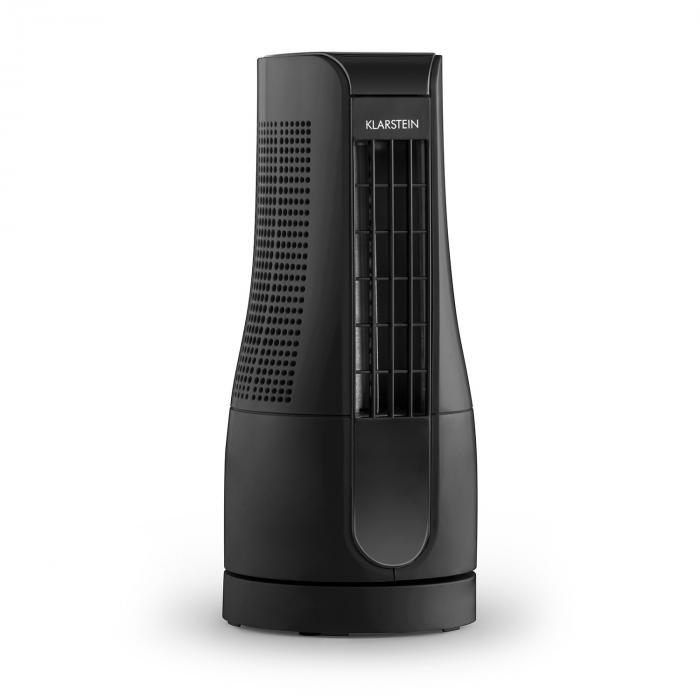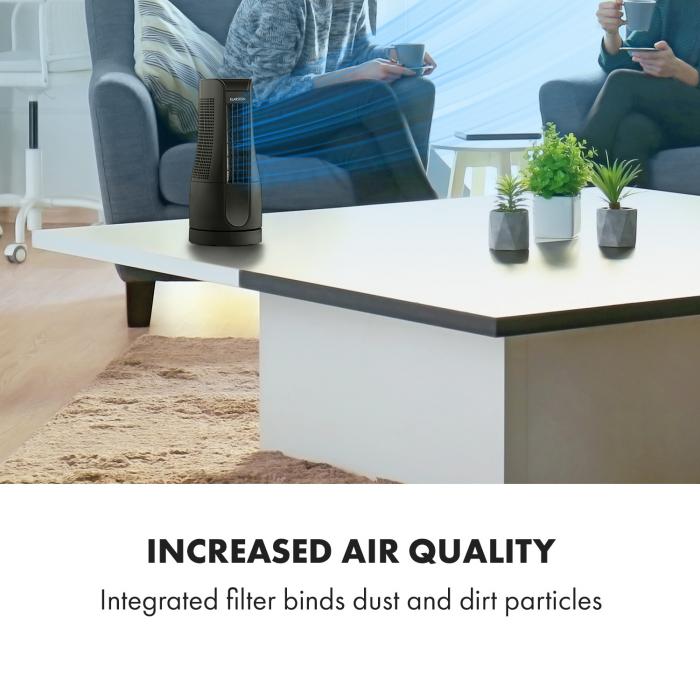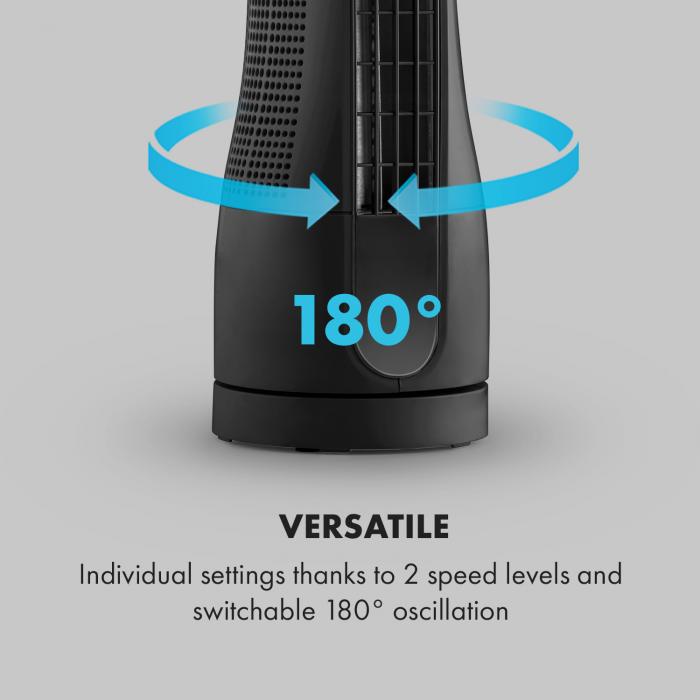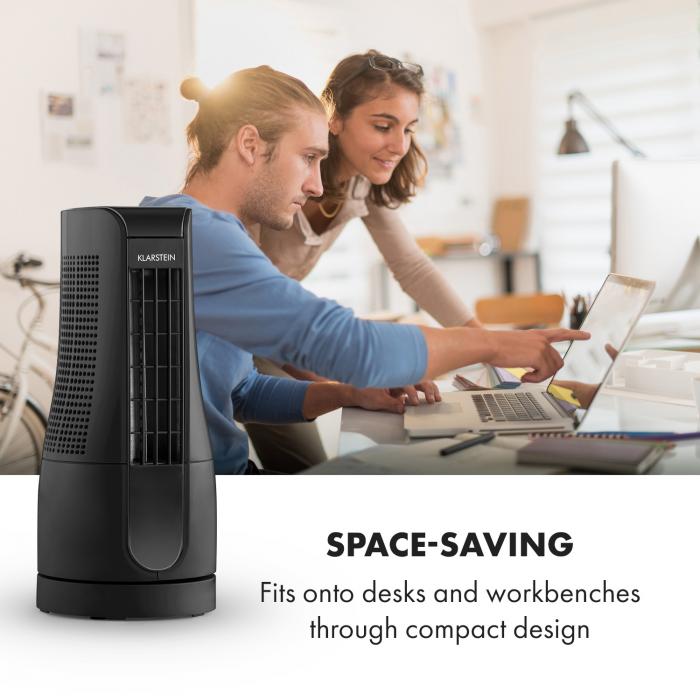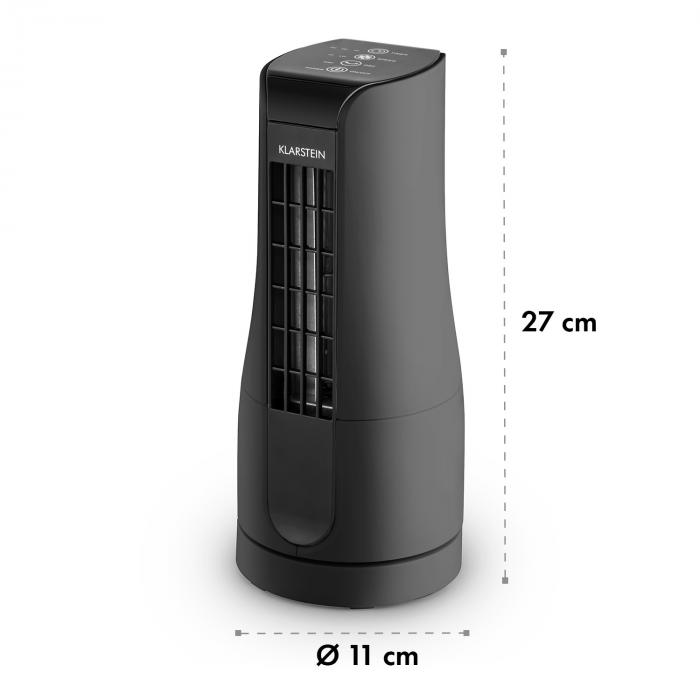 Top features:
Individual adjustments over 2 speed settings and oscillation
Economical, only 16W power consumption
Quiet operating noise
Extremely space-saving column design: fits onto desks or workbenches
Properties:
2 speeds: low & high
Timer: Auto shut-off in 1-hour intervals adjustable between 1 and 7 hours
Easy-to-clean filter for removing dust and dirt particles
Easy touch control panel and display on top of the device
Modern tower design
Off switch on top of the device
Power supply: 220-240V ~ / 50 Hz
Dimensions:
Dimensions device: 11 x 27 cm (ØxH)
Cable length: about 1.65m
Weight appliance: about 1.0 kg
Skyscraper Office Set of 3 Desk Fans
Individual adjustments over 2 speed settings and oscillation
Economical, only 16 watt power consumption
Quiet operating noise