Montgolfier Weather Station
You save 21%
Unfortunately, no articles are currently available
Top features
Four sensors: measure temperature, precipitation, relative humidity, wind direction and wind speed
LCD display with 5 buttons
Wireless data transmissionwith a max. range of 100 m
Shipping costs: from 0,00 €
The item is ready to ship and will be shipped immediately after receipt of payment.
Montgolfier Wireless Weather Station with LCD Display
What's the weather like today, and what will it be like tomorrow? If you find yourself often wondering, the oneConcept Montgolfier weather station is the answer for you. Never again leave the house improperly dressed with the help of this weather station. Thanks to its sensors, you always know how hot or cold it is, how strong the wind is blowing and whether or not you should expect rain. Even those sensitive to changes in the weather know exactly what to expect from their day thanks to the Montgolfier.
The oneConcept Montgolfier weather station is comprised of two parts: the sensor antenna, which is placed outside, and the wireless weather station itself, which is placed inside. Four sensors (thermometer/hygrometer, rain gauge, anemometer with wind direction sensor) provide the weather station with extensive data: temperature, precipitation, relative humidity, wind direction and wind speed are continuously measured. A stable metal arm supports the sensors and can be attached using the included clamps to a suitable mount. Two AA batteries (not included) power the sensors, achieving a wireless range of up to 100 metres, giving you additional freedom in positioning.
The oneConcept Montgolfier weather station has an easy-to-use display which clearly shows you the collected weather data. An internal memory automatically saves the weather information, enabling a retrospective analysis, e.g. the total rainfall in an hour, a week, a month or the entire past year. The built-in alarm is especially practical: it automatically warns you if a certain weather event is predicted to occur. The display is powered via three AA batteries (not included). Furthermore, the station monitors the indoor climate as well, measuring the temperature and relative humidity every 48 seconds.
Please note that this item requires assembly. Assembly is simple, even for the inexperienced, and requires about 20 minutes. Furthermore, please note that the required batteries are not included.
User manual PDF
Product details
Top features:
Wireless weather station with 4 sensors for measuring, recording and evaluation of the weather
Measures temperature, precipitation, relative humidity, wind direction and wind speed
LCD display with colourful background lighting and 5 buttons for viewing the weather data easily
Wireless data transmission: the station and display do not require a cabled connection
Monitoring of indoor climate: station measures temperature and relative humidity every 48 seconds
Properties:
Maximum range: 100 m (with optimal conditions)
Transmission frequency: 868 MHz
Indoor and outdoor temperature display in °C
Indoor temperature range: 0 - 50 °C (resolution 0.1°)
Outdoor temperature range: -40 - 65 °C (resolution 0.1°)
Relative humidity display for indoors and outdoors
Humidity measuring range (outdoors): 1 to 99% (resolution 1%)
Humidity measuring range (indoors): 10 to 99% (resolution 1%)
Rainfall display possible for hour, day, month or year
Rainfall display: 0 to 9999 mm (resolution: 0.3 mm to 1000 mm / 1 mm over 1000 mm)
Wind speed in km/h (0 to 180 km/h)
Wind direction display via compass rose on the LCD display
Adjustable weather alarm (warns of certain oncoming weather events)
Weather data automatically saved
Maximum and minimum values with time and date saved
Built-in radio clock and permanent calendar
Display suitable for wall mounting or set up as a tablet
Outdoor station protection class: IPX3 (protection against water drops falling vertically over a 60° range)
Sensor power display: 2 x AA batteries
Display power supply: 3 x AA batteries
Scope of delivery:
1 x sensor antenna (mounting kit)
2 x clamps
5 x cable ties
1 x display
User manual (English, German)
Dimensions:
Display dimensions: 14 x 9 x 3 cm (WxHxD)
LCD display dimensions: approx. 8 x 6 cm (WxH)
Sensor antenna dimensions: approx. 49 x 52 m (ØxH)
Display weight: approx. 160 g
Sensor antenna weight: approx. 570 g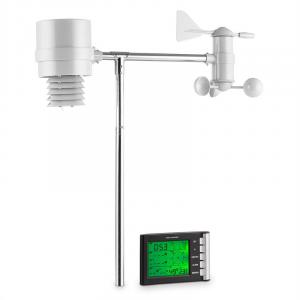 Montgolfier Weather Station
Four sensors: measure temperature, precipitation, relative humidity, wind direction and wind speed
LCD display with 5 buttons
Wireless data transmissionwith a max. range of 100 m
All purchases made between the 26th of October and the 31st of December can be returned till the 31st of January 2019.