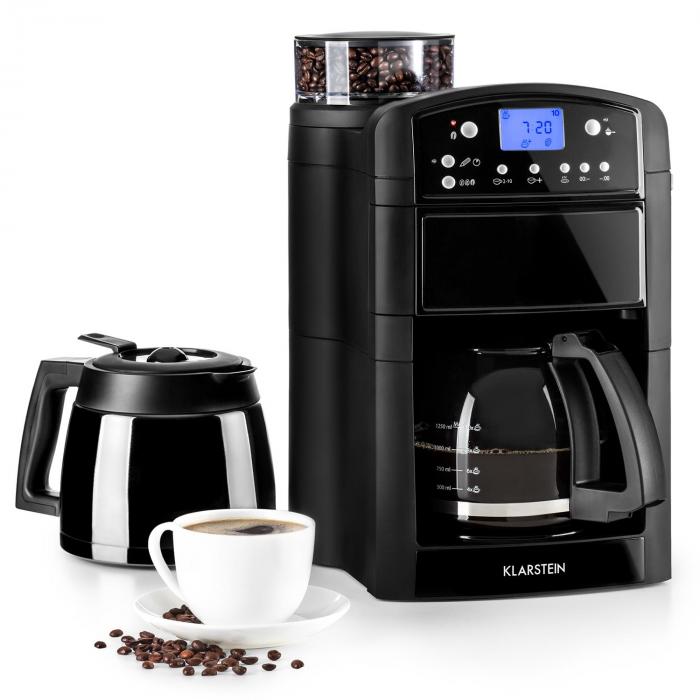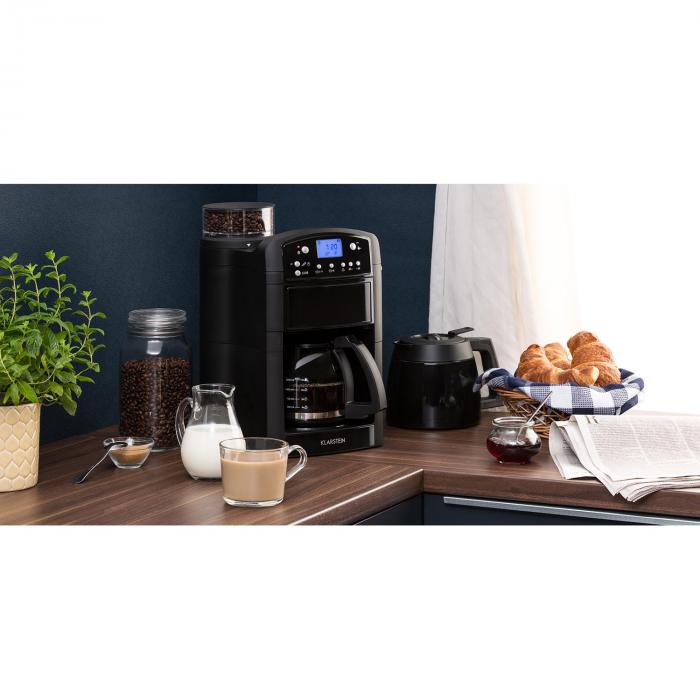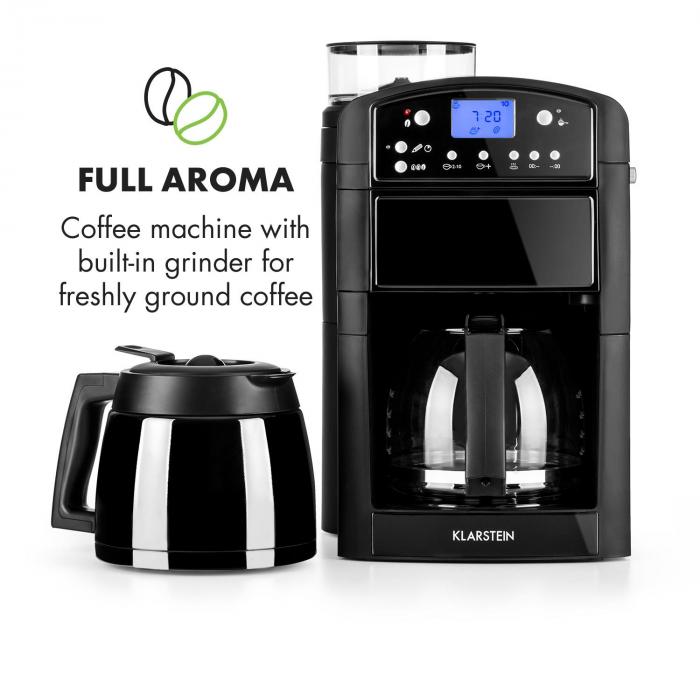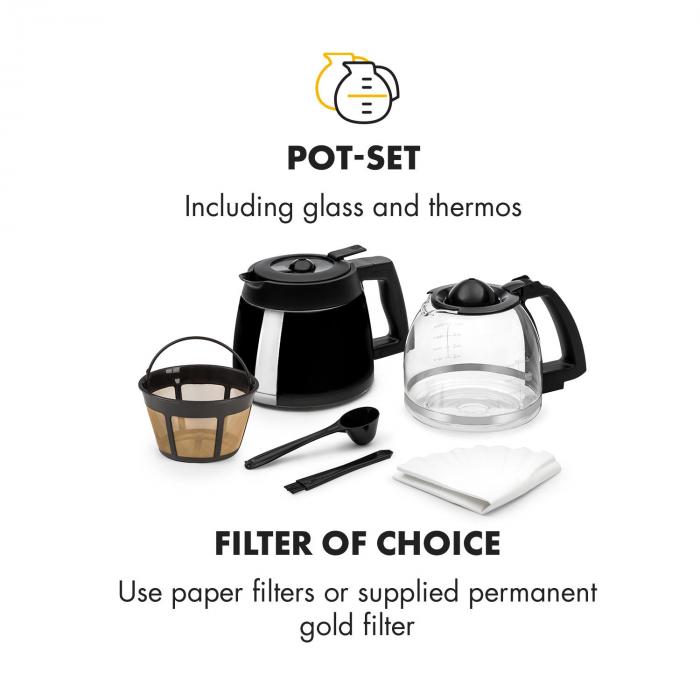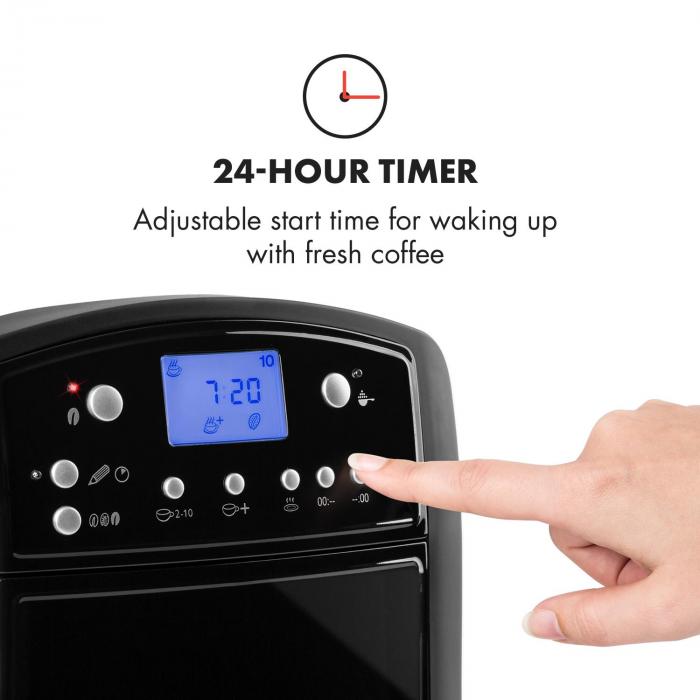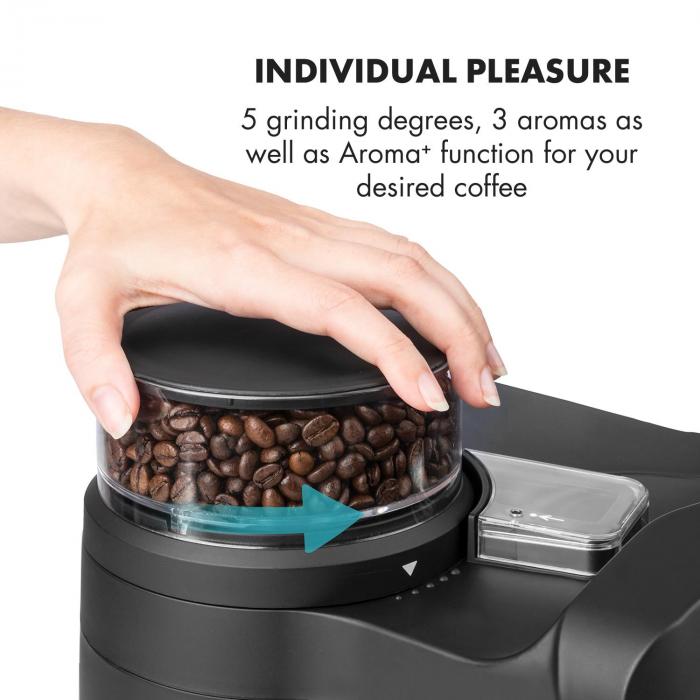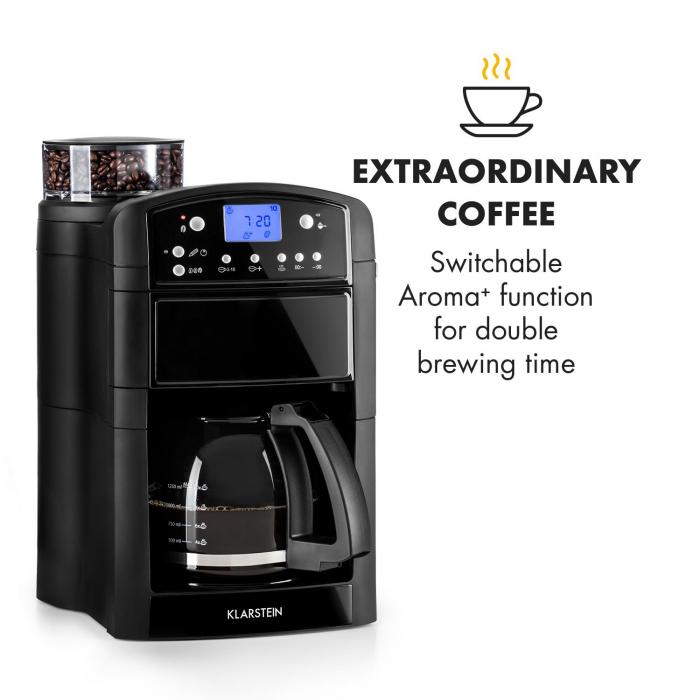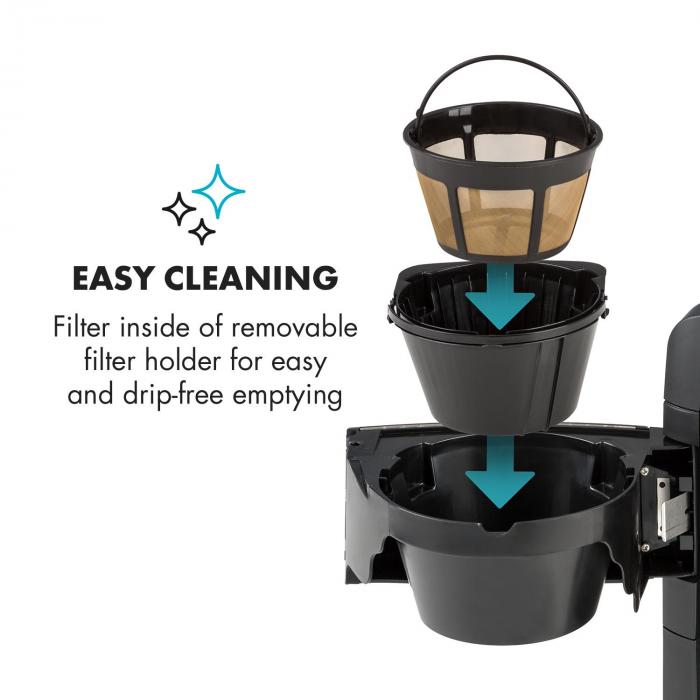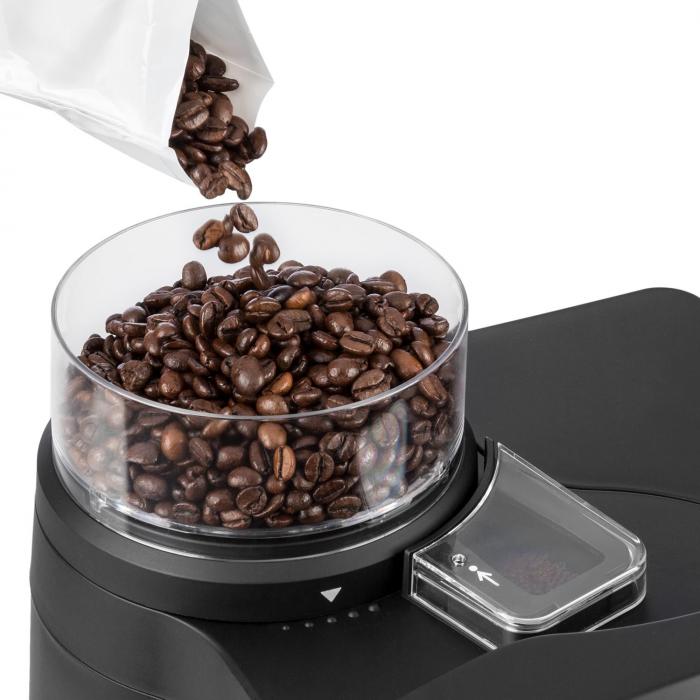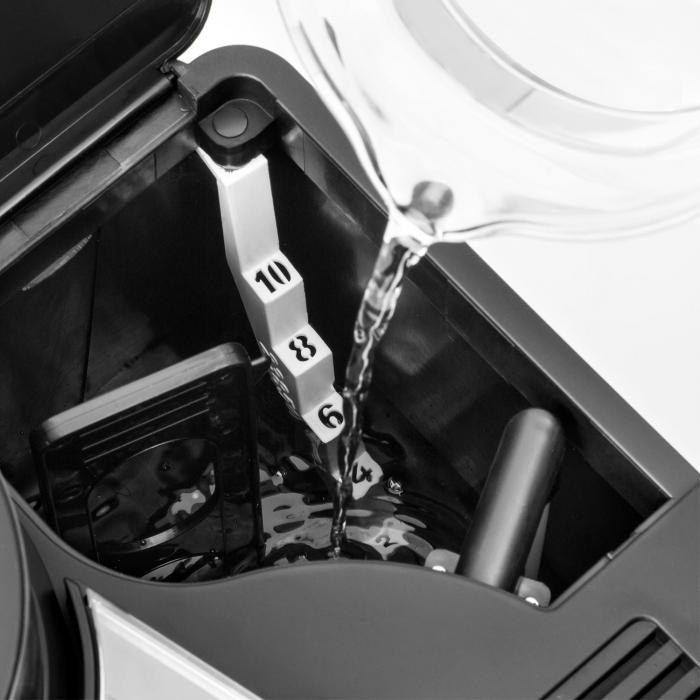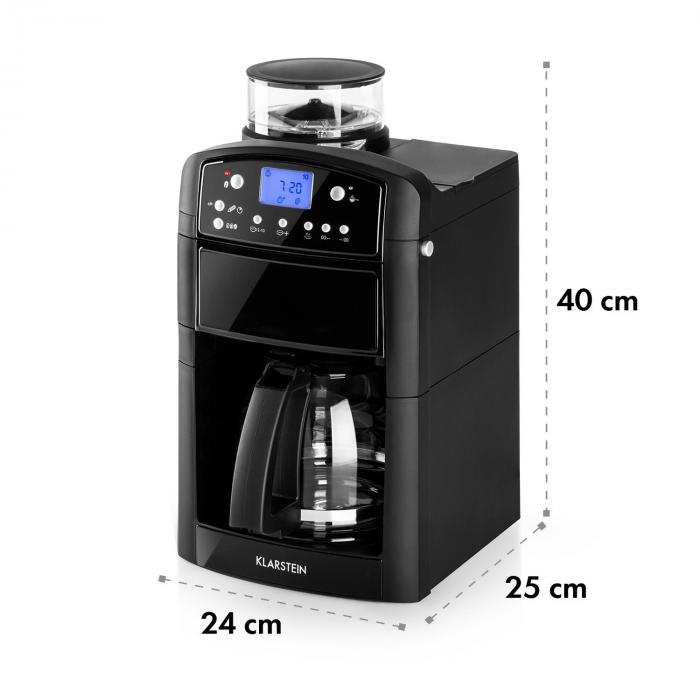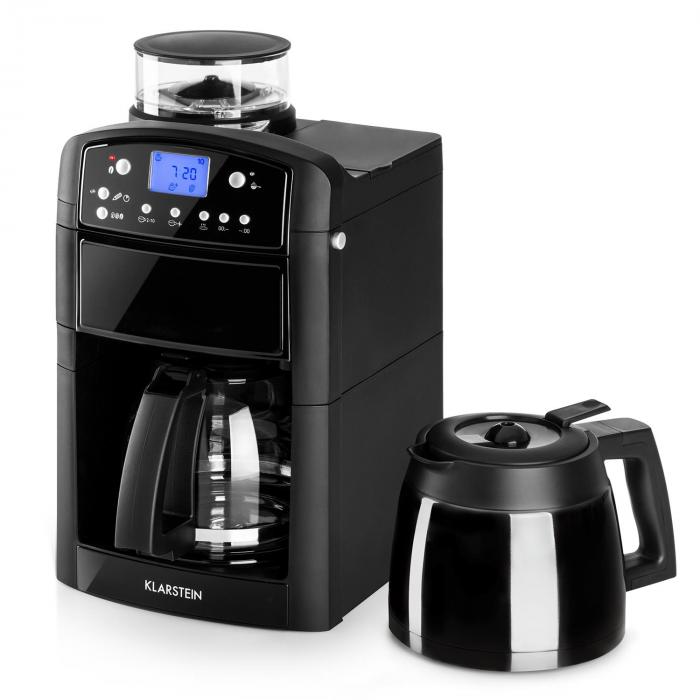 Manual
Item number: 10032098
Aromatica Set Coffee machine
You save 40%
Delivery time: 3 - 5 workdays
Top features
Always the full aroma: coffee machine with built-in grinder and glass jug for 10 cups of coffee
24-hour timer: the start time for brewing fresh coffee can be adjusted to the minute to start upon waking up or coming home
Individual enjoyment: 5 degrees of grind, 3 aromas and Aroma + function for coffee exactly how you like it
Shipping costs: from 0,00 €
The item is ready to ship and will be shipped immediately after receipt of payment.
You may change your order at any time.
Aromatica Set Coffee Machine Grinder Glass Jug / Thermos Black
Full aroma: easy-to-use coffee machine with built-in 5-stage grinder for brewing freshly-ground coffee with maximum enjoyment.
Up to 10 cups of fresh coffee with 3 selectable aromas, Aroma + function for extra-strong enjoyment as well as a 24-hour timer which can be adjusted to the minute.
Compact design housing with glass jug and thermos, keep-warm plate, removable filter holder with permanent filter as well as activated carbon filter for softening the brewing water.
Mmmm, fresh coffee! With the Klarstein Aromatica Set coffee machine with built-in grinder, everyone can easily and successfully achieve individual, aromatic brewing enjoyment.
Rediscovering coffee pleasure - the Klarstein Aromatica Set coffee machine makes it possible. Thanks to its built-in grinder, up to 125 g of beans are freshly ground for each brewing process - so the coffee powder always contains the full flavour. Thanks to selectable 5 grinding degrees from very fine to coarse, you have the possibility to adjust the coarseness of the grind to your own preferences. The finer the powder, the stronger and more aromatic the coffee. For even more enjoyment, the aroma degree can be selected in three stages for up to 10 cups per brewing process. This will determine how much powder is used per cup. And for those who love their coffee, the Aroma + function is also available: double brewing time for the maximum of coffee aromas. Thanks to the built-in timer, the Klarstein Aromatica Set coffee machine can be started at a precise time of the day of your choosing - so you can wake up in the morning with fresh coffee or return to an aromatic refreshment in the evening. Of course, the coffee machine can also be operated with ready-ground powder for hurried connoisseurs. All settings are made very easily via the self-explanatory control panel with blue-illuminated LED display.
The compact design device in a simple, elegant look, however, still offers further advantages that enhance your coffee enjoyment: for fresh coffee, either a thermos or a glass jug is available. The glass jug is kept warm by a heating plate for up to 60 minutes, so you can always take your time to enjoy sipping your coffee. The removable permanent filter with removable filter holder also makes cleaning easier and makes additional paper filters unnecessary. An activated carbon filter in the water tank softens the water before the brewing process and reduces the calcification of the appliance. A clearly visible scale also facilitates filling with the necessary amount of water. The comparatively low working noise of both grinding mill (about 80 dBA) and brewing process (about 40 dBA) ensures relaxation for the ears
Finally enjoy coffee that tastes right brewed with freshly-ground beans in the strength you like best - the Klarstein Aromatica Set coffee machine makes connoisseurs hearts beat faster.
Available versions: black housing, black housing with stainless steel front (article 10032097)
User manual PDF
Product details
Top features:
Always the full aroma: coffee machine with built-in grinder for brewed freshly ground coffee
24-hour timer: the start time for fresh coffee can be adjusted to the minute for fresh coffee upon waking up or coming home
Individual enjoyment: 5 degrees of grind, 3 aroma steps and Aroma + function for coffee as desired
Extra-strong coffee: switchable Aroma + function for double brewing time
Easy cleaning: filter is in the removable filter holder for uncomplicated and drip-free emptying
Filter of choice: use of paper filters or supplied permanent filter possible
Jug and thermos set: includes glass jug and thermos
Properties:
Built-in activated carbon filter in the water tank to soften the water
Water scale with easy-to-see cup graduation (graduation scale)
Easy-to-understand operation with buttons and blue-illuminated LED display
Adjustable number of cups (2, 4, 6, 8 & 10) for selection of the powder quantity (only in grinding mode)
Three aroma grades: light, medium, strong
Grinder for up to 125 g of beans
Gold filter: taste-neutral permanent filter for even more aroma enjoyment
Can also be operated with pre-ground powder coffee
Includes cleaning brush and powder measuring spoon
Keep-warm function up to 60 minutes after the end of the brewing process
Drip protection when the coffee pot is removed
Power supply: 220 - 240 V ~ | 50/60 Hz
Scope of delivery:
1 x coffee machine
1 x glass jug
1 x thermos
1 x cleaning brush
1 x measuring spoon
1 x permanent filter (plastic with gold coating)
Operating instructions in English (other languages: German)
Dimensions:
Dimensions: about 24 x 40 x 25 cm (WxHxD)
Length power cable: about 100 cm
Weight: about 4.1 kg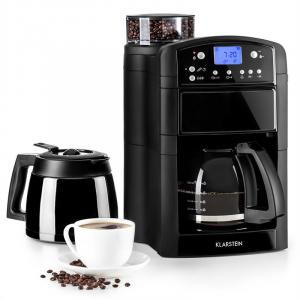 Aromatica Set Coffee machine
Always the full aroma: coffee machine with built-in grinder and glass jug for 10 cups of coffee
24-hour timer: the start time for brewing fresh coffee can be adjusted to the minute to start upon waking up or coming home
Individual enjoyment: 5 degrees of grind, 3 aromas and Aroma + function for coffee exactly how you like it