Herakles 5G Blender with Cover
Unfortunately, no articles are currently available
Shipping costs: from 0,00 €
The item is ready to ship and will be shipped immediately after receipt of payment.
You may change your order at any time.
Selected reviews from the German press
Herakles 5G Stand Mixer Black with Cover 1500W 2.0 Horsepower 2 Litre BPA Free
Text für Setartikel..
Professional blender with 1500W power, 40.000 rpm and 2 liter jug made of BPA-free plastic.
Ideal for making smoothies, soup, ice cream and processing raw food.
Whisper quiet thanks to blender housing: noise reduction thanks to 0.5 cm thick plastic housing with easy filling thanks to 10 cm lid flap.
For those who value healthy nutrition, your kitchen cannot be complete without the Klarstein Herakles 5G professional stand mixer. With the Herakles, you can create high-quality, fresh and natural meals and beverages which just can't be bought in a store.
A total of 1500 watts of maximum performance propel the 6 razor-sharp blades to 40,000 rpm, easily crushing even hard ingredients such as grains or chocolate.
So much power makes it stand out. That's what makes the Herakles 5G stand mixer the perfect partner: the undercover mixer housing not only envelopes your stand mixer, but also absorbs its noise: much more relaxed. The transparent plastic housing reduces mixing noise by more than half. Inside, a foam mat ensures the stability of the mixer and prevents contact noise. A 10 cm flap in the lid of the housing makes it easy to fill additional ingredients into the 2 litre blender jug.
Intelligent overheating protection guarantees that the motor stays cool even when under heavy use - which is very important, especially in professional settings. The rubber lid is easy to put on and remove, making sure that everything remains inside of the container. Via the speed buttons of the Klarstein blender, you can control whether you want to finely grind or coarsely chop your nuts. The blender also features a pulse button to flexibly handle subtleties.
With its small footprint, the Klarstein Herakles 5G and undercover mixer housing fit easily even in smaller or crowded kitchens. Visually, the blender and mixer housing fit perfectly into various kitchen facilities.
Bisphenol A (BPA) is an industrial chemical that is used in the production of polycarbonate plastics. Out of concern to the environment and your health, we do not use BPA or other pollutants in the production of this article. If you value healthy cooking and environmentally-friendly appliances, the Klarstein Herakles stand mixer is the right choice.
Set consists of
Herakles 5G Food Blender Smoothie Processor 2L 1500W 2 HP
Item number: 10012876
Included quantity: 1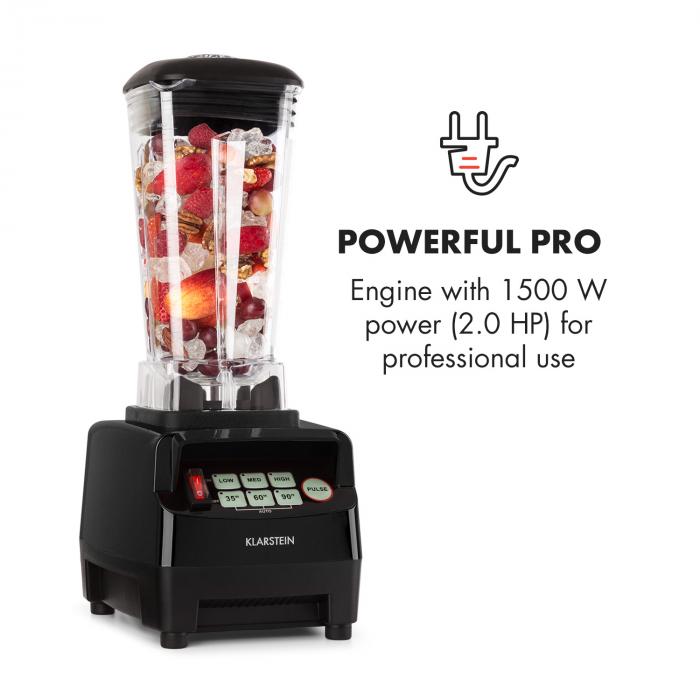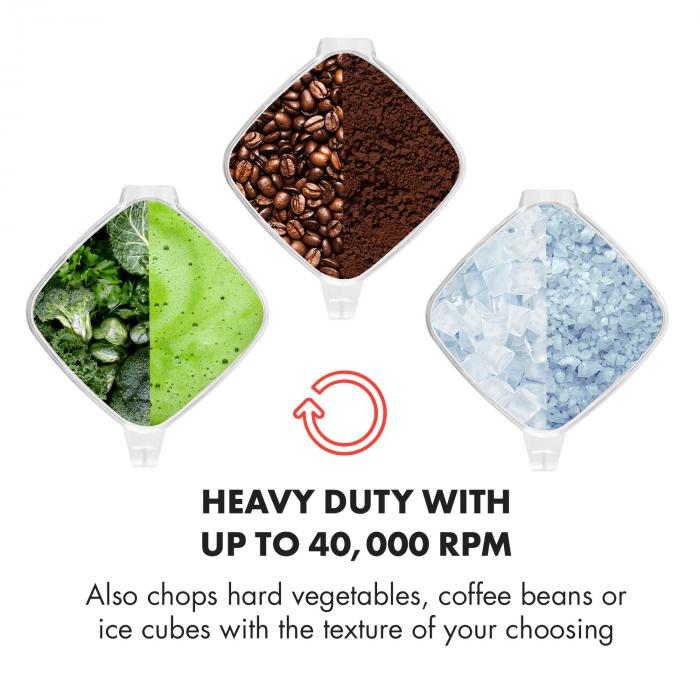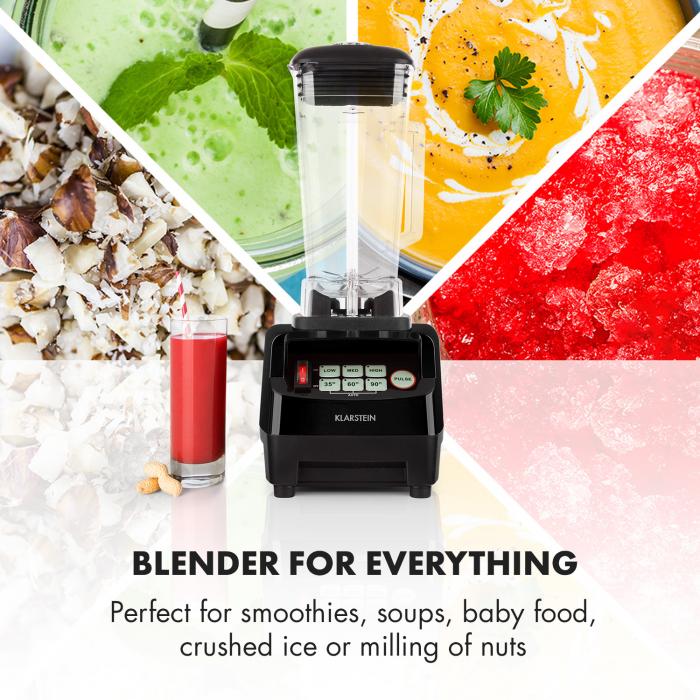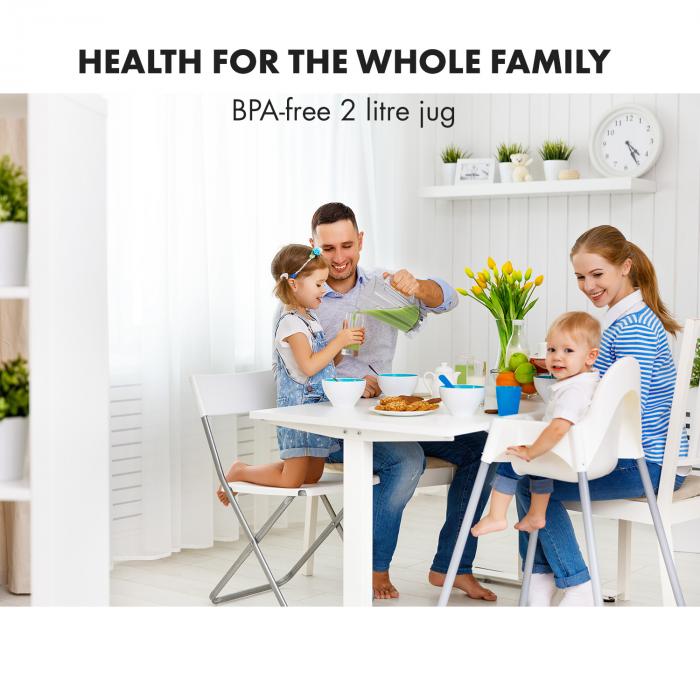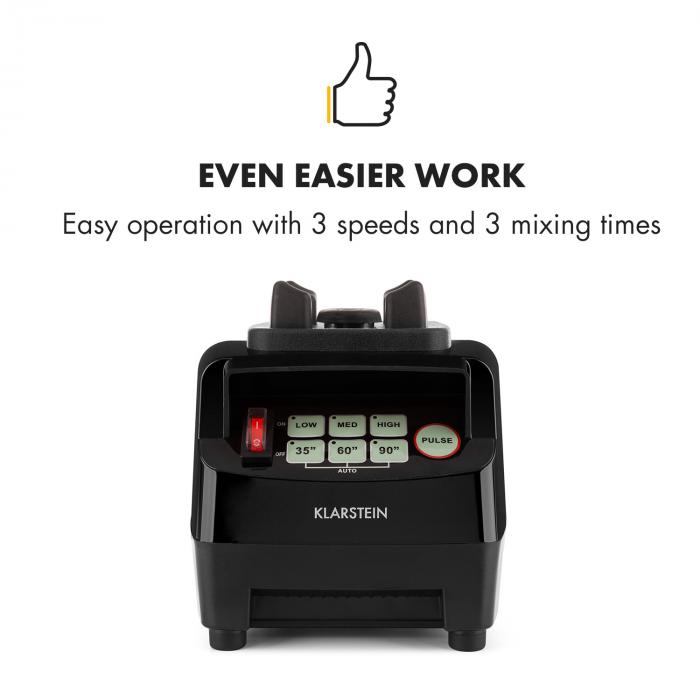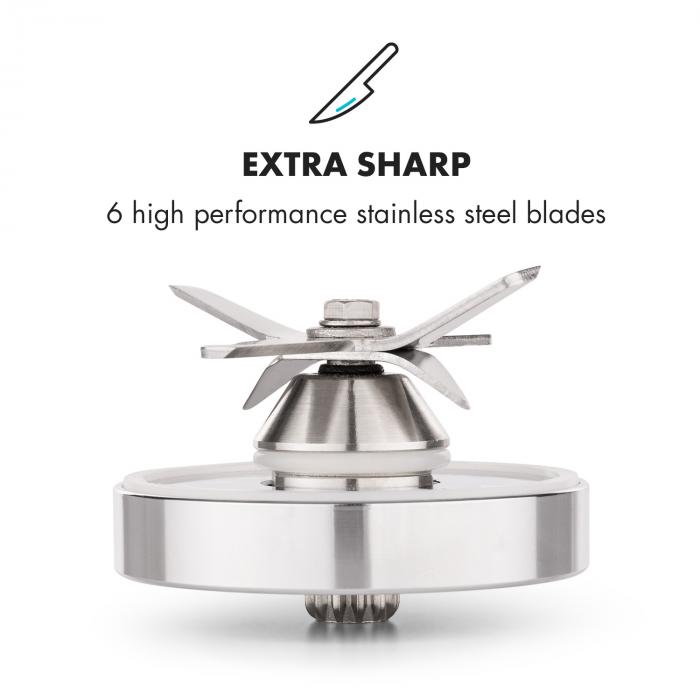 Selected reviews from the German press
Top features:
Blender with 1500W power – for professional use
Up to 40,000 RMP
Perfect for smoothies, soups, ice cream or for grinding
2 litres capacity
6 stainless steel blades
Simple operation and easy cleaning
Properties:
Anti-slip rubber feet
Insulated ball bearings
Infinitely variable speed adjustment
Rubberized pitcher holder for comfortable pick up and set down
Completely leak-proof lid
Large plastic tamper tool for safe introduction of ingredientsto the blades
Heat protected motor
Pulse switch
Power supply: 110-220V, 50/60Hz
Dimensions:
17 x 50 x 21cm (WxHxD)
Weight: approx. 4kg
Undercover Mixer Casing Noise Protection Plastic
Item number: 10030167
Included quantity: 1
Top features:
Noise-reducing mixer casing for standard mixers
Transparent plastic casing with a 0.5 cm wall thickness
Reduces noise by about half
Properties:
Large interior of 23.5 x 50 x 26.5 cm (WxHxD) suitable for most standard mixers
0.5 cm thick foam for secure placement of the mixer in its interior
Four suction cups secure a firm foothold of the casing
Material: plastic
Dimensions:
Casing dimensions (closed): approx. 29 x 55 x 38 cm (WxHxD)
Casing dimensions (open): approx. 29 x 85 x 55 cm (WxHxD)
Interior dimensions: approx. 23.5 x 50 x 26.5 cm (WxHxD)
Foam mat dimensions: approx. 23.5 x 0.5 x 26.5 cm (WxHxD)
Weight: approx. 3.6. kg
Herakles 5G Blender with Cover
Stand mixer with LED display and 1500 watts power (2.0 horsepower) - for professional use
Up to 40,000 rpm and 6 stainless steel blades