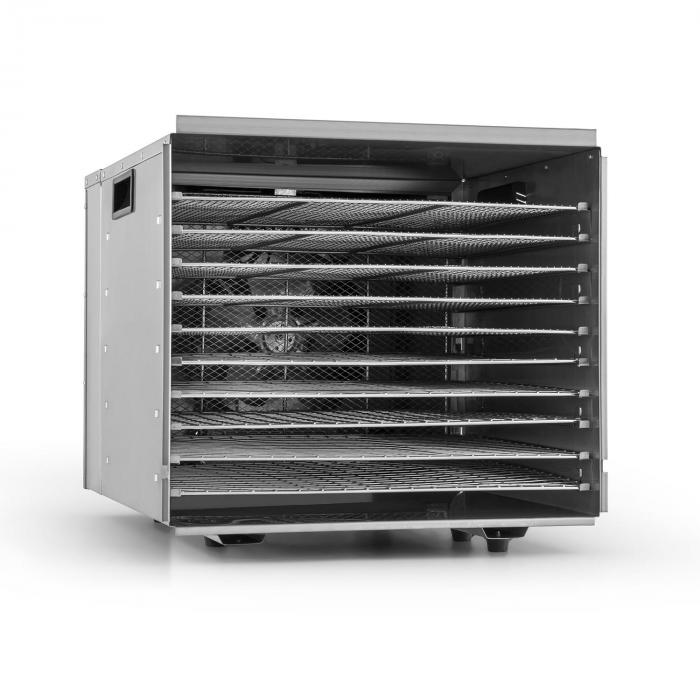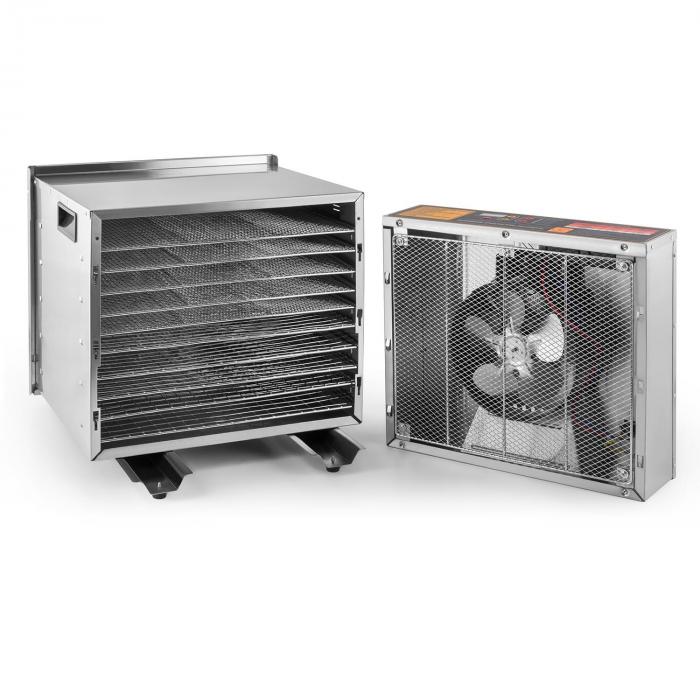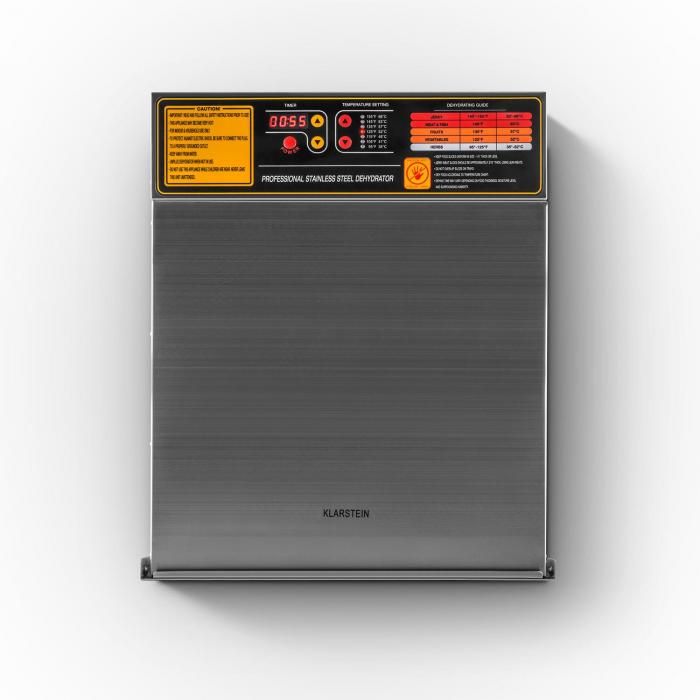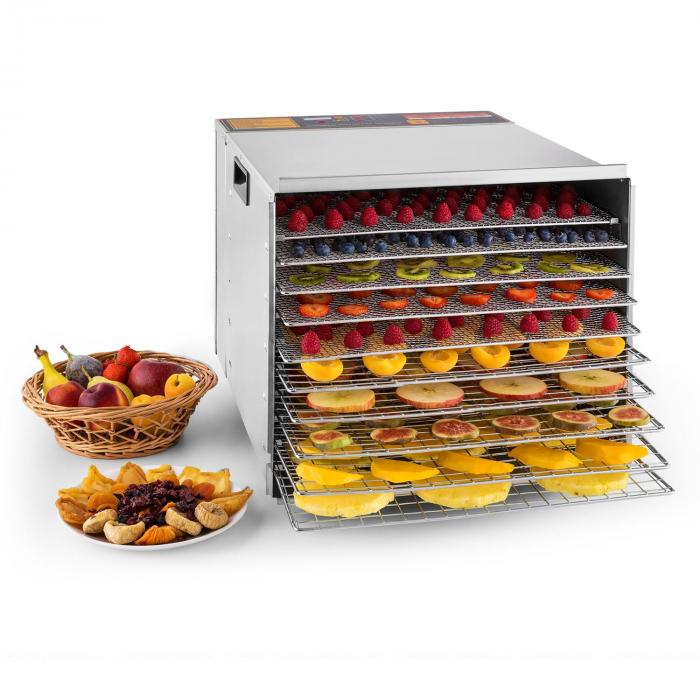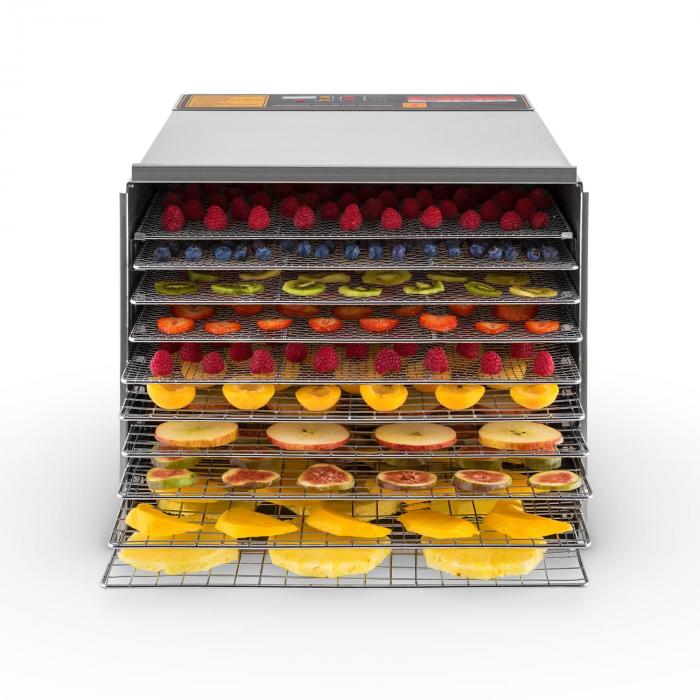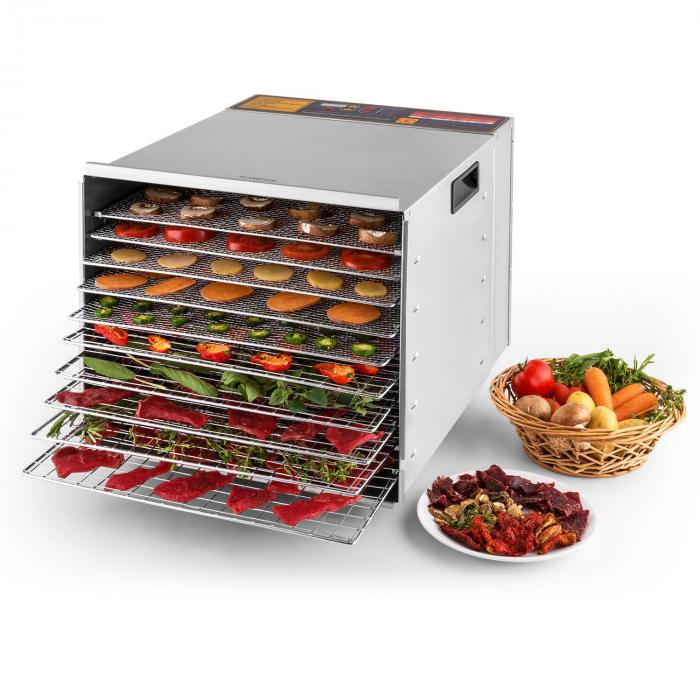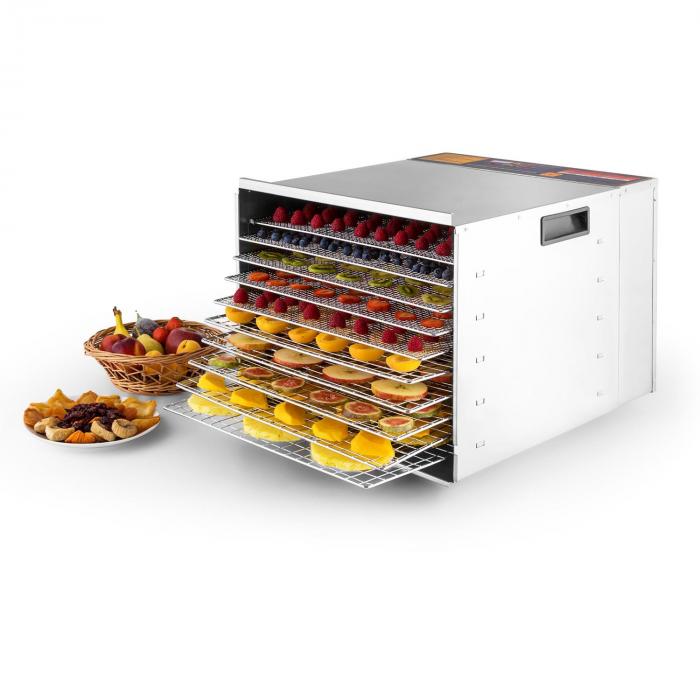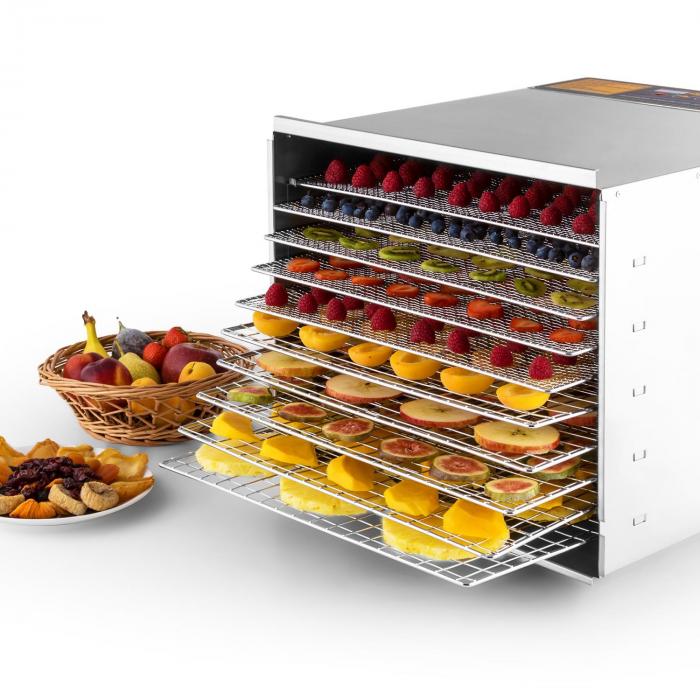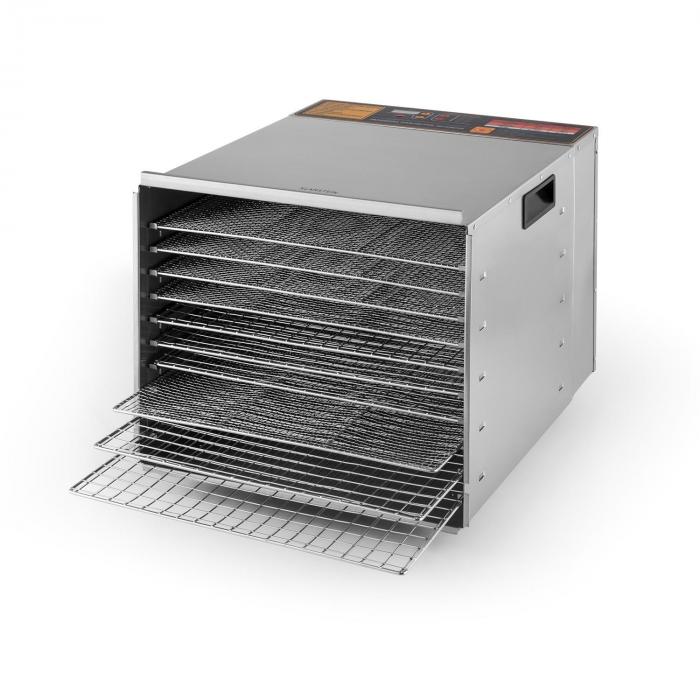 Manual
Item number: 10028437
Fruit Jerky Pro 10 Dehydrator
You save 23%
Delivery time: 5 - 7 workdays
Top features
High-performance dehydrator for drying food
1000 watt power for optimal heating
10 large drying tiers with a combined surface of almost 1.5 m²
Also available as B stock
Shipping costs: from 0,00 €
The item is ready to ship and will be shipped immediately after receipt of payment.
You may change your order at any time.
Fruit Jerky Pro 10 10-Tiered Stainless Steel Food Dehydrator 1000 W
High-performance food dehydrator with a 1000 watt heating element for drying fruit, vegetables or meat, softening stale pastries or making pet treats.
Five coarse-meshed and 5 fine-meshed tiers, adding up to a large drying surface of almost 1.5 m², in a stable drawer-design with a front panel, drawers and stainless steel housing.
Adjustable temperature settings and drying times for ideal results and even heat distribution via a removable, ultra-quiet fan on the back side of the dryer.
Enjoy some dried fruit or veggies as your next delicious snack or use them as naturally conserved ingredients for your daily meals with the food dehydrator Fruit Jerky Pro 10 from Klarstein. You can create a wide variety of foods depending on your tastes and adventurousness, ranging from apple or banana chips, dried tomatoes or flavoursome beef jerky.
Using 1000 watt power, the Fruit Jerky Pro 10 removes water from food, thereby prolonging its shelf life via one of the oldest and most natural preservation processes in the world. The foods don't lose vitamins, minerals and other important requirements for a healthy diet through this process. You can adjust the temperature up to 68 °C so you can find the perfect heat setting for drying any type of food, whether it be fruit, vegetables, meat or fish. Dehydration phases can be set to the minute up to 15 hours using the timer clock. The user guide contains a wide array of comprehensive tips for preparing, improving and drying different treats, making using the dehydrator even easier.
The dehydrator has 10 tiers, each with a drying surface measuring 1440 cm² - almost 1.5 m² in total. This massive amount of space allows for drying large amounts of food; for example, when berry, apple or cherry harvests require quick processing of lots of fruit, or lots of snacks need to be produced at once. Each drying tier is made of rust-proof chromed iron, and five drawers offer a mesh size of approximately 2.2 x 2.2 cm for drying larger pieces, while the other five have a finer mesh size of 0.7 x 0.7 cm for smaller food. Unlike many other food dehydrators, the Fruit Jerky Pro 10 has a stable, stainless steel finished housing with a front plate. The drying tiers can be inserted in the dehydrator and are protected from accidental bumps by the front plate when it's closed. Additionally, the drying chamber retains and evenly circulates heat throughout the tiers well, while an extra-quiet fan blows hot air evenly between the tiers from the back of the dryer.
In addition to creating dried snacks and ingredients, the food dehydrator can also soften up stale food. After a short time in the drier, old, stale bread is fresh once again, and even crisps get their crunchiness back. Similarly, the dryer can provide the necessary warmth for yeast dough to rise. But the Fruit Jerky Pro 10 isn't only a wonderful addition to your home kitchen for you to enjoy - cats and dogs are fans too! They love the healthy and economic treats you can make from dried strips of meat.
The dryer can be partially disassembled so you can clean it more easily: the heating element on the back can be removed, thereby giving you good access to the inside of the drying chamber. Chromed iron tiers are also easy to clean and can be stored away from dust and dirt in the dryer until they're needed again. The Klarstein Fruit Jerky Pro 10 has six non-slip rubber feet to keep it stable.
User manual PDF
Product details
Top features:
High-performance dehydrator for drying food
Natural food preservation, retains vitamins and minerals
1000 watt power for optimal heating during recirculating air operation
10 large chromed iron drying tiers to quickly process large amounts of food
Drying surface of almost 1.5 m²
Properties:
Removable, back-side, ultra-quiet fan for even heat distribution
Also suitable for softening old pastries, letting dough rise or making pet treats
5 coarse-meshed and 5 fine-meshed drying tiers
Stainless steel front panel to close the drying chamber for even higher drying power
Temperature range: up to 68° C
Timer: adjustable to the minute up to 15 hours
LCD display
User-friendly operation via 5 buttons
Can be partially disassembled for easy cleaning
Removable heating element
Non-slip rubber feet
User guide with extensive tips
Housing material: stainless sheet-steel
Drying tier material: rust-proof chromed iron
On/off switch on the upper side of the dehydrator
Power supply: 220 - 240 V~ / 50 - 60 Hz
Scope of delivery:
1 x dryer
1 x front panel
8 x drying floor (7 x 7 mm mesh size)
1 x English user manual (other languages: German, Italian, French)
Dimensions:
Overall dimensions: 43.5 x 40.5 x 51.5 cm (WxHxD)
Heating element dimensions: 41.5 x 35.5 x 11.5 cm (WxHxD)
Drying chamber dimensions: 41.5 x 39 x 39.5 cm (WxHxD)
Front panel dimensions: 43.5 x 38 x 1.5 cm (WxHxD)
Drying tier surface: approx. 40 x 36 cm (WxL)
Distance between drying tiers: approx. 2.5 cm
Weight: approx. 14.1 kg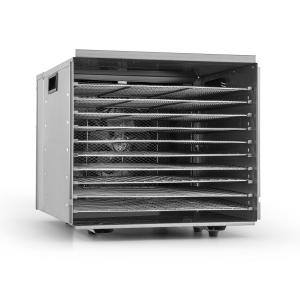 Fruit Jerky Pro 10 Dehydrator
High-performance dehydrator for drying food
1000 watt power for optimal heating
10 large drying tiers with a combined surface of almost 1.5 m²
All purchases made between the 26th of October and the 31st of December can be returned till the 31st of January 2019.