Item number: 60000969
SPJ Boom 12 PA System
You save 6%
Unfortunately, no articles are currently available
PA Set "SPJ Boom 12" Pair of 30cm (12") Speakers & Amplifier 1200W
Text für Setartikel..
Powerful PA system consisting of two passive 12" PA speakers with 200W RMS output each, sturdy ABS chassis and a bridgeable PA amplifier with 1200W max. power.
2 x Skytec SPJ1200 Passive 12" (30cm) PA Speaker 400W
Powerful passive speaker with 12" (30cm) subwoofer and 200W RMS power. Durable ABS housing - can be used both indoors and outdoors. Suitable for stand mounting and for wall and ceiling mounting.
Set consists of
DX1200 PA Amplifier 1200W Bridgeable
Item number: 10021666
Included quantity: 1
Top features:
PA amplifier with 1200 watts maximum power (2 x 600W at 4Ohms, 2 x 4000W at 8 ohms, 1200W Bridge-power at 8 ohms)
Suitable on 48cm (19") rack installation - 2 rack units
Bridgeable - 2/1- channel operation
Properties:
Inputs: 2 x 6.3mm jack, 2 x RCA
Outputs: 2 x NL4, 2 x 6.3mm jack, 2 x screw terminal
Two large, ergonomic knobs for easy adjustment to thedesired level
Ground/lift switch
Resilient metal housing
Channel by channel adjustable volume
LED indication for clipping and backup
Frequency range: 10Hz to 20kHz
Damping factor:> 250
S/N Ratio:> 90dB
Slew Rate: 30V/uSec
Input sensitivity: 0.77 V
Input impedance: 20k ohms
Total harmonic distortion: <0.1%
Supply voltage:
Power button
Power supply: 220V/50Hz
Dimensions:
48.2 x 8.8 x 31.4 cm (WxHxD)
Weight: about 9 kg
SPJ1200 Passive 12" PA Speaker 400W
Item number: 10007576
Included quantity: 2
Top features:
2-way speaker system with powerful 12" (30cm) mid-low bass driver
200W RMS power
Impact resistant, durable ABS housing - suitable for both indoor and outdoor use
Flange underneath - suitable for stand construction
Suitable for wall and ceiling mounting
Properties:
Connections: 1 x PA-line input, 1 x PA-line output
Sensitivity: 122dB
Frequency range: 50Hz - 18kHz
Impedance: 8 ohms
Sturdy metal grille
Side handles
Dimensions:
11.8 x 22.8 x 13.8 inches (W x H x D) (30 x 58 x 35cm)
Weight: approx. 24.2 pounds (11kg)
5 Meter Speakon Audio PA Cable - Kink Protected
Item number: 10002611
Included quantity: 2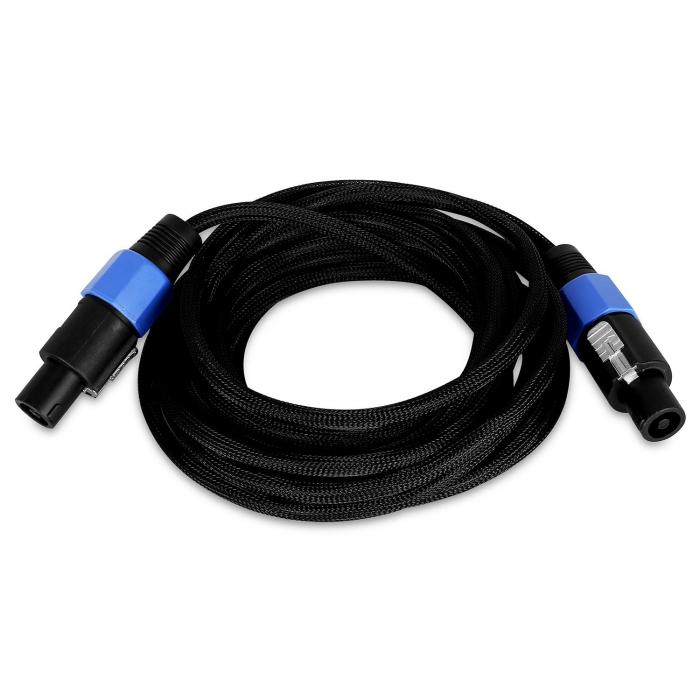 Top features:
For connections between PA Amplifiers and Speakers
Kink Protected
Properties:
For connections between PA Amplifiers and Speakers