Port 12 VHF-BT Mobile PA System
You save 29%
Unfortunately, no articles are currently available
Top features
Portable PA system with 350W RMS power
Integrated Bluetooth interface
MP3-capable USB and SD interfaces
Shipping costs: from 0,00 €
The item is ready to ship and will be shipped immediately after receipt of payment.
You may change your order at any time.
Port12VHF-BT Portable 12" PA Speaker USB SD AUX MP3 Bluetooth
Recommended area of application
Bars
Catering
Dance school
Gym
Karaoke party
Small stages
Playing field
Expandable
CD player
DJ mixer
Laptop
Microphone Stand
MP3 Player
Speaker stands
The Ibiza Port12VHF-BT is a flexible PA system that specialises in mobility.
A built-in battery releases the system from the requirements of a mains power source and gives you complete freedom in the choice of location. The Ibiza Port12VHF-BT is easily transportable, thanks to the smooth-rolling casters and retractable handle.
The Ibiza Port12VHF-BT features solid, weatherproof ABS housing. It can be stand mounted or stacked, giving you ample scope for an individual interpretation of PA setups.
MP3-capable USB and SD inputs connect the PA system with mass storage devices. There is also the option of connecting line-level devices such as computers, CD players, and microphones.
For wireless transmission, the Ibiza Port12VHF-BT boasts a built-in Bluetooth receiver to pair with Bluetooth-enabled devices, such as smartphones, laptops, and dongles. Music from these devices can be integrated into the PA system, free from the shackles of annoying cables.
Unlike most other PA systems, the Ibiza Port12VHF-BT also features a wireless microphone for a cable-free performance with a wide radius.
The performance of the Ibiza PA system is suited for promotion events, musicians, park parties and many other occasions
User manual PDF
Product details
Top features:
Portable PA system with 12" (30cm) bass driver and 350W RMS power
Integrated Bluetooth interface - for music playback via smartphones, tablets and other Bluetooth-enabled devices
AUX inputs for connecting to audio sources such as CD players or computers
MP3-capable USB and SD interfaces - suitable for connecting to USB flash drives and SD cards
Operates on mains power, the internal battery, or an external 12V battery
Trolley design with retractable handle, side handles and casters
Robust ABS housing with flange - suitable for stand assembly
Properties:
Connections: 1 x USB port, 1 x SD / MMC port, 1 x 6.3mm jack microphone/instrument input, 1 x 6.3mm jack microphone input, 1 x 3.5mm jack AUX input, 1 x stereo RCA AUX input, 1 x stereo RCA AUX output
Sensitivity: 98dB
Frequency range: 40Hz - 20kHz
Built-in VHF wireless microphone system
2-band EQ
Integrated recording function
Adjustable master volume
Adjustable Line/MP3 volume
Adjustable wireless microphone echo effect
Adjustable wireless microphone volume
Retractable handle and casters
MP3 control section
LCD display
Charging indicator LED
Power button on the rear side
Power supply: 220 - 240V, 50/60Hz or via 12V battery (integrated) or via the 12V battery (external)
Scope of delivery:
1 x Speaker
1 x Remote control
1 x Wireless microphone
1 x Wired microphone
1 x Microphone cable
1 x 9V battery for microphone
1 x Power cable
1 x Power adapter
Dimensions:
13.8 x 22 x 12.2 inches (W x H x D) (35 x 56 x 31cm)
Weight: approx. 28.6 pounds (13kg)
Customer opinions
Tested review
First problem was that there was no instruction manual. And I couldn't find one online either. So when the charging light only came on when the unit was switched on I didn't know if that was correct. Eventually I got it to charge when switched off (I'm not sure how). It held it's charge and operated for several hours - perfectly adequate. However, after the battery was flat I have been unable to get it to charge again.Secondly (and very important) the radio mic that comes with it operates at 199.6 MHz VHF. This frequency is not 'free' - it requires to user to purchase a licence for £75!Don't buy this unit!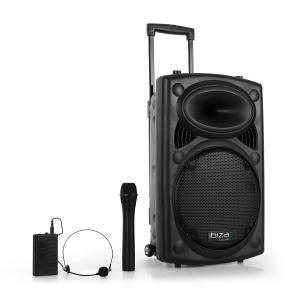 Port 12 VHF-BT Mobile PA System
Portable PA system with 350W RMS power
Integrated Bluetooth interface
MP3-capable USB and SD interfaces
All purchases made between the 25th of October and the 31st of December 2019 can be returned till the 31st of January 2020.