Port 15 VHF-BT Mobile PA System
You save 8%
Delivery time: 4 - 6 workdays
Top features
Portable PA system with 450W RMS output
Integrated Bluetooth interface
MP3-compatible USB and SD slots
Shipping costs: from 0,00 €
The item is ready to ship and will be shipped immediately after receipt of payment.
You may change your order at any time.
Port15VHF-BT Portable 15" PA System USB SD AUX MP3 Bluetooth
The Ibiza Port15VHF-BT is a flexible PA system that focuseson mobility.
An integrated battery of about 6 hours lifetime allows the system to be independent ofany mains power supply and gives you full freedom when selecting a location.You can easily move the system to this location via its floor rollers andretractable trolley handle.
Its weatherproof, robust ABS housing adds even moreportability to the Ibiza PA system. The ability to use the system as part of aspeaker stack or mounted onto a stand offers plenty of freedom when puttingtogether individual sound set ups.
The MP3-compatible USB and SD inputs link the PA system withUSB and SD storage devices. Alongside this, there is the option of connectingthe system to line devices such as computers and CD players, as well asmicrophones. Fir wireless playback, the active speaker features an integratedBluetooth receiver for bringing in Bluetooth-compatible devices such assmartphones, tablets and Bluetooth dongles, freeing yourself completely fromany unnecessary cables.
The Ibiza Port15VHF-BT further sets itself apart from lessversatile PA speakers with the wireless microphone supplied, allowing forgreater freedom when performing and stage presence compared to cabledsolutions.
The Ibiza PA system's performance makes it ideal formedium-sized events with up to 300 guests.
User manual PDF
Product details
Top features:
Portable PA system with 15" (38cm) bass driver and 450WRMS output
Integrated Bluetooth interface – for audio playback viasmartphones, tablets and other Bluetooth-compatible devices
AUX input – for connecting to audio devices such as CDplayers or computers
MP3-compatible USB and SD slots – suitable for connectingUSB sticks and SD cards
Powered via mains, integrated battery or via external 12Vbattery
Properties:
Connections: 1 x USB slot, 1 x SD/MMC slot, 1 x 6.3mm jackmicrophone/instrument input, 1 x 6.3mm jack microphone input, 1 x 3.5mm jackAUX input, 1 x Stereo RCA AUX input, 1 x Stereo RCA AUX output
Sensitivity: 98dB
Frequency response: 40Hz – 20kHz
Integrated VHD wireless microphone system
2-band equalizer
Integrated record function
Adjustable master volume
Adjustable Line/MP3 volume
Adjustable wireless microphone echo effect
Adjustable wireless microphone volume
Retractable handle and floor rollers
MP3 control section
LCD display
LED battery charge level indicator
On/off switch on rear of device
Power supply: 220 – 240V, 50/60Hz or via 12V battery(integrated) or 12V battery (external)
Scope of delivery:
1 x Portable PA system
1 x Power supply
1 x Remote control
1 x Microphone
1 x Microphone clip
1 x Transmitter
1 x Headset
User manual
Dimensions:
42 x 67 x 38cm (W x H x D)
Weight: 17.8kg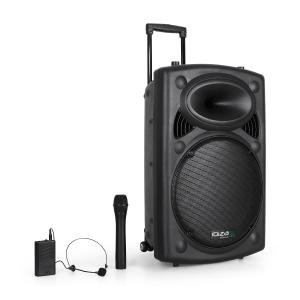 Port 15 VHF-BT Mobile PA System
Portable PA system with 450W RMS output
Integrated Bluetooth interface
MP3-compatible USB and SD slots