Item number: 60002066
Streetstar 12 Mobile PA System
You save 26%
Delivery time: 3 - 5 workdays
Top features
Street Artist Complete Set of 4 parts: PA system with PA system stand as well as two microphone stands
Includes two UHF radio microphones
Microphone stand with swivel arm and solid tripod base
Shipping costs: from 0,00 €
The item is ready to ship and will be shipped immediately after receipt of payment.
You may change your order at any time.
Selected reviews from the German press
Streetstar 12 Mobile PA System Set 12" PA Speaker Stand 2 x Microphone Stand
Text für Setartikel..
Recommended area of application
Bars
Dance school
Gym
Karaoke party
Small stages
Playing field
Expandable
CD player
DJ Headphones
DJ mixer
Laptop
Microphone
Use indoor with up to 200 people.
Let's get this party started!
The auna Streetstar 12 mobile PA system delivers the sound wherever it is needed: right in the heart of events and performances of all kinds - whether at a street party, sports or children's festival, club event, street music performances or the next family celebration. This sound professional delivers music for crowds up to 100 people.
Let's get loud!
The powerful 12" (30.5 cm) subwoofer of the auna Streetstar 12 mobile PA system provides the audience with booming basses that get under the skin, while the tweeter provides a rounded-out sound image. The Bluetooth connection allows you to access playlists from smartphones, tablets or MP3 players. Additional playback options are offered by the USB port and SD slot, while other HiFi audio devices such as CD players and stereo systems can be connected via the AUX line input. The FM radio offers a completely classic option for music listening. The two built-in UHF radio microphones ensure that the karaoke performance is as good as it gets: without the hassle of a microphone cable, you can enjoy a large performance range without any interference - perfect for involving every audience.
Let's move!
The auna Streetstar 12 PA system is ideally equipped for mobile use at events: the rugged ABS housing can cope with bumps along the way, while the extended 100 cm trolley handle also allows big DJs to comfortable pull the system. The exchangeable UHF radio antennas are particularly convenient. A powerful 7.2 Ah rechargeable battery ensures up to 7 hours of continuous operation, while the charging indicator ensures there will be no pauses in the music due to the battery running out unexpectedly. Of course, the Streetstar 12 can also be easily connected to the mains. In order to always see clearly what track is currently being played, the PA system is ready with a 4-line display for showing ID3 tags. A fully-fledged remote control also allows operation from distance.
Let's have some equipment too!
So that nothing is missing from your performance, the auna Streetstar 12 PA system set includes a matching PA system stand from Malone, which lifts the PA box up to 2 m upwards as desired, making the sound range even better. Thanks to its 35 mm flange and 25 kg load capacity, the Streetstar is rock solid. The two Malone ST-11-MS microphone stands are perfect for recording the wireless microphones and facilitate karaoke and vocal performances or moderation considerably. All three tripods are foldable, designed in lightweight design and are ideal for mobile use.
Available versions: Streetstar 12" set, Streetstar 15" set (item 60002067)
Set consists of
Streetstar 12 Mobile PA System 12" Subwoofer Trolley BT USB / SD / MP3 AUX
Item number: 10031567
Included quantity: 1
Top features:
Powerful-sounding mobile PA system for small and medium-sized events such as street parties, sporting events and children's parties, club events, street music performances or private parties
30 cm (12") woofer and two 6.35 cm (2.5") tweeters for 40 watts RMS power (up to 1000 watts max)
Bluetooth interface for music playback from smartphones, tablets or laptops
MP3-capable USB port and SD memory card slot and AUX input for musical variety
Includes two UHF radio microphones with separate volume control as well as switchable echo effect
High mobility thanks to powerful battery, ground rollers and pull-out trolley handle
High-performance PA system for audiences of up to 100 people
Properties:
Connections: 1 x USB port, 1 x SD memory card slot, 1 x 3.5mm jack AUX input, 1 x 6.3 mm jack input, 1 x RCA line-in
Large 4-line LED display for ID3 tag playback (title information of MP3 files)
Extended trolley handle of 100 cm to the comfortable pulling also for large people
Remote control with full functionality
UHF microphones: stable radio frequency, high range (up to 100 m), very good, interference-free transmission
Microphone type: handheld
Radio antenna can be exchanged
Line-out can be used to connect another active loudspeaker
2-band equalizer
Mute switch
Telescopic antenna
Transport recess
Stand feet
Robust ABS housing
Bass reflex construction
SPL: 112 dB
Battery life: approx. 7 hours
Battery with charge indicator
Power supply remote control: 2 x AAA battery (not included)
Power supply: 220-240 V ~ | 50/60 Hz (power supply) or 7.2 Ah / 12 V battery
Dimensions:
Dimensions (about 37.5 x 59.5 x 37 cm (WxHxD)
Weight: about 13.5 kg
Tripod Speaker Stand for PA Speakers 25kg Load - Silver
Item number: 10003853
Included quantity: 1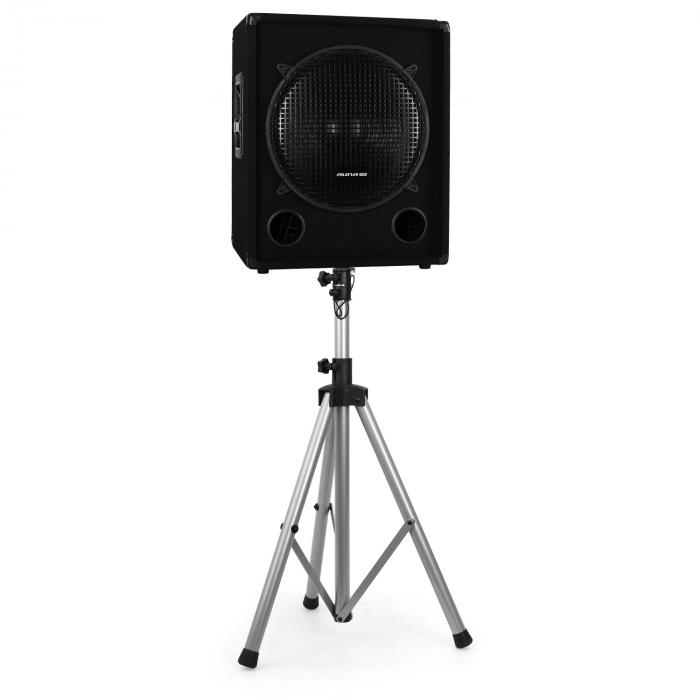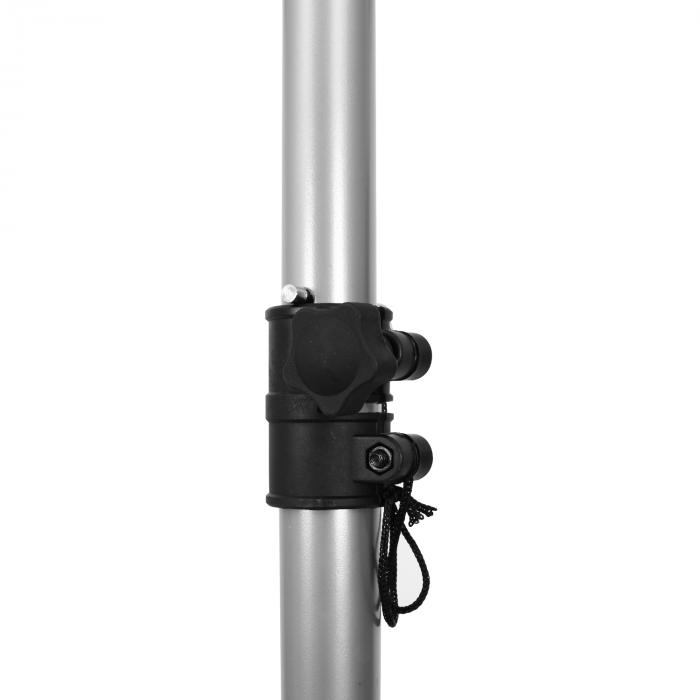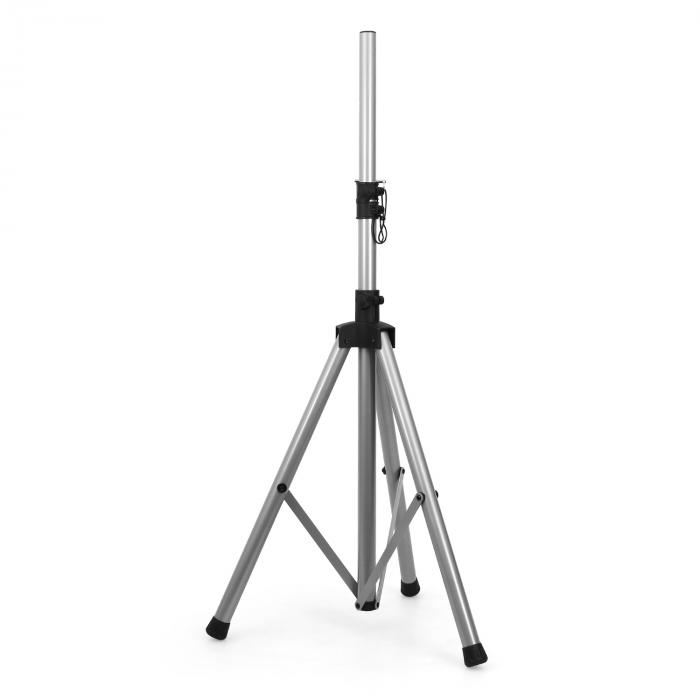 Top features:
Speaker stand for speakers with 35mm standard flange fittings
Max. load capacity: 25kg
Variable height adjustment to a maximum of 79" (2m)
Properties:
Fully collapsible - easy to store and transport
Locking pins for added stability - 7 fixing holes at 5" (12.5cm) intervals
Non-slip rubber feet
Material: aluminium
Colour: silver
Dimensions:
Length (when folded): 41.3" (105cm)
Height: 43" - 79" (110 - 200cm)
Base: approx. 40 x 40" (100 x 100cm)
Weight: 1.9 kg
Streetstar 12 Mobile PA System
Street Artist Complete Set of 4 parts: PA system with PA system stand as well as two microphone stands
Includes two UHF radio microphones
Microphone stand with swivel arm and solid tripod base
All purchases made between the 01st of October and the 31st of December 2020 can be returned till the 31st of January 2021.