Item number: 60002357
Streetstar 15 Mobile PA System + Tripod
Delivery time: 3 - 5 workdays
Top features
Powerful mobile PA system for the sound reinforcement of small and medium-sized events such as street, sports and children's parties, club events, street music performances or private parties
Enhanced 2nd generation with even more power: 38 cm (15") woofer and two 2.5" tweeters for 500 watts max. music performance (up to 1000 W maximum peak output power)
Bluetooth interface for music playback from smartphone, tablet or laptop
You may change your order at any time.
Streetstar 15 Mobile PA System + Tripod 15" Woofer UHF Mic 1000 W Black
Text für Setartikel..
Let's get this party started!
Second generation! The auna Streetstar 2.0 15 mobile PA system brings the sound to wherever it is needed: to the heart of parties, karaoke evenings and performances of all kinds - street festivals, sports or children's parties, club events, street music performances or family celebrations. With even more power, the sound professional now properly delivers sound to crowds of up to 250 people.
Let's get loud!
The powerful 15" (30.5 cm) subwoofer of the auna Streetstar 2.0 15 mobile PA system provides the audience with powerful bass that gets under the skin, while the tweeter ensures a well-rounded sound. The system features a variety of connectivity options to deliver the sound you want to play: listen to playlists from your smartphone, tablet or MP3 player via Bluetooth connection or USB port and SD slot, or alternatively, connect other HiFi audio devices such as CD players and stereo systems via the AUX line-in. An electric guitar can also be connected to the guitar inputs and provided with great sound. The two wireless UHF wireless microphones ensure hot karaoke shows, rousing vocal performances and cool moderation: unburdened from cables, the microphones impress with their interference-free transmission even over high ranges - perfect for involving every audience.
Let's move!
The auna Streetstar 2.0 15 PA system is optimally equipped for mobile use at events: the robust ABS housing can cope with bumps, while the extended 100 cm trolley handle makes it easy for even taller DJs to move the system comfortably. A powerful 7.2 Ah battery with a running time of 3-5 hours ensures flexible use, while the charge level indicator prevents unexpected breaks in transmission. Of course, the Streetstar 2.0 15 can also be easily connected to the mains. So that it is always clear what is being played, the PA system features a 4-line display to show information about the title and artist. A fully fledged remote control allows operation even from distance. For easy and safe installation, the Streetstar 2.0 15 is delivered directly in a set with the appropriate tripod from Malone.
Set consists of
Streetstar 15 Mobile PA System 15 "Subwoofer Trolley BT USB/SD/MP3 FM AUX
Item number: 10031568
Included quantity: 1
Top features:
Powerful, mobile PA system for small and medium-sized events such as black parties, sports and children's parties, club events, street music performances or private parties
38 cm (15") woofer and a 2.5" tweeter for 40 watts RMS power (up to 1000 watts max)
Bluetooth interface for music playback from smartphones, tablets or laptops
MP3-capable USB port and SD memory card slot, FM radio and AUX input for musical variety
Includes two UHF radio microphones with separate volume control and switchable echo effect
High mobility thanks to the powerful battery, rollers and pull-out trolley handle
High-performance PA system for audiences of up to 100 people
Properties:
Connections: 1 x USB port, 1 x SD memory card slot, 1 x 3.5mm jack AUX input, 1 x 6.3 mm clinker input, 1 x RCA line-in
Large, 4-line LED display for ID3 tags (title information of MP3 files)
Extended trolley handle of 100 cm for comfortable pulling also for tall people
Remote control with full range of function
UHF microphones: stable radio frequency, high range (up to 100 m), very good interference-free transmission
Microphone Type: handheld
Radio antenna can be replaced
Line-out can be used to connect another active loudspeaker
2-band equalizer
Mute
Telescopic antenna
Transport crate
Stands
Robust ABS housing
Bass reflex design
Frequency response: 45 - 20,000 Hz
UHF frequency range: 863.1 - 864.5 MHz
SPL: 112 dB
Battery life: approx. 7 hours
Battery with charge indicator
Power supply remote control: 2 x AAA battery (not included)
Power supply: 220-240 V ~ | 50/60 Hz (power supply) or 7.2 Ah / 12 V battery
Dimensions:
Dimensions: approx. 44 x 69.5 x 37 cm (WxHxD)
Weight: approx. 15.5 kg
Speaker Alu Speaker Stand Tripod 130-200cm 35mm Flange Aluminum black
Item number: 10031643
Included quantity: 1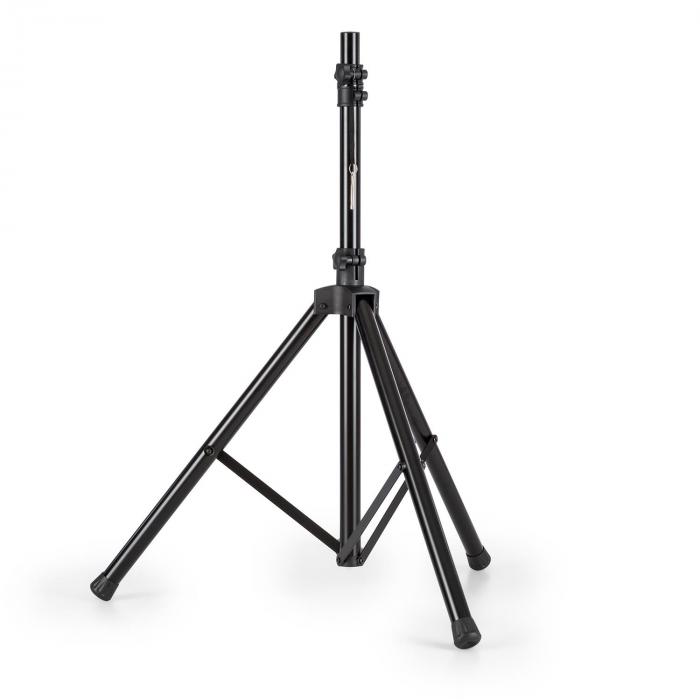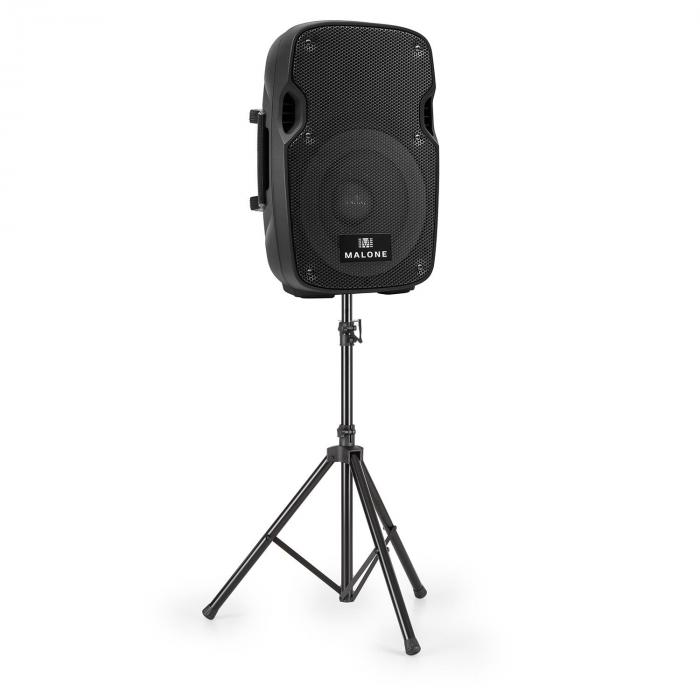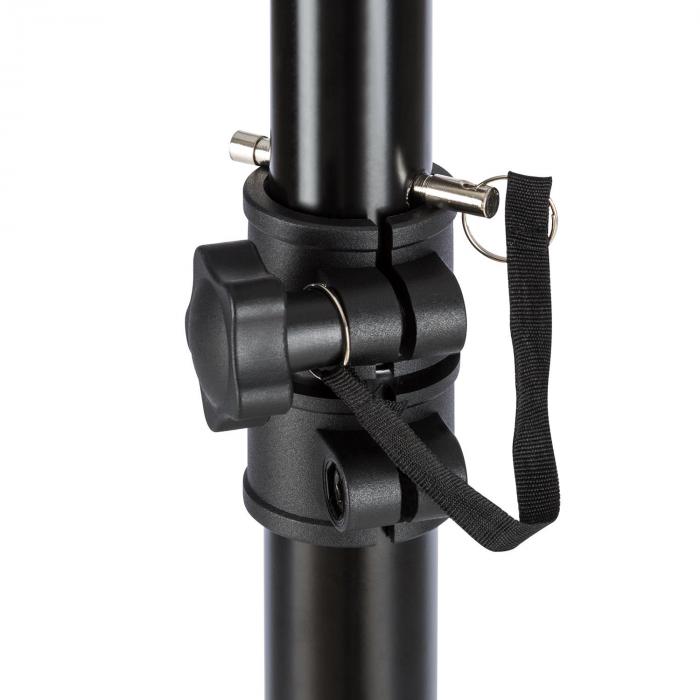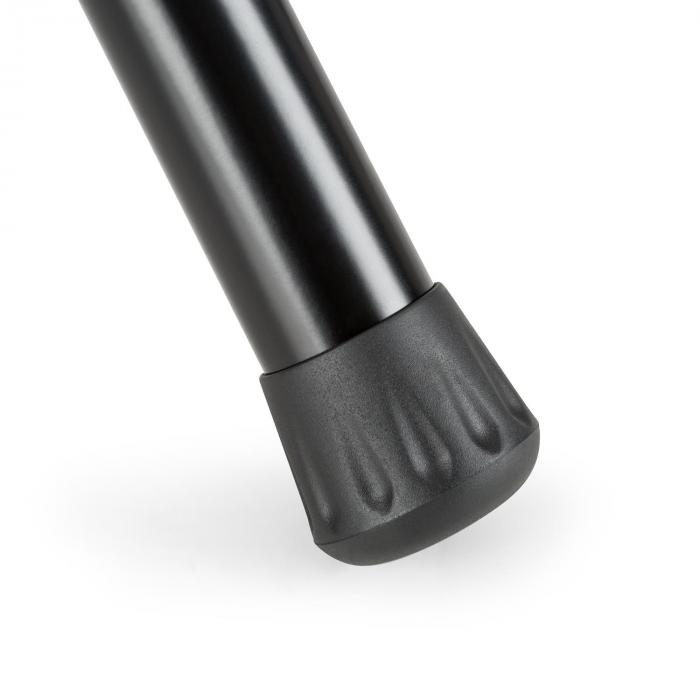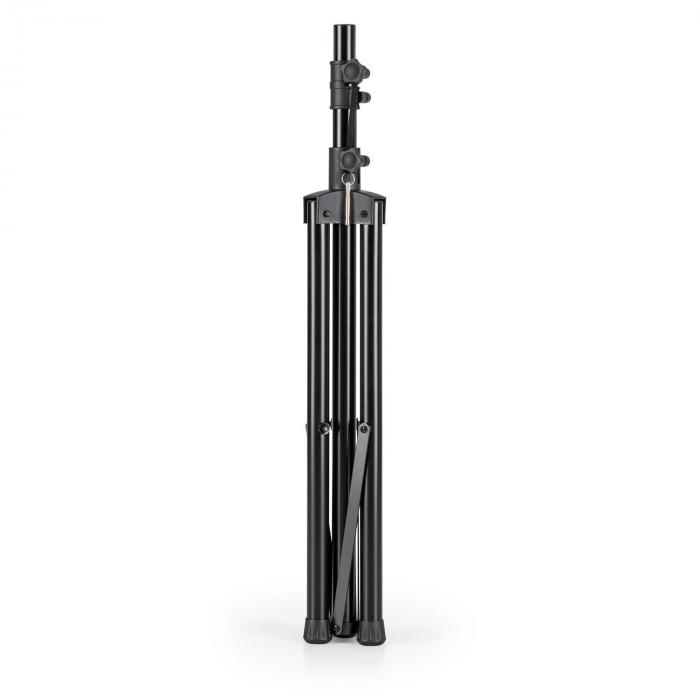 Top features:
Selectable height: adjustable height of approx. 1.30 - 2.00 m
Transportable: made of aluminum and collapsible for easy transport
Compatible: suitable for speakers with a 35 mm flange
Safe: with a locking pin to secure the speaker rod and anti-slip rubber feet
Properties:
Adjustable height
Anti-slip rubber feet
Lightweight aluminum
Locking pin for securing the speaker rod
Suitable for Speakers with 35 mm flange
Collapsible
Dimensions:
Collapsed fimensions: approx. 13 x 96 x 13 cm (WxHxD)
Height: approx. 1.30 - 2.00 m
Weight: 1.6 kg
Streetstar 15 Mobile PA System + Tripod
Powerful mobile PA system for the sound reinforcement of small and medium-sized events such as street, sports and children's parties, club events, street music performances or private parties
Enhanced 2nd generation with even more power: 38 cm (15") woofer and two 2.5" tweeters for 500 watts max. music performance (up to 1000 W maximum peak output power)
Bluetooth interface for music playback from smartphone, tablet or laptop