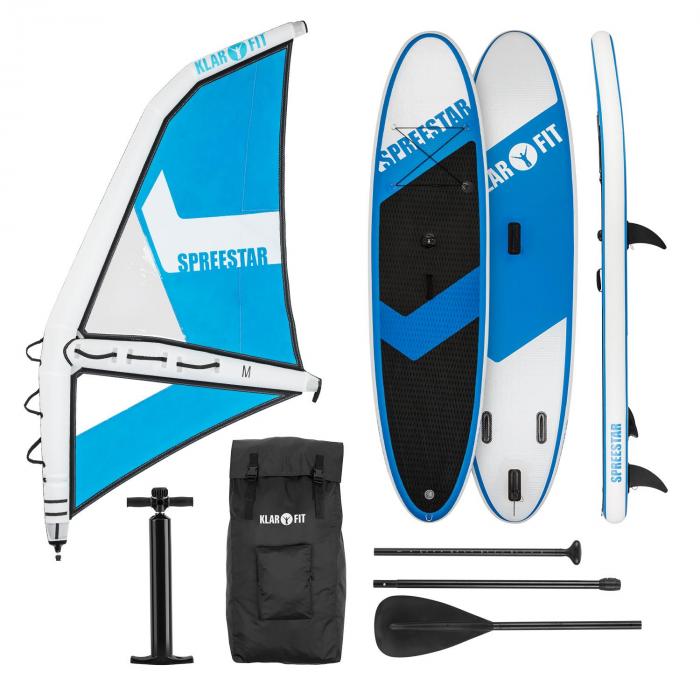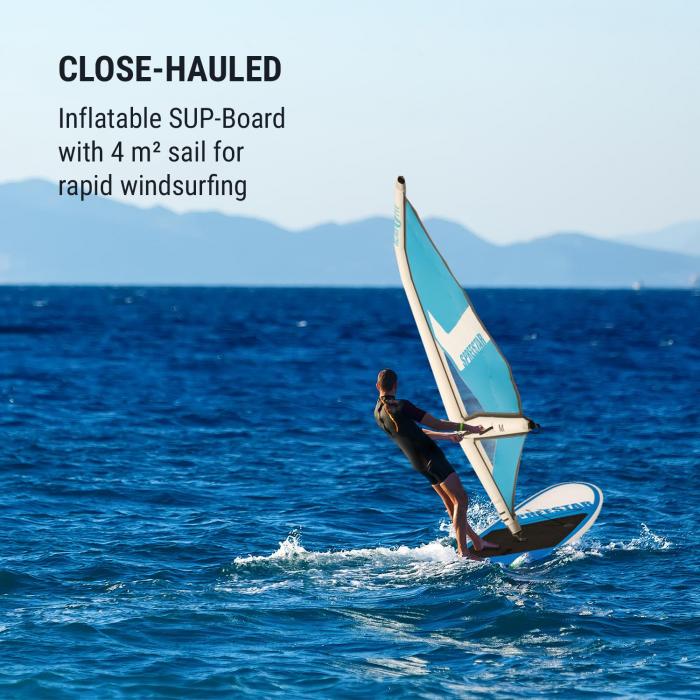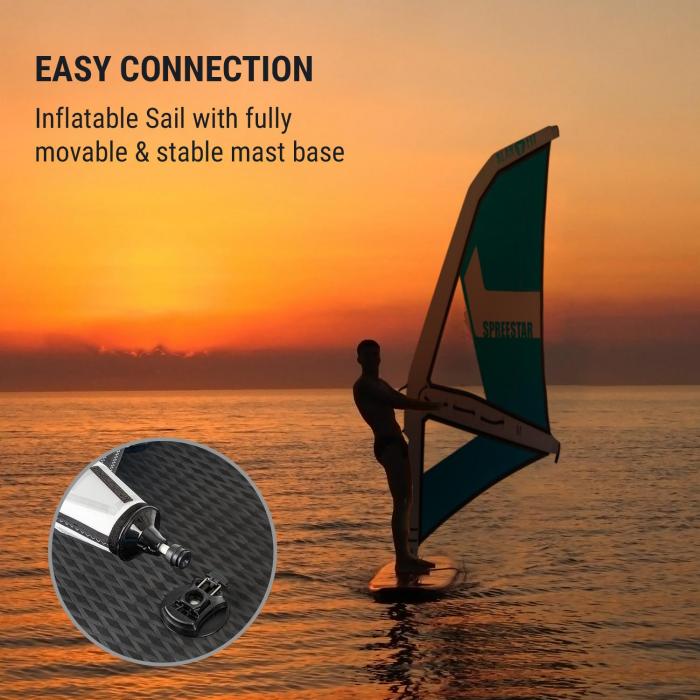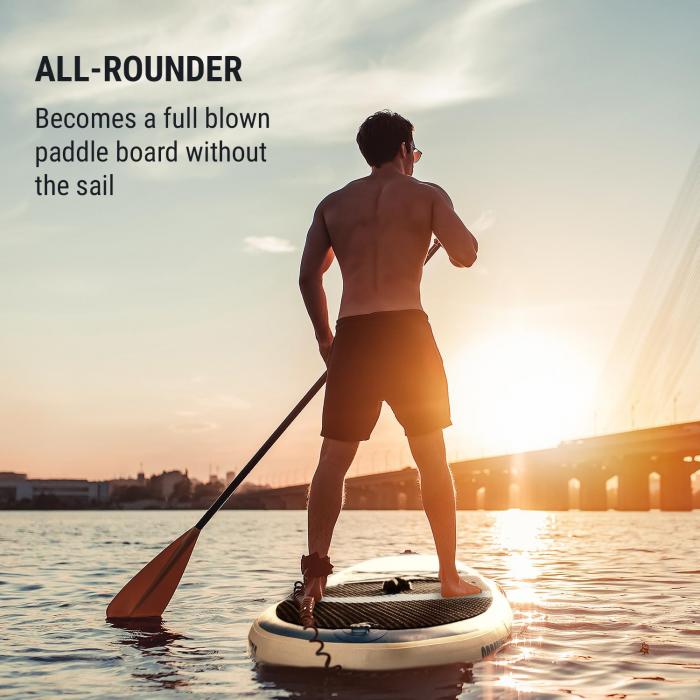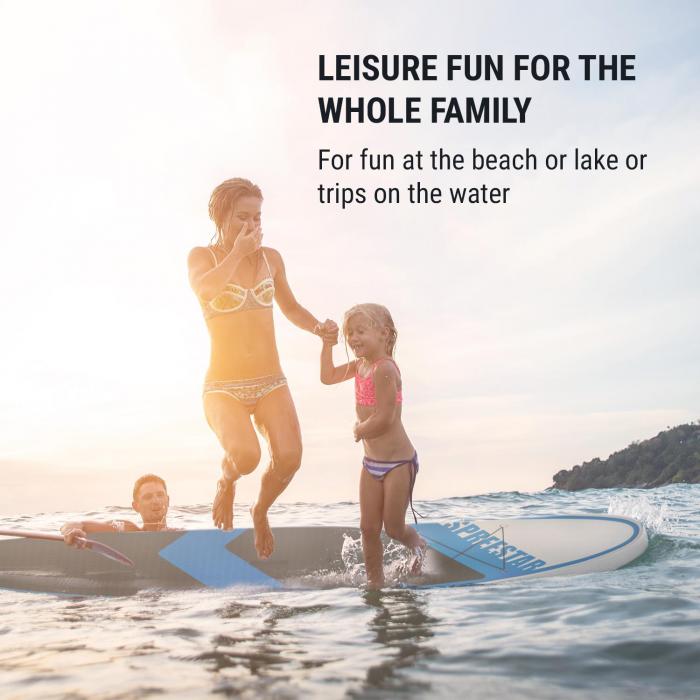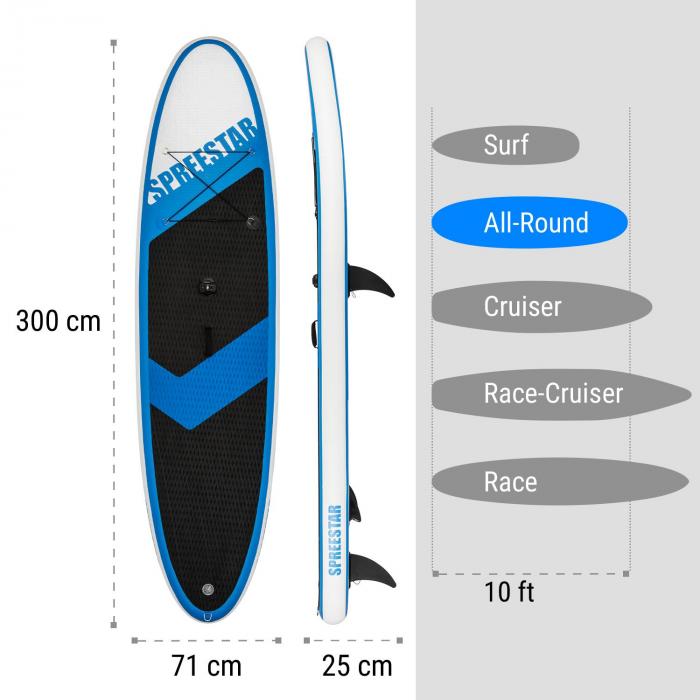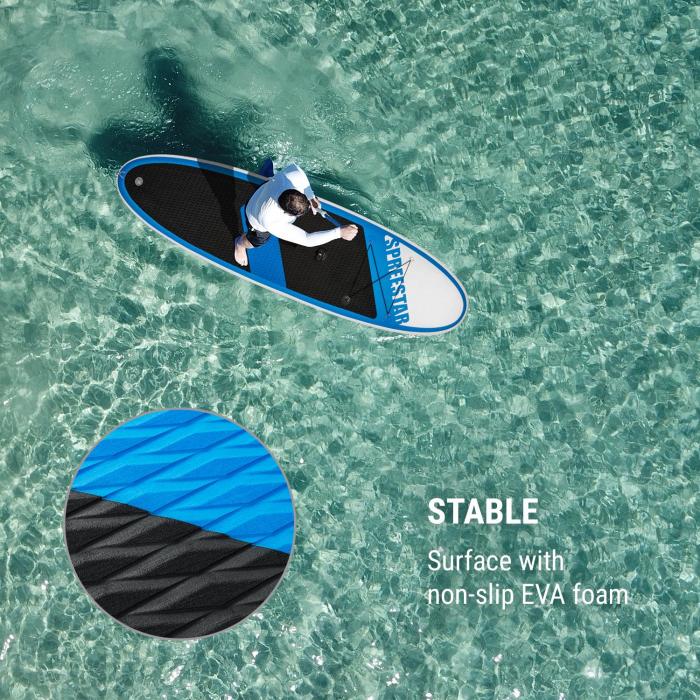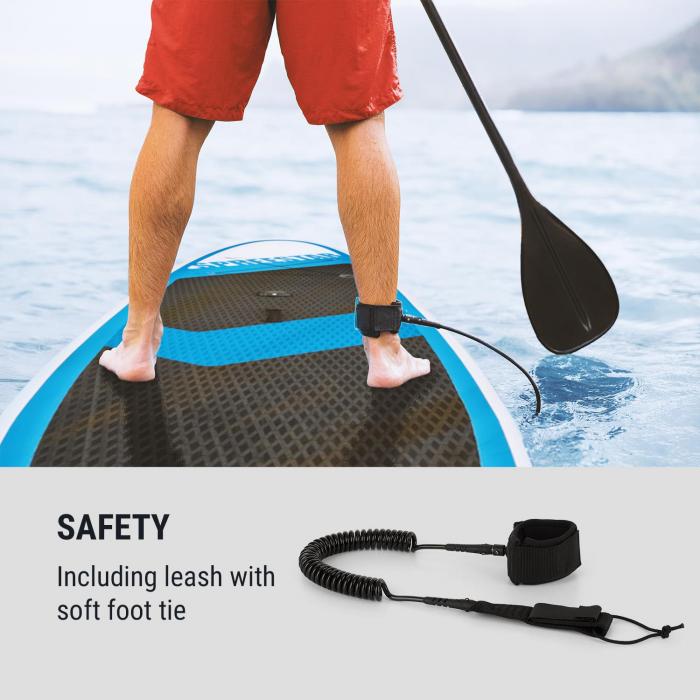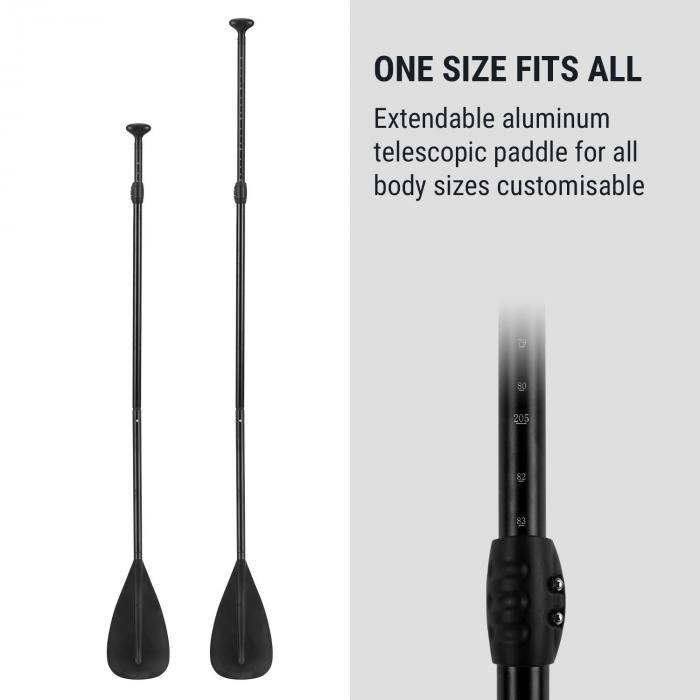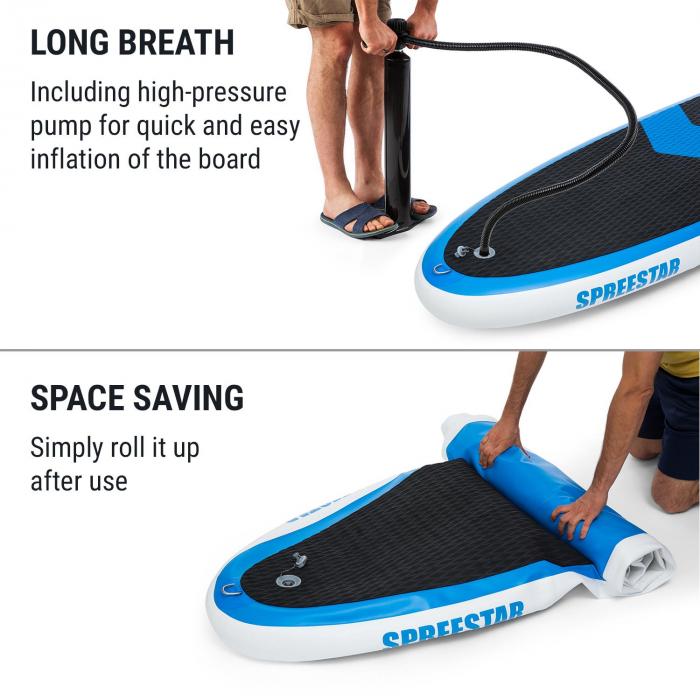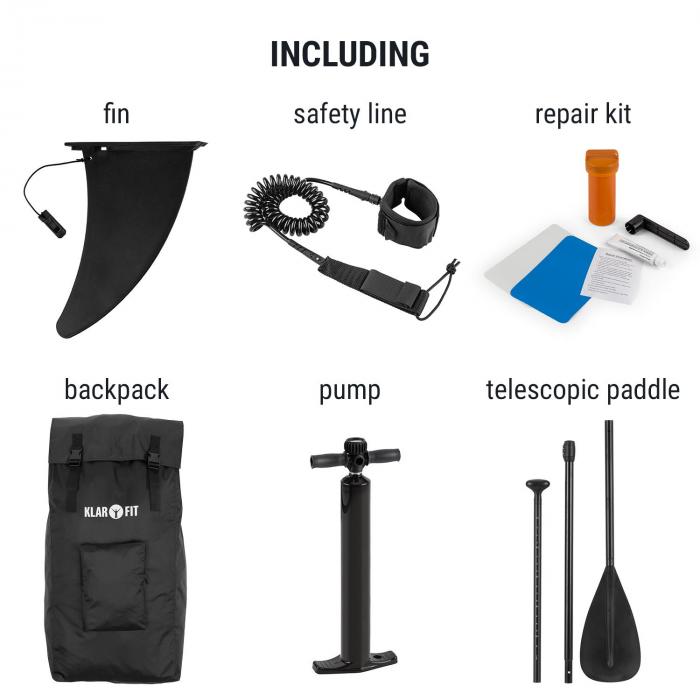 Manual
Item number: 10032438
Spreestar WM Inflatable Paddle Board
You save 41%
Delivery time: 3 - 5 workdays
Top features
Easy handling: low volume & weight
Safety: includes leash for the shallow water area with soft foot tie
Complete set: includes board, sail, pump, telescopic paddle, safety line, keel, repair kit and backpack
Also available as B stock
Shipping costs: from 0,00 €
The item is ready to ship and will be shipped immediately after receipt of payment.
You may change your order at any time.
Spreestar WM Inflatable Paddle Board SUP Board Set 300 x 10 x 71 Blue-White
The sun is shining, the water is calling and the Klarfit Spreestar WM SUP board, 300 x 10 x 71 cm, is waiting to conquer the city's river. Because with the Klarfit Spreestar WM SUP board, you can have a stand up board in no time, with which you can explore lakes and rivers - in the most relaxed way.
Everything is included. SUP board, windsurfing sail, telescopic paddle, safety foot leash, repair kit and high pressure air pump - everything fits in the large 121.5-litre transport backpack. All parts of the set meet three criteria: low volume, low weight and high stability.
With the high-pressure pump, you can fill the PVC high-pressure chambers of the SUP board in just a few minutes. The wind sail also gets its stable shape by air filling and requires no linkage. As fast as it is set up, the Spreestar WS is again stowed completely in the transport rucksack. It fits into any trunk and thanks to the low weight of only 15 kg, it can easily be carried over longer distances.
Once filled up, you can start: either as a windsurfing board at a rapid pace, hard on the wind or - without sails - as an SUP board with the long paddle at a relaxed speed. This makes the Spreestar WM SUP windsurfer the perfect all-rounder for excursions. Beginners will especially enjoy the Klarfit Spreestar stand-up board, because the all-rounder board shape is extremely stable, robust and non-tilting. The upper made of EVA pad ensures a pleasant and non-slip feeling. And if you more or less involuntarily dive into the cool water, the safety foot leash ensures that the board always stays close to you. Thanks to its sturdy, flexible coupling and its low weight, the sail is quickly set up again and the wild ride can continue.
A day on the water makes you thirsty and hungry. Therefore, provisions can be easily clamped in the elastic bungee cords. And why not plan a trip with friends and family? No matter which age and fitness class - this trendy sport is aimed at everyone, providing a fun and joint-friendly whole-body training. The telescopic paddle can be adapted to the respective body size, so the back muscles are relaxed and relieved with the optimal paddle height.
Choose your mode of getting around: with the Klarfit Spreestar WM surfboard set, you can either paddle at a relaxed pace without the sail, or set up the sail to fly at full speed across the lake.
User manual PDF
Product details
Top features:
Hard on the wind: inflatable 4 m sail for rapid windsurfing with stable mast foot
All-rounder: usable as a paddle board without sail
Easy handling: low volume & weight
One size fits all: retractable aluminium telescopic paddle customizable for all body sizes
Safety: includes leash for the shallow water area with soft foot tie
Relaxed to the beach: large 75 l transport backpack to take along the entire board set
Breathe easy: includes high-pressure pump for quick and easy inflation of the board
Complete set: includes board, sail, pump, telescopic paddle, safety line, keel, repair kit and backpack
Leisure fun: suitable for the whole family - for training or for excursions
Properties:
Max. paddler weight: 140 kg
Classification: all-round SUP board
Main material: 100% PVC
Upper: EVA pad - foam surface for a comfortable, non-slip feeling
Floor: PVC high pressure chamber
Chamber system: high pressure air floor
Optimum air pressure under all conditions - up to max. 15 psi / 1.03 bar
Elastic bungee cords for carrying as luggage
Backpack system for easy storage and transport
Includes repair kit
Includes high pressure air pump with pressure gauge
Inflation time: approx. 5 min
Colour: blue-white
Scope of delivery:
1 x paddle board
1 x sail
1 x telescopic paddle
3 x removable fin (1 x centre fin + 2 x side fin)
1 x safety rope / leash for the shallow water area, does not drag, does not brake unnecessarily, does not interfere
1 x transport backpack (121.5 L)
1 x repair kit
1 x high pressure pump with pressure gauge
Dimensions:
Dimensions (constructed): about 300 x 10 x 71 cm (WxHxD)
Sail height: 4 m
Dimensions backpack: 45 x 90 x 30 cm (WxHxD)
Dimensions telescopic paddle: 170 - 215 cm
Weight (board): about 8 kg
Weight (sail): about 3 kg
Weight (total): about 15 kg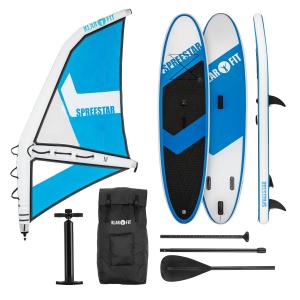 Spreestar WM Inflatable Paddle Board
Easy handling: low volume & weight
Safety: includes leash for the shallow water area with soft foot tie
Complete set: includes board, sail, pump, telescopic paddle, safety line, keel, repair kit and backpack
All purchases made between the 25th of October and the 31st of December 2019 can be returned till the 31st of January 2020.