KS7SG Pull-up Bar
Delivery time: 3 - 5 workdays
Top features
Pull-up bar with punch bag
Load: up to 350kg
Ultra-sturdy steel frame with imprintedKlarfit logo
Shipping costs: from 0,00 €
The item is ready to ship and will be shipped immediately after receipt of payment.
You may change your order at any time.
Workout Pull-Up Bar with Punch Bag <350kg
The Klarfit pull-up bar with punch bag is arigorous piece of sports equipment for working on your body either at home orin the gym.
The combination of pull-ups and boxingsupports the development of awareness and endurance - qualities that alwayscome in handy in everyday life.
The pull-up bar is ideal for regular useand long-term muscle growth with a max. load capacity of up to 350kg.
Please note that the product is shipped asan assembly kit. Assembly materials are supplied.
User manual PDF
Product details
Top features:
Pull-up bar with punch bag
80 x 30cm target zone
Punch bag weight delivers optimal responsewithout little movement
Max. load: up to 350kg
Ultra-sturdy steel frame with imprintedKlarfit logo
Properties:
One grip position
Carabineer holder for punch bag
Shipped with assembly materials
Punch bag material: Plastic -tear-resistant and tough - professionally made seams
Zipper
Chain material: 4mm thick steel
Filling material: Plastic - easy on thejoints
Scope of delivery:
1 x Pull-up bar with assembly materials
1 x Punch bag
Dimensions:
Width: 100cm
Depth: 66cm
Height: 44cm
Frame diameter: 3.2cm
Punch bag chain length: 40cm
Punch bag diameter: 30cm
Punch bag height: 90cm
Pull-up bar weight: 4.1kg
Punch bag weight: 20kg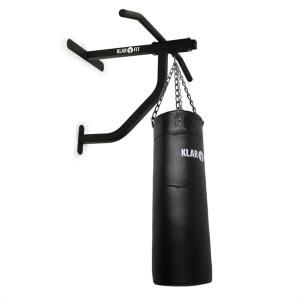 KS7SG Pull-up Bar
Pull-up bar with punch bag
Load: up to 350kg
Ultra-sturdy steel frame with imprintedKlarfit logo
All purchases made between the 26th of October and the 31st of December can be returned till the 31st of January 2019.