Item number: 60000516
Black Line 140 Car HiFi Set
You save 15%
Unfortunately, no articles are currently available
Car Audio HiFi System 'Black Line 140' Subwoofer Amplifier 2800W Set
Text für Setartikel..
Kit your car out with a 2800W sound system.A 2800W 4-channel Auna amplifier delivers bass to the Auna bass box with two10" subwoofers and built-in LED light effect for that perfect discofeeling in your car.
Create a double dose of bass thanks to abridgeable amplifier and twin-bass speaker. Shipped complete with cabling.
The 'Black Line 140' first came into beingin a secret station for bass research with the purpose of beating the weak soundof modern car audio systems. The developers planted two powerful 10"(25cm) subwoofers into the Auna bass speaker's chassis to deliver 1600W ofoutput. The built-in LED light effect makes it perfectly clear just where allthis sound is coming from!
The Auna bass station is backed by apowerful 2800W Auna amplifier and features a computer optmised chassis toensure that no subs from either speaker get in each other's way.
With the cabling already supplied you canstart fitting the set into your car straight out of the box. Get a sense fordrive and dynamics and fix those dull beats with the adjustable high and lowpass filters.
Each individual part of the set is alsoavailable separately
Please note the cables supplied may differfrom the ones displayed
Our support team is happy to put together apersonally tailored car HiFi set upon request.
Set consists of
2X10" Double Subwoofer with LED Light Effect 1600 watts
Item number: 10000013
Included quantity: 1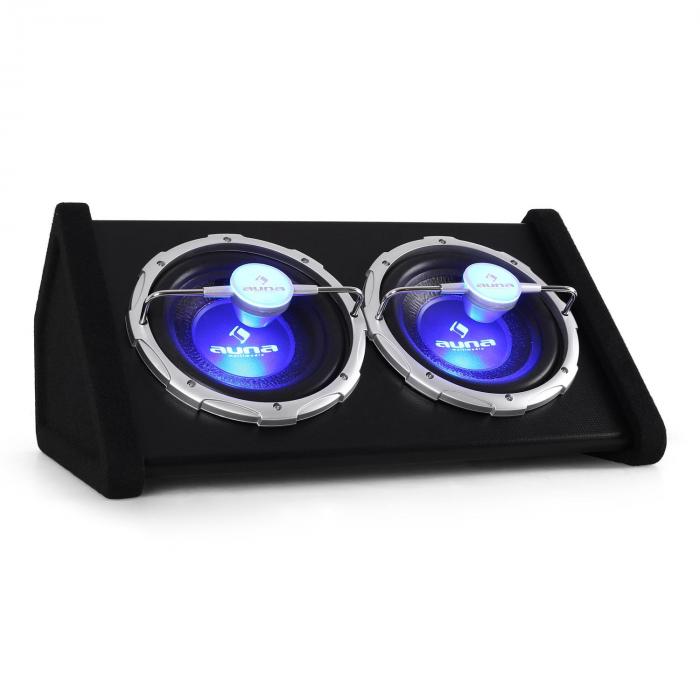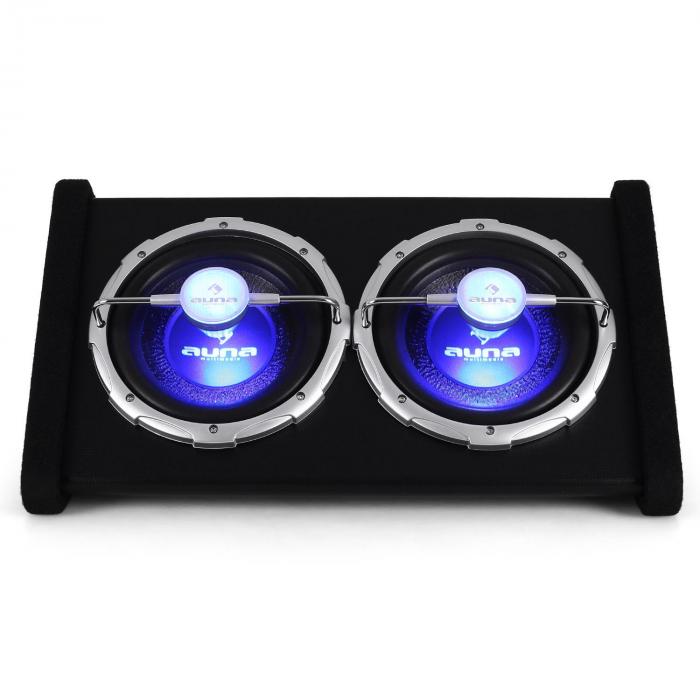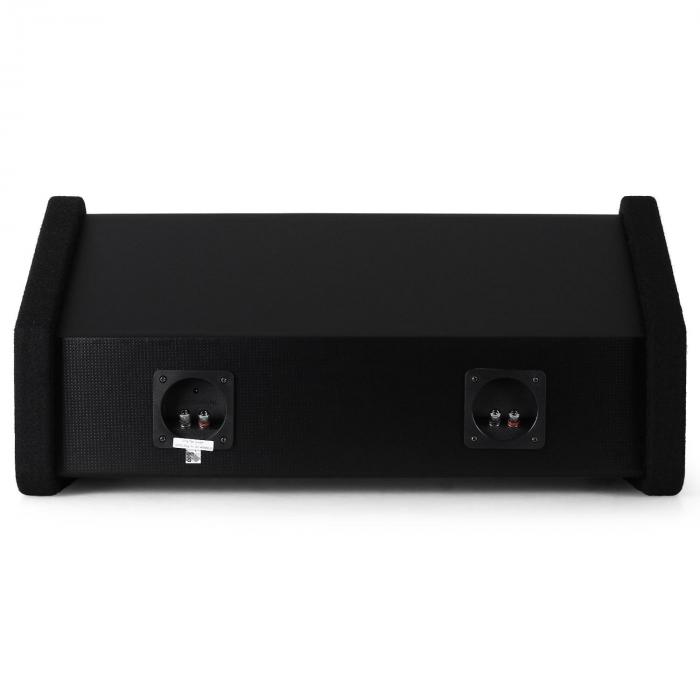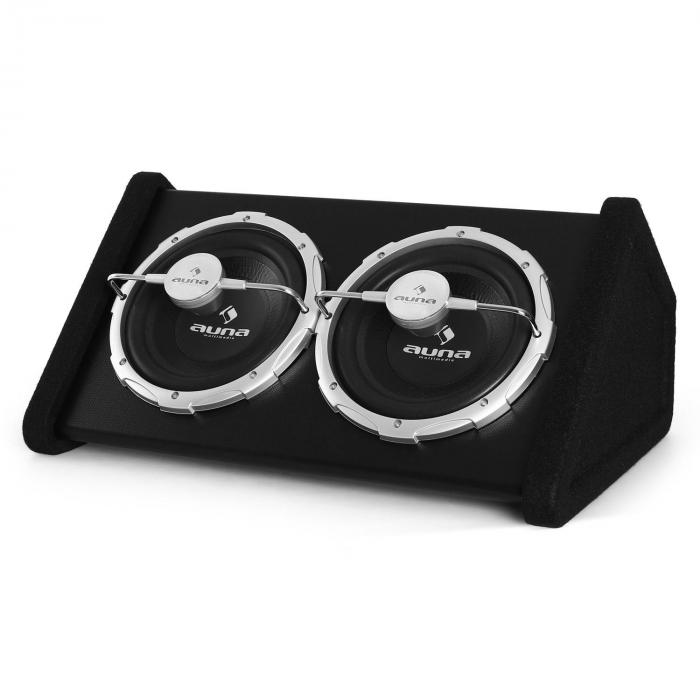 Top features:
2 x 10" subwoofer for 1600W Max Power
Computer-optimized enclosure
2" voice coil
Deep black appearance with neon-blue LED light effect
Low-resonance chassis
Properties:
Inputs: 2 x gold-plated stereo screw terminals, 12V input for light effect
Sound pressure: 90dB
40 oz magnet
Frequency response: 35 Hz to 1000 Hz
Dimensions:
65 x 30 x 43cm
Weight: approx 15.7 kilograms
AMP-CH04 Car Amplifier 4 Channel 2800W PMPOHifi System
Item number: 10003661
Included quantity: 1
Top features:
4-channel car amplifier with 2800W PMPO. Power - equivalent to 380W RMS
High and low level inputs
Adjustable low-pass filter
Indirect blue LED light effect
Resonant black chassis with silver trim strip
Properties:
Connections: 2x High-level input, 2x RCA stereo line input, 4 x stereo speaker output (screw terminals)
Control range low-pass filter: 50Hz to 250Hz
Adjustable gain
X-Over (Full / LPF)
Opportunity for the cable remote control
Overheating protections
Power LED
Frequency response: 20 Hz to 20 kHz
Signal to noise ratio:> 95dB
Impedance: 4 to 16 ohms
Input Sensitivity Line Level: 1 ~ 2 V @ 100 Ohm
Input sensitivity low level: 0.1 ~ 1V @ 10k
Power supply: 14.4 V
Dimensions:
35 x 6 x 26cm
Weight: approximately 3.2 kg
Car Wiring Kit - Car Hifi Cable
Item number: 10002022
Included quantity: 1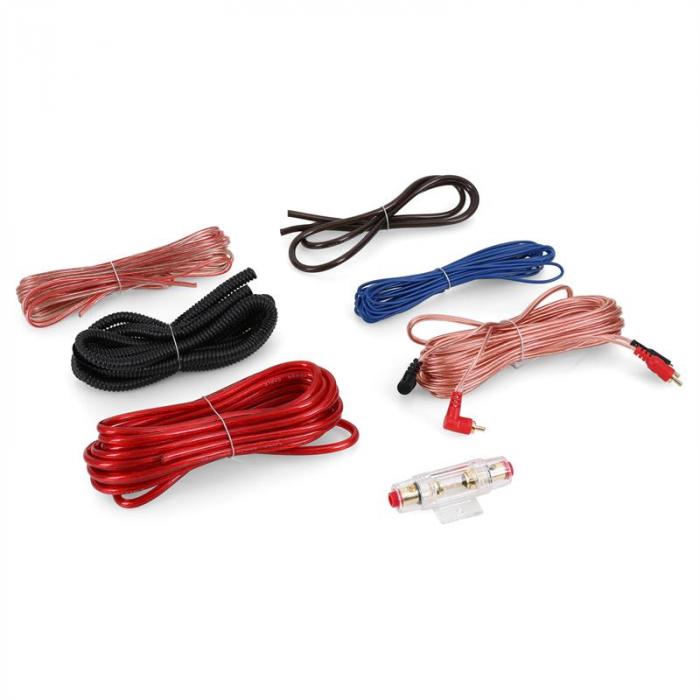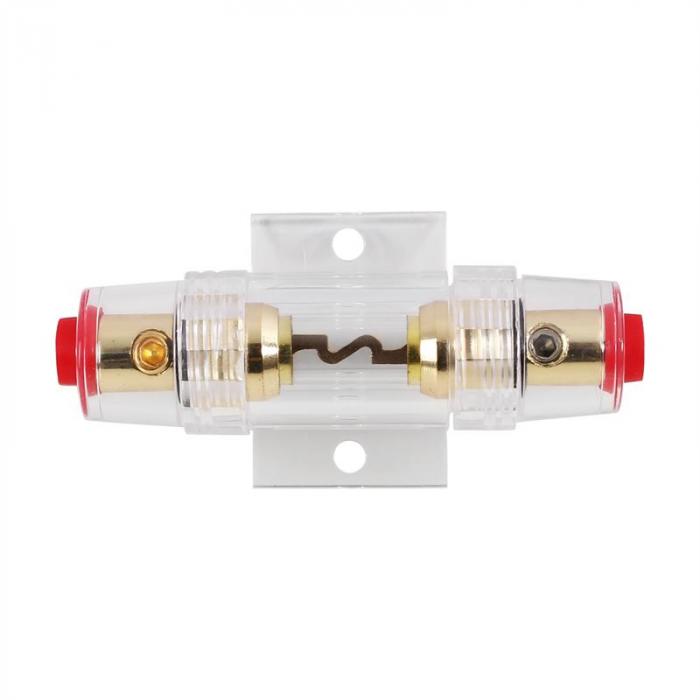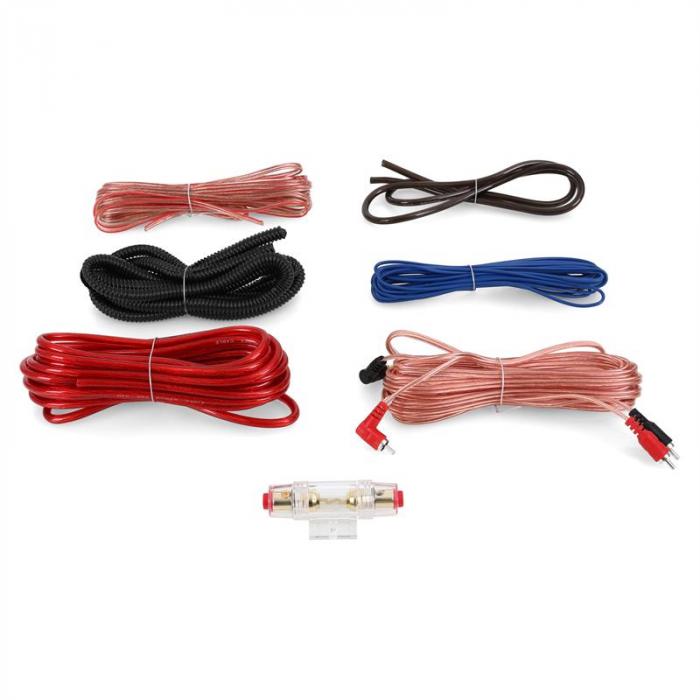 Properties:
All the cables you need to get great sound on the move!
Complete wiring kit for car hifi amps including power and speaker cables with all connectors.
6 meters power cable - 8 Gauge, 10mm ²
1.2 m ground cable - 8 Gauge, 10mm ²
6 meter remote control cable - 18 Gauge, 1mm ²
6-meter speaker cables - 12 Gauge, 4mm ² with 90 ° angled RCA plugs (on one end) - gold plated connectors
6 meter RCA signal cable
1.8 meters Cable Management
60 amps AGU fuse – gold plated, waterproof
Complete with cable ties and safety guides
Customer opinions
Great little kit, Sub has more than enough bass. Also looks pretty cool with the lights on it. Amps great too, bought some 6x9s from here to go into it as well.
Black Line 140 Car HiFi Set