KR-120 DAB Kitchen Cabinet Radio
You save 12%
Delivery time: 3 - 5 workdays
Top features
Digital DAB + receiver and analog FM tuner wtih RDS support
Space-saving under-cabinet type installation or free-standing installation
Adjustable dual alarm
Also available as B stock
Shipping costs: from 0,00 €
The item is ready to ship and will be shipped immediately after receipt of payment.
You may change your order at any time.
KR-120 DAB Kitchen Radio Under-cabinet DAB+ FM RDS Black Telescopic Antenna
To get the groove going when cooking, washing or making breakfast, there is now the oneConcept Kr-120 under-cabinet radio. A space-saving friend that always accompanies you during your time in the kitchen, with musical diveristy from the DAB+ and FM band.
To make sure nothing gets burnt, there is a programmable dual alarm ready for you, which notifies you with a beeping sound after the selected time has passed. The backlit LCD display shows the time and program-related content such as the artist, title, album, genre, or messages.
The oneConcept KR-120 kitchen radio can either save space by being installed under a cabinet, for example, or installed on the counter as a conventional radio via its fold-out feet. The housing harmonized easily with many kitchen designs and so fits discreetly in any ambience.
Thanks to the telescopic antenna with a magnetic base, you will always have trouble-free reception. So from your first move to your finish, they will allways be the right moves.
User manual PDF
Product details
Top features:
Digital DAB + receiver and analog FM tuner wtih RDS support
Space-saving under-cabinet type installation or free-standing installation
Adjustable dual alarm
Includes a flexible telescopic antenna with magnetic base for interference-free reception
Properties:
Connections: 1 x 3.5 mm antenna jack socket
20 radio station presets (10 DAB/10 FM)
Automatic/manual station search
LCD display with backlight
Fold-out feet for standing configuration
Built-in speakers
Power supply: AC 230V, 50 Hz
Scope of delivery:
1 x device
1 x antenna
1 x mounting material set
1 x drill template
User manual in English (other languages:German )
Dimensions:
22 x 5 x 14.8 cm (WxHxD)
Weight: approx. 1.4 kg
Customer opinions
Tested review
Here are a few more details about the unit that I received from hifi-tower.co.uk : It arrived on time and they provide a link for tracking so you can follow its progress. Reasonably packed and new condition. Black plastic housing looks fine. It came fitted with a UK 13A plug (with 3A fuse) so no need for adapter. Plugs straight into 240 V a.c. wall socket. Mains lead is about 1.7 metres. Antenna is small at 40 cm, but has a useful 2 metre lead. To install under kitchen cabinet or shelf, remove the slide-out plate from the top of radio, and screw it to the underside of your cabinet using the screws provided (there are also long screws and spacers, but I didn't use those). The radio can then be slid back onto its mounting plate. There is a paper template to aid in marking the screw holes. The antenna should be fixed vertically, and if you wish to run its lead through your cabinet, then you need to drill 8.5 mm dia holes to pass the jack plug. Having done all this, the reception, controls, and sound quality are fine for my small kitchen. Use the info button to check program details and signal strength. A few distant stations may not tune (low signal?). Auto tune on first power up (and if I press the ""auto scan"" button). 10 presets for DAB and 10 more for FM. Presets are remembered even after mains power off. The display is a back-lit dot matrix LCD and can't be dimmed. But I quite like it. When the unit's not in standby, this provides 2 lines of text which is an advantage. The controls are easy once you get used to them. To go to a preset you press ""preset"", then ""up"" or ""down"" until the desired station is displayed, then ""enter"". There's no ""back"" button, but if you don't finish selecting within a fixed time it just reverts to where it was before you started. It has a fold-out stand below the front fascia, for table mounting. But its speaker is on the underside, so the volume is noticeably reduced in this position, and just pressing buttons would move it around, so I'd recommend it should be mounted under a cabinet or such like. Overall I'm satisfied with it. Looks OK, sounds nice, easy to use and affordable. If you want more, then get a stereo system !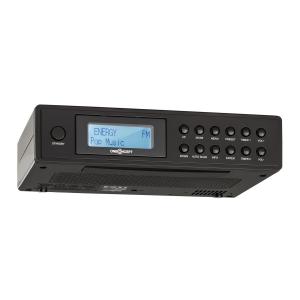 KR-120 DAB Kitchen Cabinet Radio
Digital DAB + receiver and analog FM tuner wtih RDS support
Space-saving under-cabinet type installation or free-standing installation
Adjustable dual alarm
All purchases made between the 26th of October and the 31st of December can be returned till the 31st of January 2019.