Item number: 60002317
Karree Extractor Hood Recirculation Set
Delivery time: 8 - 10 workdays
Top features
Powerful: 60 cm wide exhaust hood with 194 W motor power for small to medium kitchens
Novel sandwich design: device hides between two 5 mm thick safety glass plates in frosted glass look
Powerful: maximum air flow up to 640 m³ / h in 3 stages
Shipping costs: from 0,00 €
The item is ready to ship and will be shipped immediately after receipt of payment.
You may change your order at any time.
Karree Extractor Hood Recirculation Set 60cm White
Text für Setartikel..
Glassy elegance for the best air in the kitchen: the Klarstein Karree cooker extractor hood sets new design accents and sweeps away steam and haze while cooking.
With its powerful 194 W motor power in exhaust air operation, the Klarstein Karree extractor hood ensures haze-free air in small to medium-sized kitchens. Three power levels deliver up to 640 m³ of exhaust air per hour and tailor the wall extractor to your respective cooking needs. With three outlet openings - on the left and right side as well as below - the Karree creates clear air all around. Ventilation and lighting are controlled via the built-in touch control on the front. The switchable light with two 2 W LED lamps ensures good visibility on the stove.
In addition to the technical performance, the Klarstein Karree wall-mounted extractor fan convinces above all with its completely new design concept and establishes itself as a luxurious piece of kitchen equipment: the sandwich design conceals the outlet between two large glass plates made of 5 mm thick safety glass in a frosted glass look. Thanks to its innovative shape, the Karree proves to be surprisingly flexible during installation for a wall exhaust hood: it can either be installed directly on the wall or installed in a drywall with conversion to exhaust air operation. A real highlight in the kitchen.
The cooker hood comes with two activated carbon filters. This kit also includes two additional replacement activated carbon filters for recirculation. Optionally, it is possible to convert it to exhaust air operation, for which a corresponding exhaust hose is required.
Set consists of
Karree Cooker Extractor Hood Circulating Air 60 cm 640 m³ / h LED Stainless Steel Glass White
Item number: 10031910
Included quantity: 1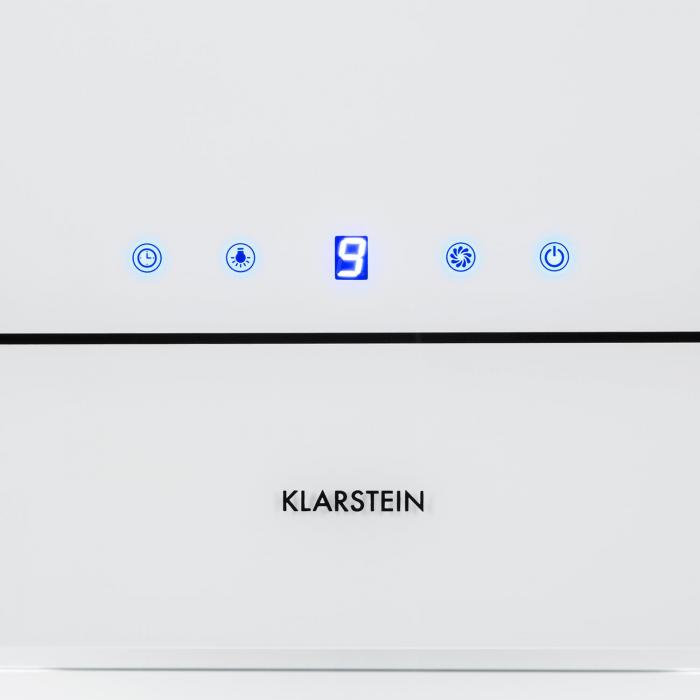 Top features:
Powerful: 60 cm wide exhaust hood with 194 W motor power for small to medium kitchens
Novel sandwich design: the device hides between two 5 mm thick safety glass plates in frosted glass look
Powerful: maximum exhaust air output up to 640 m³ / h in 3 stages
Everything in view: switchable LED kitchen area lighting with 2 x 2 W
Convenient: built-in touch control with digital display
Flexible mounting: either wall mounting or installation in a drywall construction
Properties:
Energy efficiency class B
After-air timer: recirculation time adjustable by the minute up to 9 minutes
3 suction holes: left, right and bottom
3 grease filters made of aluminium, dishwasher-safe
Delivery includes 2 activated carbon filters for recirculation mode
Mounting set with wall brackets, dowels and screws
Total current consumption with the light switched on at the highest level: 198 W
Optional use as exhaust hood
Diameter of the exhaust hose opening: 15 cm
Power supply: 220-240V ~ | 50/60 Hz
Dimensions:
Dimensions (total): about 60 x 66 x 42 cm (WxHxD)
Dimensions (wall part): about 35 x 40 x 17.5 cm (WxHxD)
Dimensions of glass plate: about 60 x 66 cm (WxH)
Length of power cable: about 1.40 m
Weight: about 22 kg
Active Carbon Filter Spare Part 2 Filters Recirculated Air Operation Ø18cm
Item number: 10027530
Included quantity: 1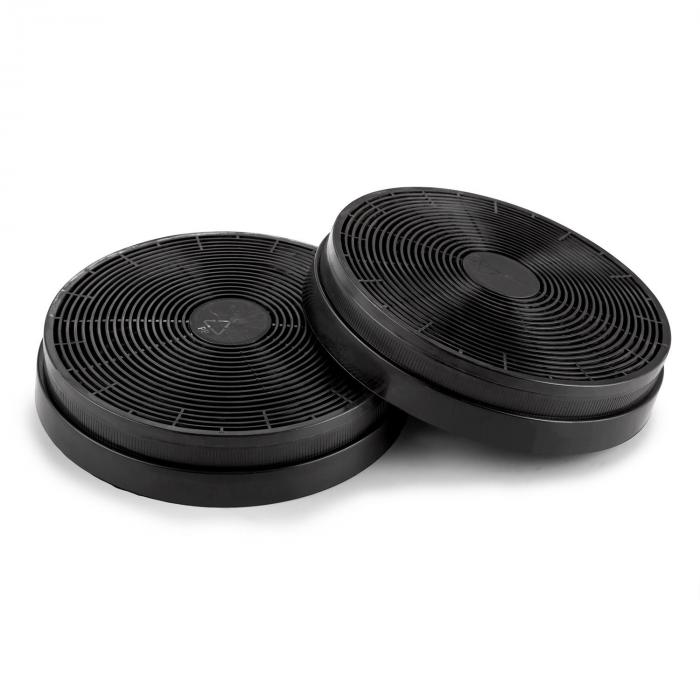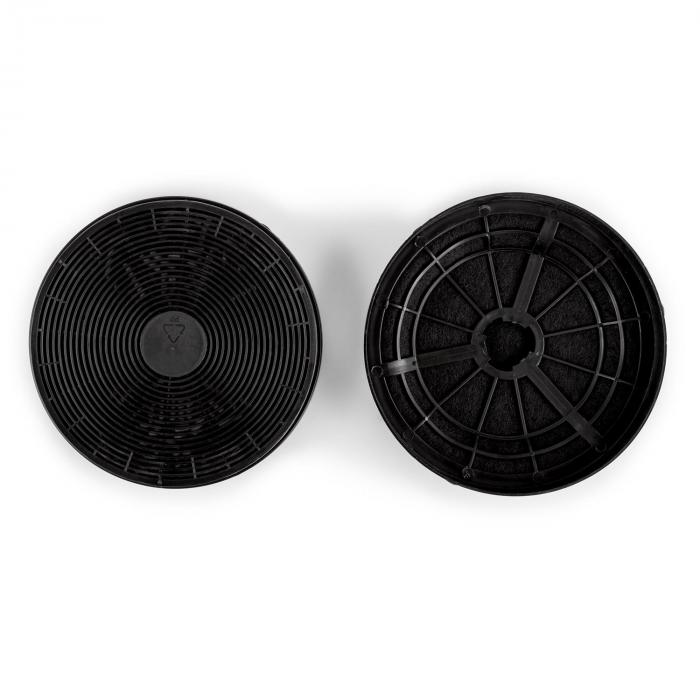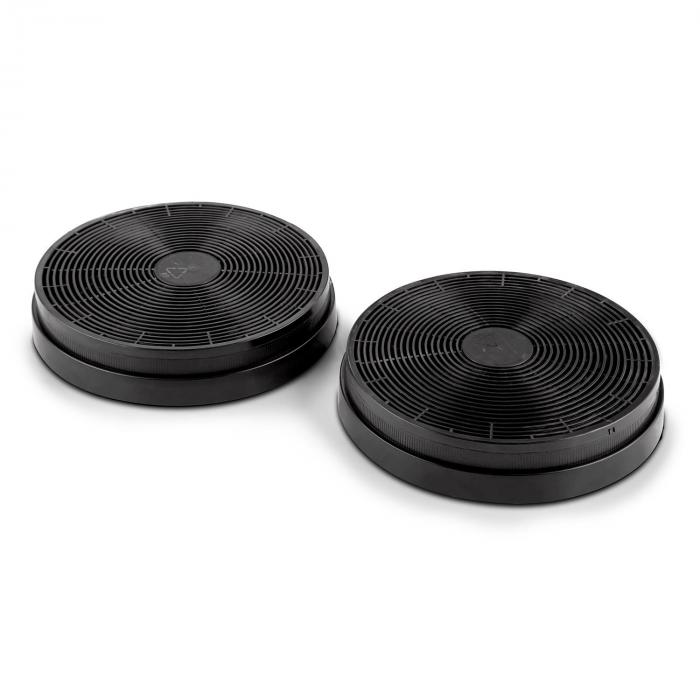 Top features:
Active carbon filter for the conversion of the extractor cooker hood to recirculation mode
Set of 2: no additional purchase necessary for conversion
Replaces used activated carbon filters for long-lasting good filter performance
Properties:
Suitable for Klarstein extractor cooker hoods with the following item numbers:

10011487
10011488
10011489
10011490
10022115
10022116
10026368
10026953
10029424
10030272
10030273
10030274
10030275
10030276
10030277
10030300
Dimensions:
Dimensions (one filter): about 180 x 31 mm (ØxH)
Weight (one filter): about 200 g
Karree Extractor Hood Recirculation Set
Powerful: 60 cm wide exhaust hood with 194 W motor power for small to medium kitchens
Novel sandwich design: device hides between two 5 mm thick safety glass plates in frosted glass look
Powerful: maximum air flow up to 640 m³ / h in 3 stages