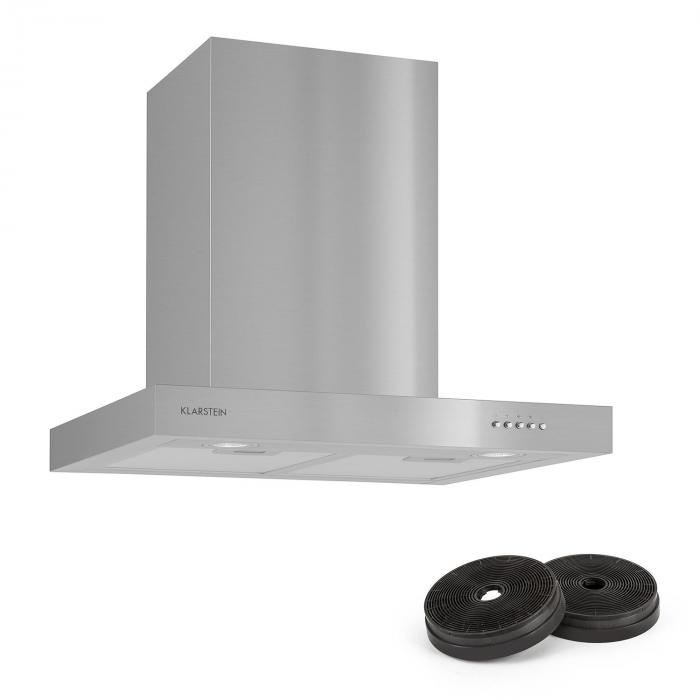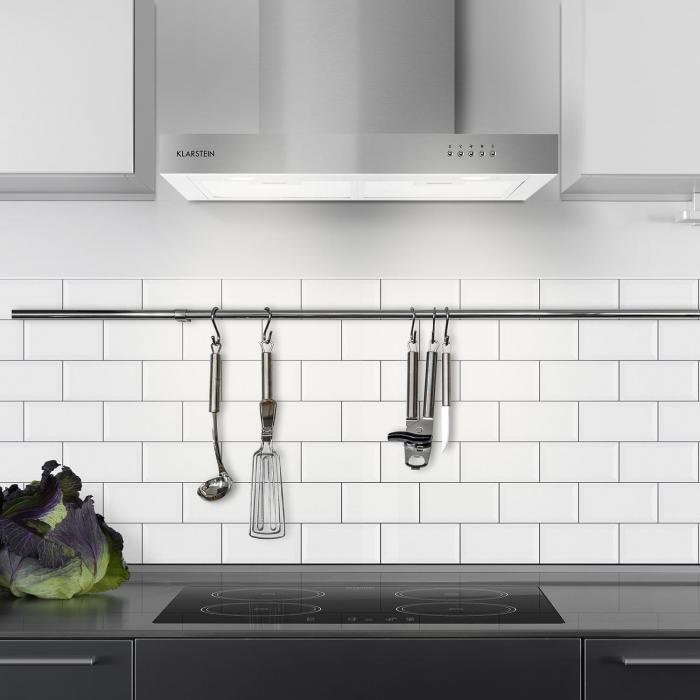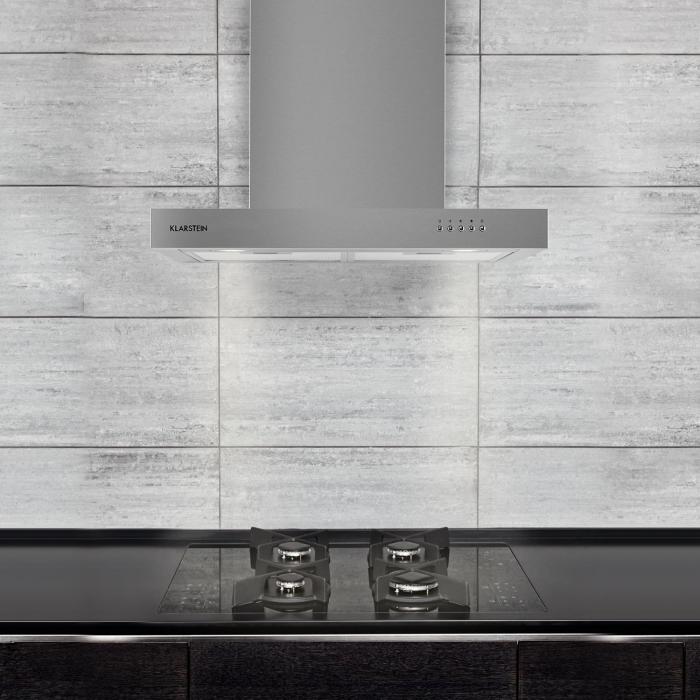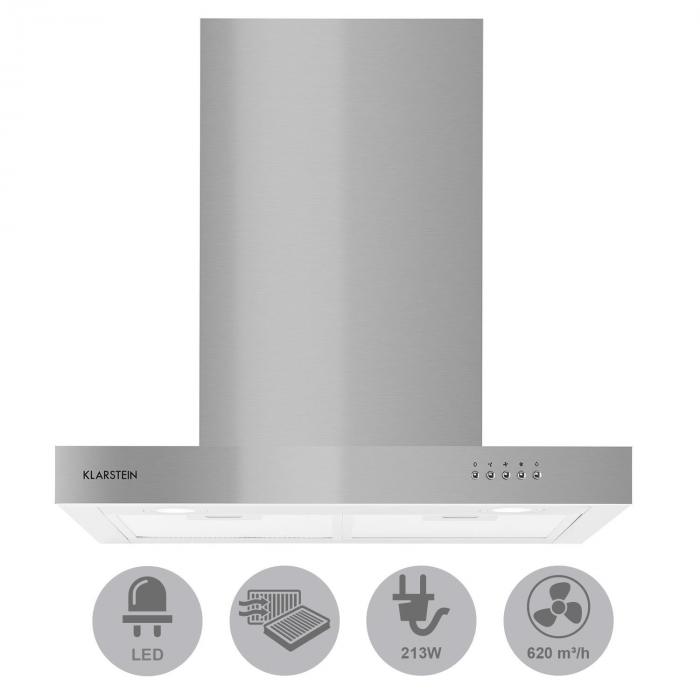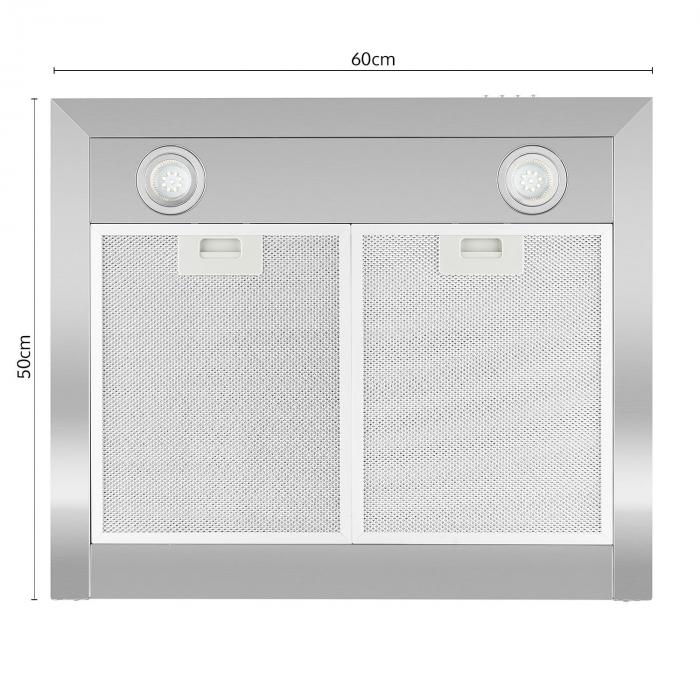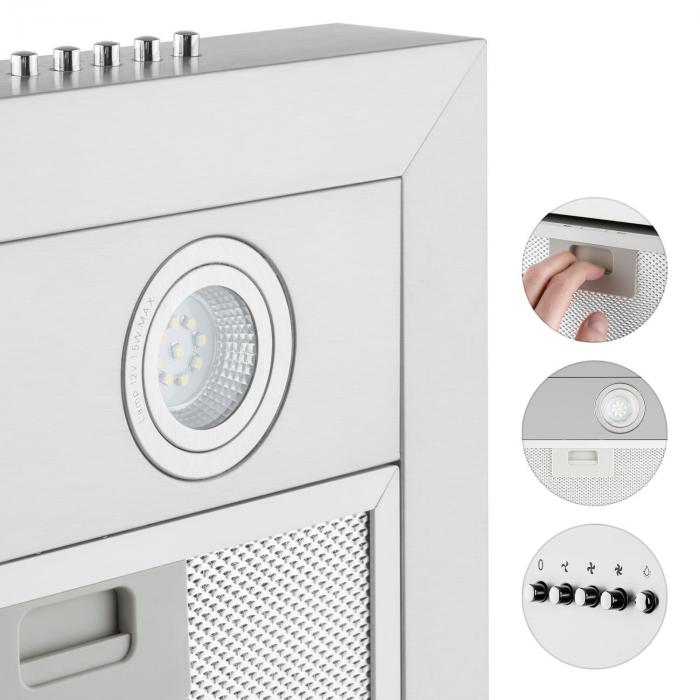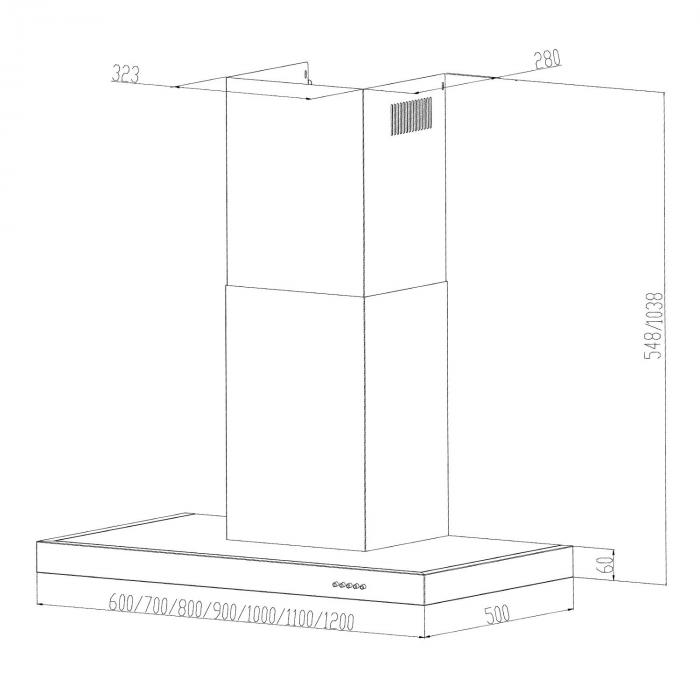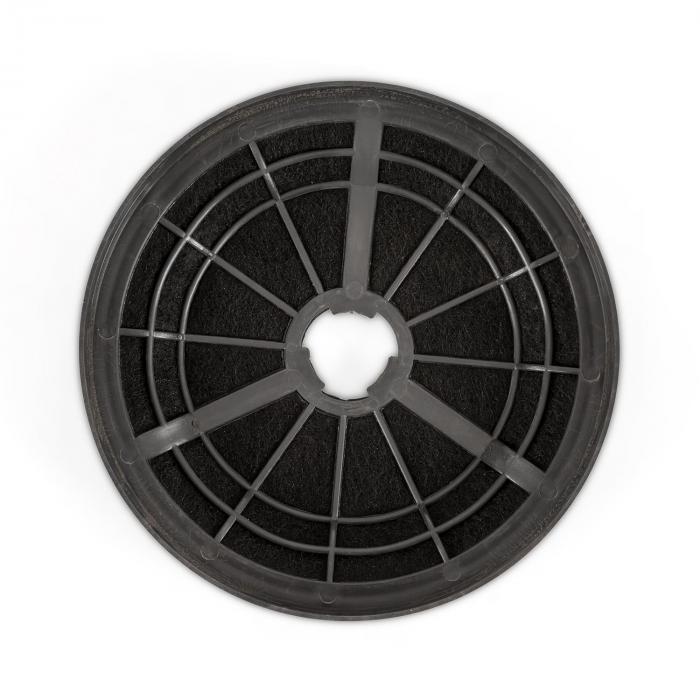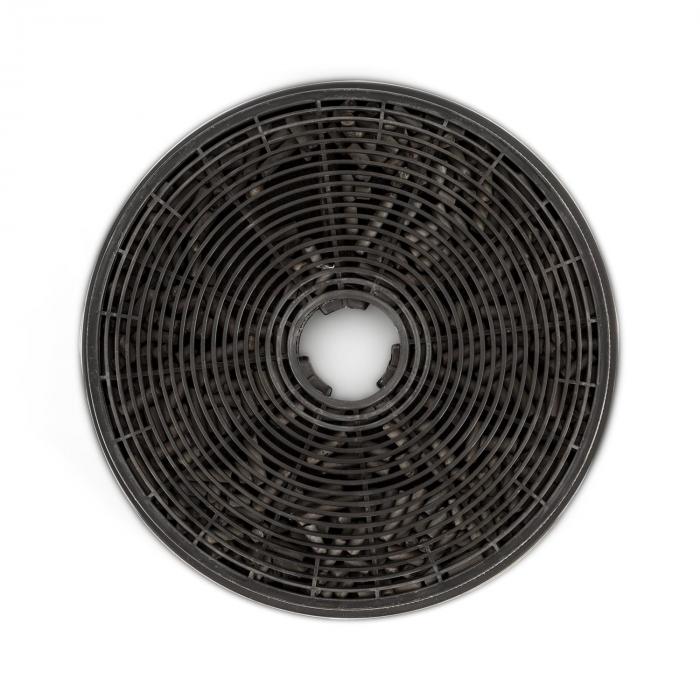 Item number: 60002280
Zarah Cooker Extractor Hood Recirculation Set Filter
You save 30%
Unfortunately, no articles are currently available
Top features
For small to medium kitchens: 60 cm mounted cooker extractor hood with 3 power levels
Powerful: maximum exhaust air output up to 620 m³ / h
Inclusive: with 2 activated carbon filters for conversion to recirculation mode
Shipping costs: from 0,00 €
The item is ready to ship and will be shipped immediately after receipt of payment.
Zarah Cooker Extractor Hood 60cm Recirculation Set 620 m³ / h Activated Carbon Filter
Text für Setartikel..
The Klarstein Zarah cooker extractor hood ensures that air, vapors and food odours are removed from the cooking area in small to medium-sized kitchens. For varying degrees of cooking activity, it can be operated with three different power levels. The highest power level conveys up to 620 m³ / h of exhaust air from the kitchen and is also ready to deal with the preparation of several courses. Both the volume and the power consumption are limited during operation.
The Zarah is a wall-mounted hood that fits elegantly into any kitchen environment with its simple design. With a width of 60 cm, it is also suitable for narrow kitchens and cooking surfaces. Ventilation and lighting are controlled via the front-side operating section. To protect the inside of the extractor hood and the exhaust air duct from contamination, the Zarah from Klarstein has two replaceable and dishwasher-suitable aluminium grease filters. The brushed stainless steel front encloses the hob without any hidden or hard-to-reach corners, making it extremely easy to clean.
The cooker extractor hood is mounted on the wall above the cooking surface (no ceiling mounting), and the necessary holder is included with delivery. With the flue duct made of stainless steel, the hood visually fits perfectly into modern kitchens. In dimly lit conditions, the switchable LED lighting of the Klarstein wall hood can be used in order to illuminate the cooking area underneath.
With the enclosed activated carbon filters, the extractor hood can be converted to recirculation mode.
Set consists of
Zarah Extractor Hood Stainless Steel Ventilator 60cm Wall Mounting 620m³/h LED
Item number: 10029385
Included quantity: 1
Top features:
60 cm extractor hood
Maximum air extraction rate up to 620 m³/h
LED lights (2 x 1.5 Watt) which can be turned off and on
Stainless steel housing and a flue duct
Suitable for wall mounting
Properties:
Energy efficiency class B
Grease filters made of aluminum, dishwasher safe
Lowest operating noise - 74 dB at highest setting
Mounting kit with wall brackets, dowels, and screws
Power: 213 W
Power supply: AC 220-240V, 50/60 Hz
Dimensions:
60 x 33.5 x 50cm (WxHxD not including flue duct)
Height: approx. 55 - 100 cm (including flue duct)
Diameter of the exhaust hose: 150 mm & 153 mm (Ø)
Length of power cable: approx. 1.45 m
Weight: approx. 10.9 kg
Active Carbon Filter for Klarstein Zarah /Zelda / Zola Extractor Hoods
Item number: 10030727
Included quantity: 1
Top features:
Delivered in pairs
Suitable for item 10029385 (Klarstein Zarah extractor hood)
Suitable for item 10029387 (Klarstein Zelda extractor hood)
Suitable for item 10029388 (Klarstein Zola extractor hood)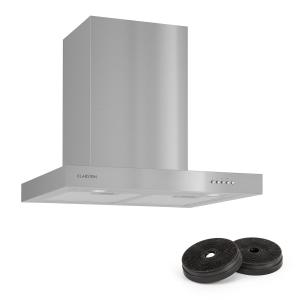 Zarah Cooker Extractor Hood Recirculation Set Filter
For small to medium kitchens: 60 cm mounted cooker extractor hood with 3 power levels
Powerful: maximum exhaust air output up to 620 m³ / h
Inclusive: with 2 activated carbon filters for conversion to recirculation mode
All purchases made between the 26th of October and the 31st of December can be returned till the 31st of January 2019.