Item number: 60002669
ShirtButler Pro Automatic Drying System Set
Unfortunately, no articles are currently available
Top features
2-in-1 system: automatic dryer and ironing system in one
Practical in a set: 2-piece set including drying attachments for shirts and trousers
No more stress: without drying line or ironing in 15 minutes to wrinkle-free trousers
Shipping costs: from 0,00 €
The item is ready to ship and will be shipped immediately after receipt of payment.
You may change your order at any time.
ShirtButler Pro Automatic Dryer System Shirt & Trousers 1200 W Timer
Text für Setartikel..
Wrinkle-free drying in just a few minutes: the Klarstein ShirtButler Pro automatic drying and ironing system drives the wrinkles out of clothing. From the washing machine directly to the dryer and ready to wear and ironed in a few minutes - the long-awaited solution for all modern households.
The 2-in-1 system enables the Klarstein ShirtButler Pro not only to dry clothes in a time-saving manner, but also iron clothes reliably. After the wash cycle, the items of clothing are simply pulled over a balloon body which is continuously filled with warm air by means of a 1200 watt heating element with a thermal safety system. Thanks to the selectable temperature, Easy-Dry technology and the breathable Oxford nylon material, all moisture escapes from shirts, blouses and T-shirts in just a few minutes. The five temperature levels from 30 to 70 ° C allow you to optimally respond to the clothing material. The 6-stage timer ensures the correct drying time so that both light and heavy items of clothing are reliably dried. An LED display shows the settings made at any time.
In a practical set of 2, the Klarstein Shirtbutler Pro 2-in-1 dryer system is equipped for drying and wrinkle-free ironing of shirts and trousers. The drying attachments can be changed flexibly and allow drying and ironing of a large number of items of clothing.
Wrinkle fighter and drying hero in one: the Klarstein ShirtButler Pro shirt & trousers dryer set is the must-have 2-in-1 household appliance of the day!
Please also note our range of accessories and sets for this product.
Set consists of
ShirtButler Pro Automatic Dryer System 1200 W 2-in-1 70 ° C Timer
Item number: 10034446
Included quantity: 1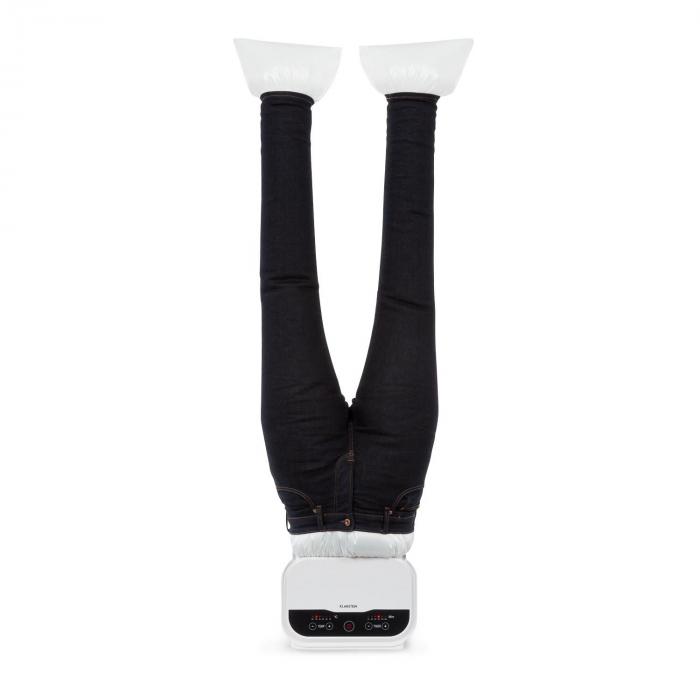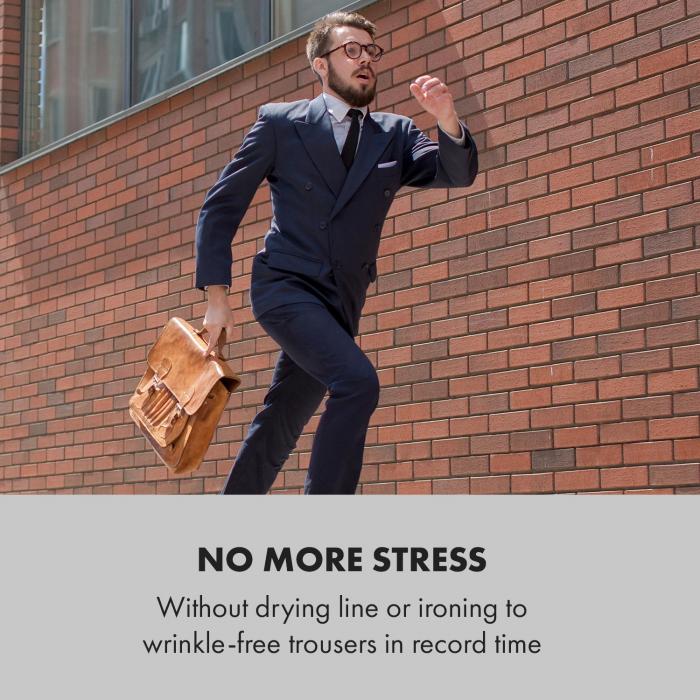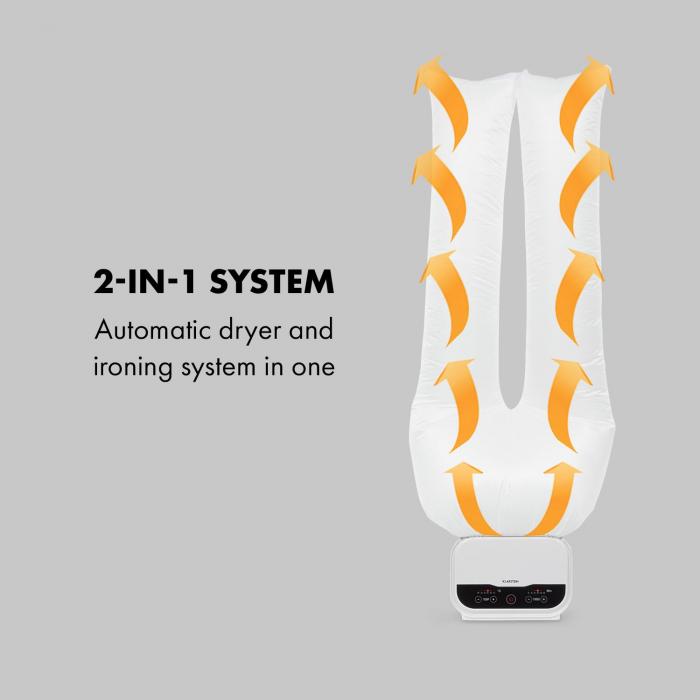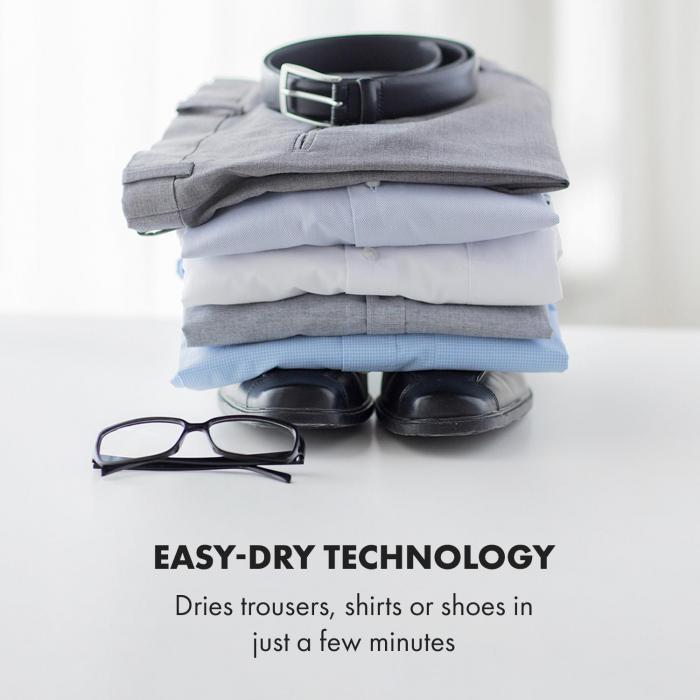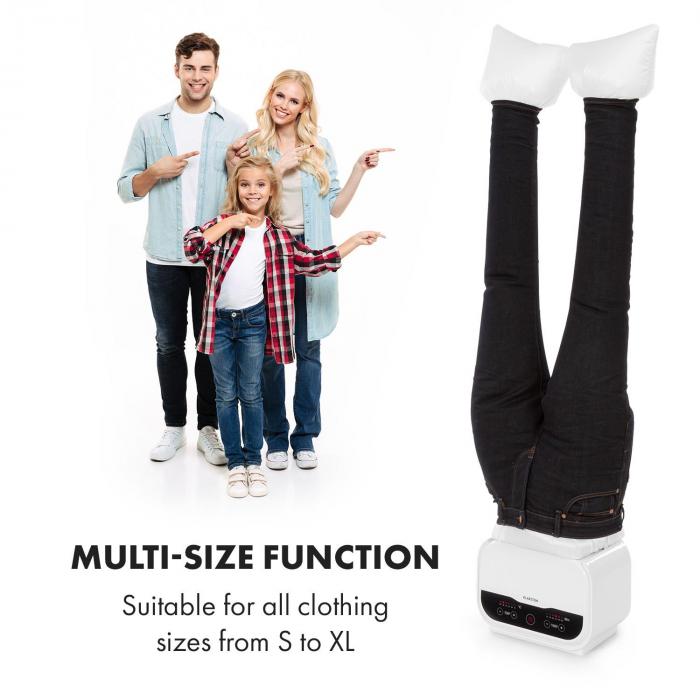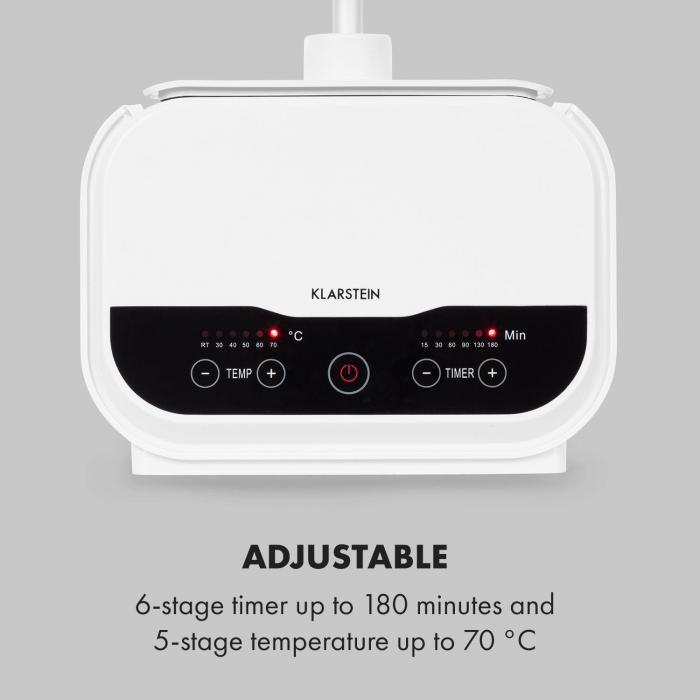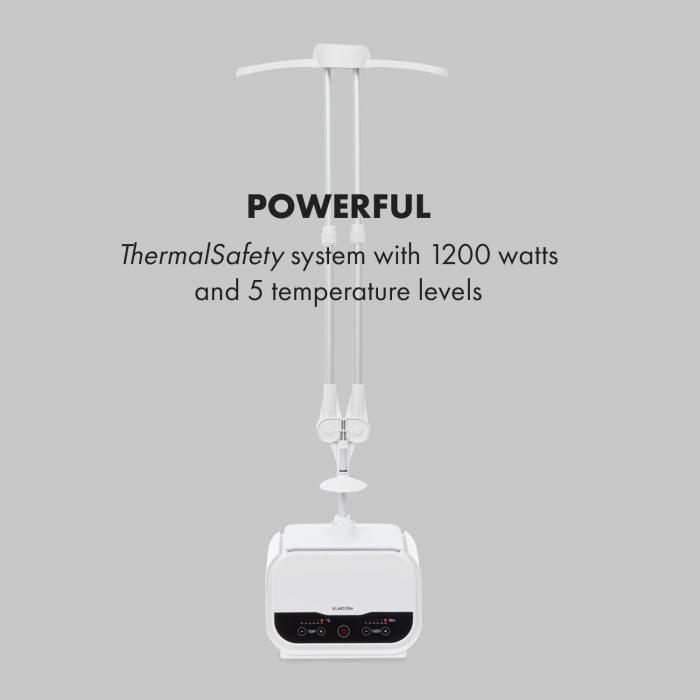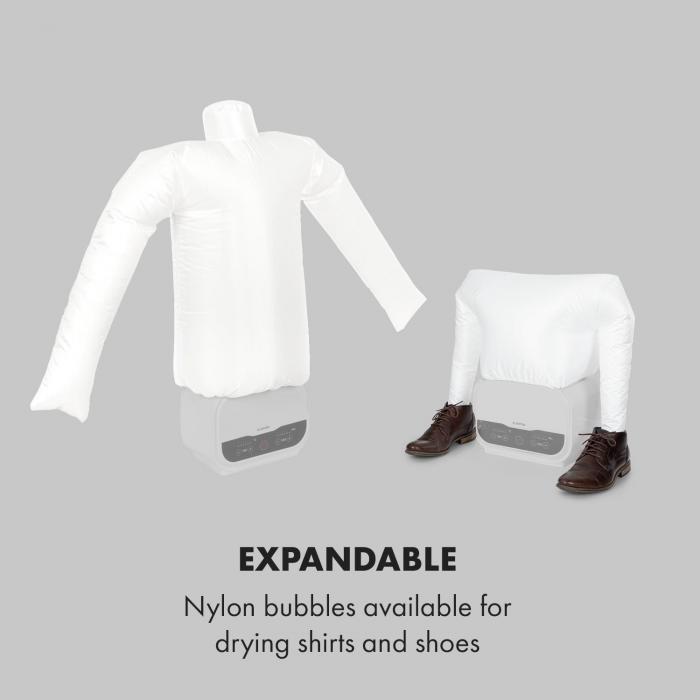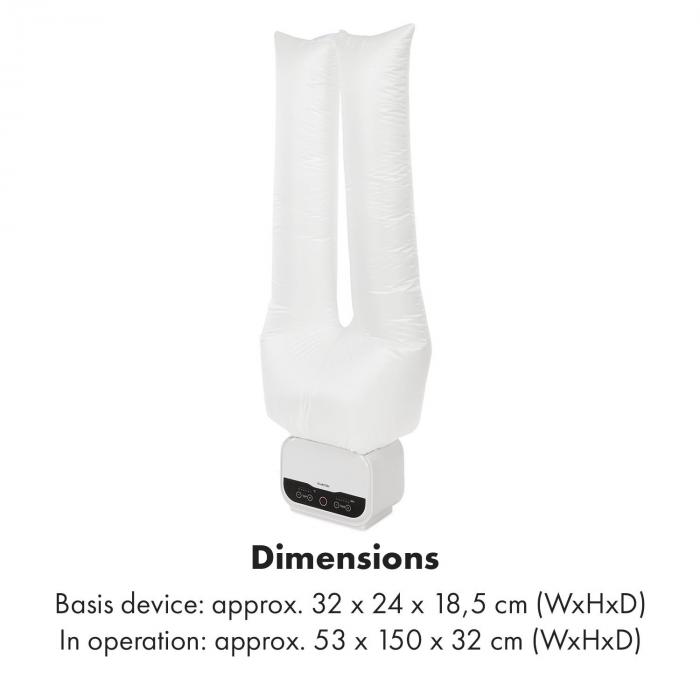 Top features:
2-in-1 system: automatic dryer and ironing system in one
No more stress: 15 minutes to wrinkle-free trousers without drying line or ironing
Easy-Dry technology: dries trousers, shirts or shoes in just a few minutes
Multi-size function: suitable for all clothing sizes from S to XL
Adjustable: 6-stage timer up to 180 minutes and 5-stage temperature up to 70 ° C
Powerful: Thermal Safety System with 1200 watts and 5 temperature levels
Expandable: optionally available nylon balloons for drying shirts and shoes
Properties:
Power 1200 watts
Touch control panel
Timer: 15/30/60/90/130/180 minutes
Temperature: 30/40/50/60/70 ° C
Drying air bag material: Oxford nylon
LED indicator light
Maximum weight: 2 kg
Power supply: 220-240 V ~ | 50/60 Hz
Dimensions:
Dimensions (in operating condition): approx. 53 x 150 x 32 cm (WxHxD)
Dimensions device base: approx. 32 x 24 x 18.5 cm (WxHxD)
Shoulder strap width: 44.5 cm
Cable length: 100 cm
Weight: approx. 3.1 kg
ShirtButler Pro Spare Shirt Accessory S-XL Nylon White
Item number: 10034633
Included quantity: 1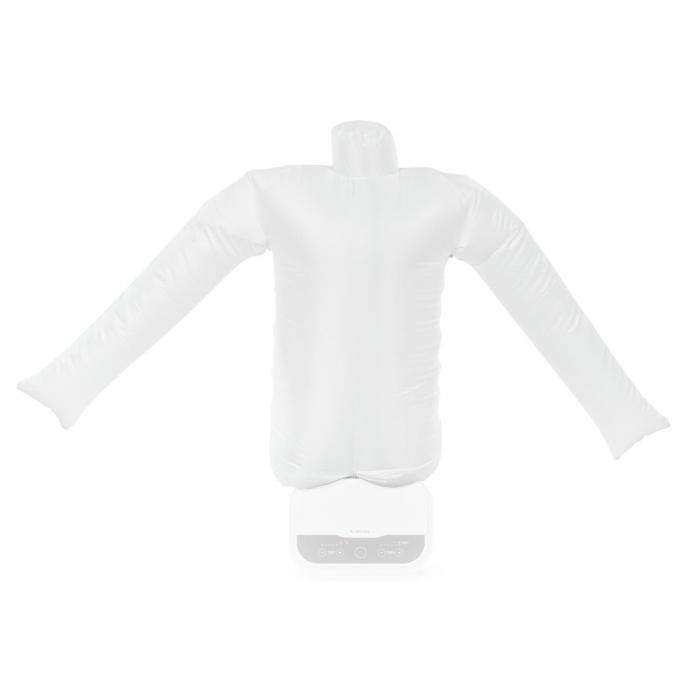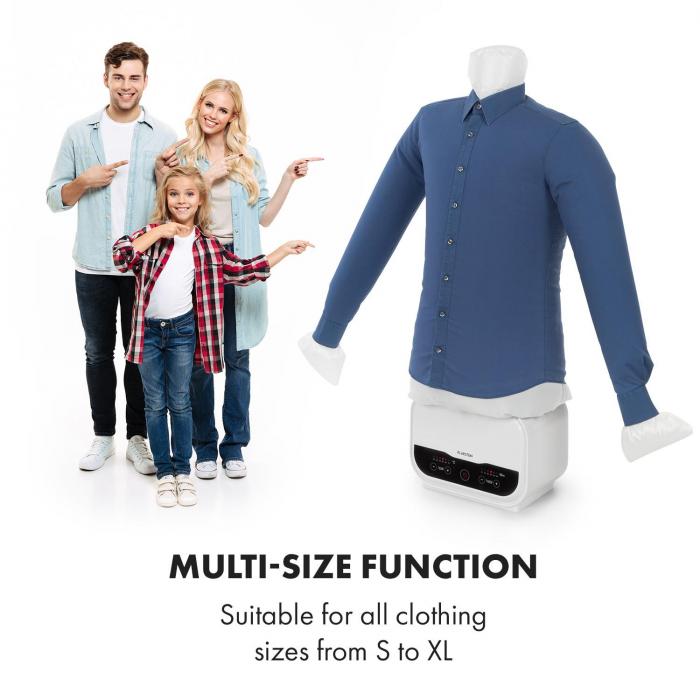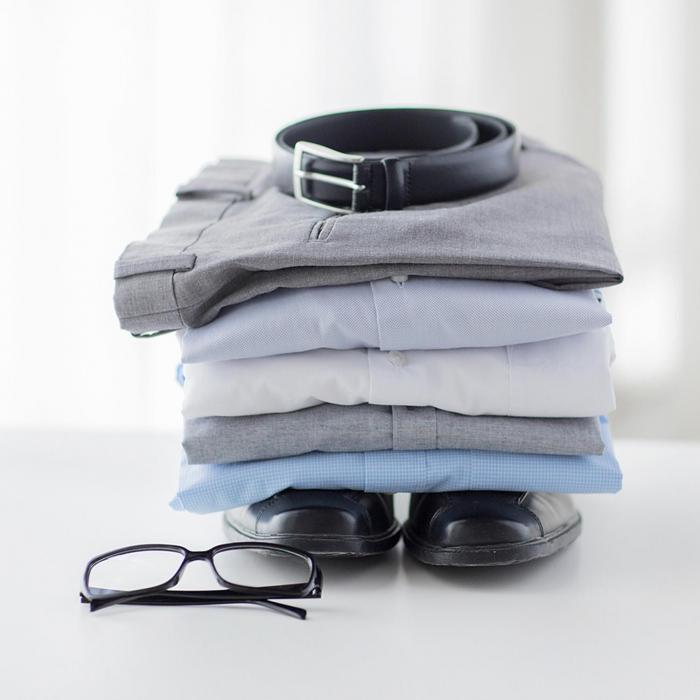 Top features:
Practical: Additional nylon balloon for the Shirtbutler Pro automatic drying and ironing system
For outer garments: dries shirts, T-shirts or blouses in just a few minutes
Multi-size function: suitable for all clothing sizes from S to XL
Properties:
Spare or accessory part for the Klarstein Shirtbutler Pro automatic drying and ironing system (article 10034446)
Zippers to enlarge the hull circumference
Material: Oxford nylon
Dimensions:
Height (unfilled): approx. 80 cm
Arm length: approx. 65 cm
Shoulder width: approx. 35 cm
Weight: approx. 120 g
ShirtButler Pro Automatic Drying System Set
2-in-1 system: automatic dryer and ironing system in one
Practical in a set: 2-piece set including drying attachments for shirts and trousers
No more stress: without drying line or ironing in 15 minutes to wrinkle-free trousers