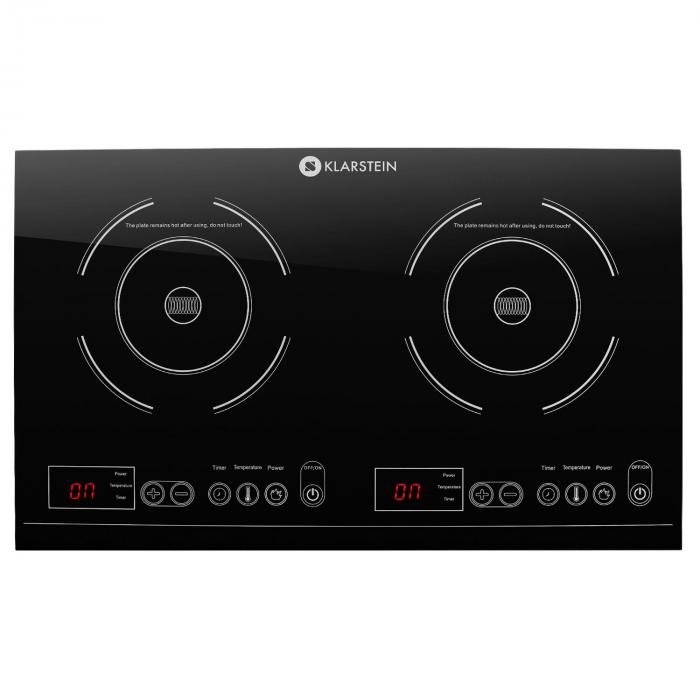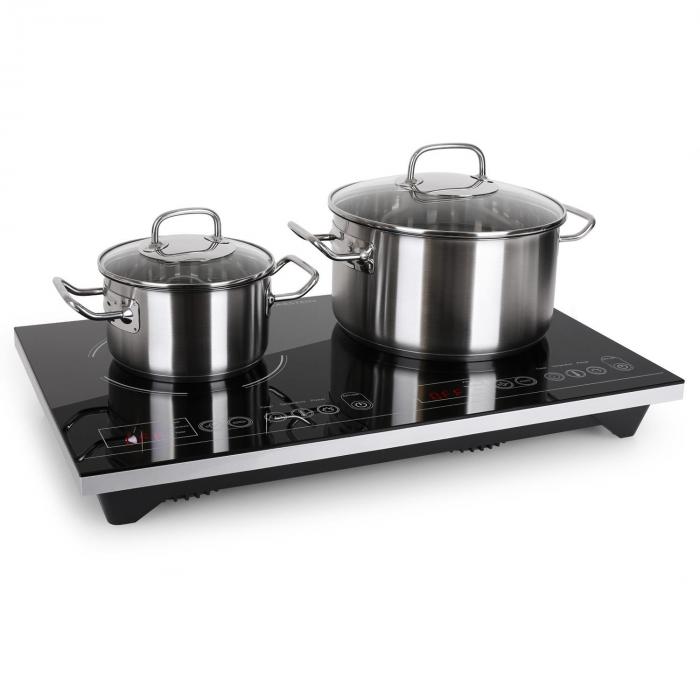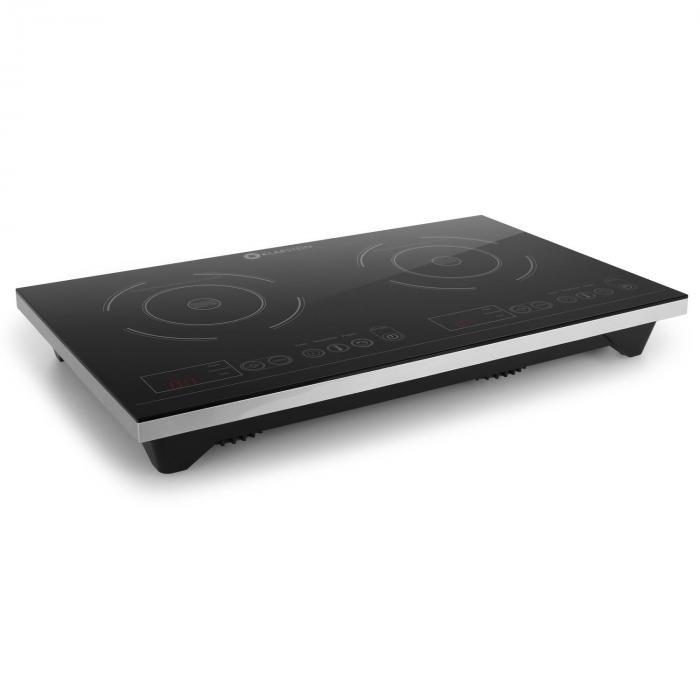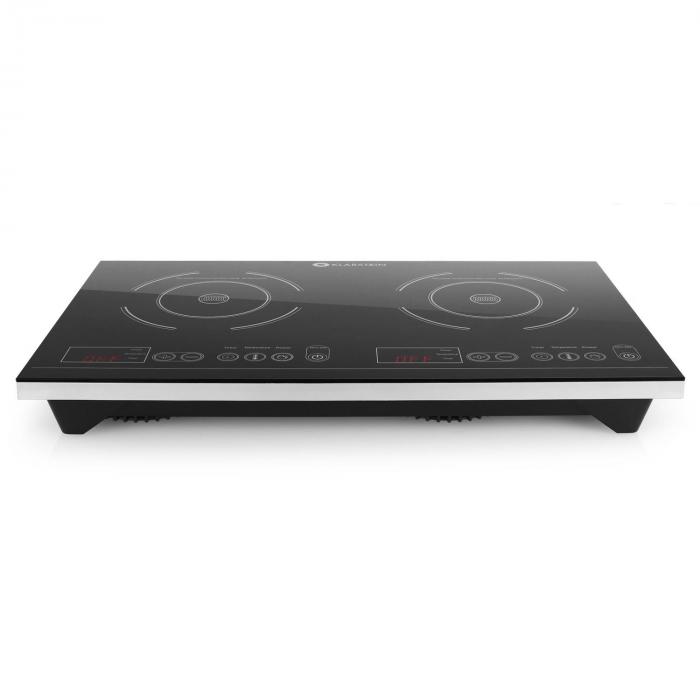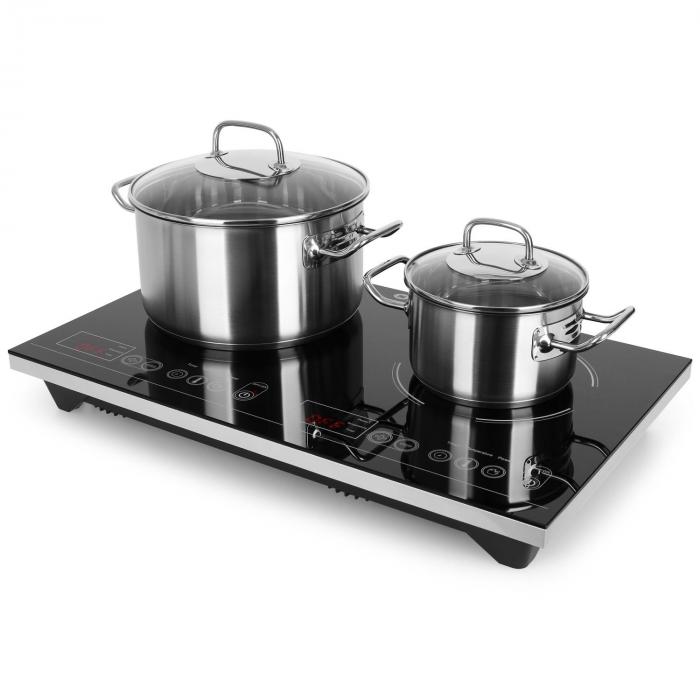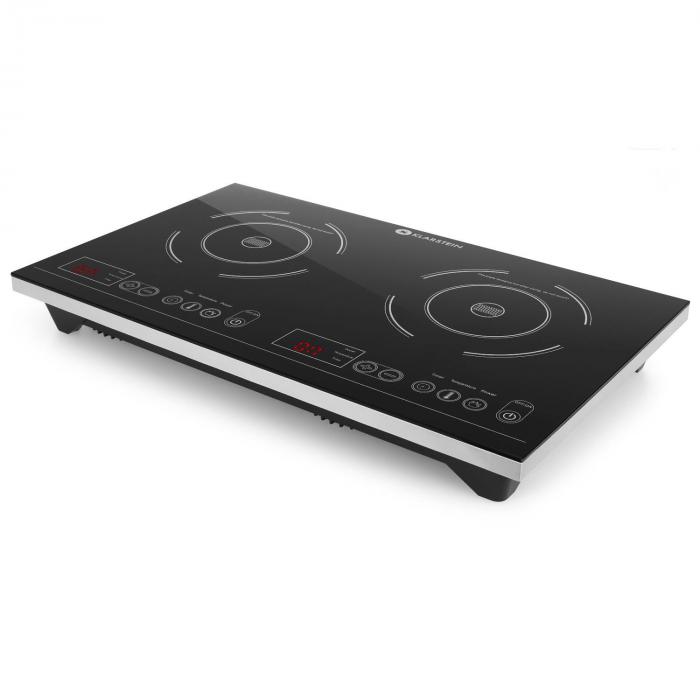 Manual
Item number: 10012197
VariCook XL Double Induction Hot Plate
You save 10%
Unfortunately, no articles are currently available
Top features
3100W strong 2-field induction hob -1300W, 1800W or max. performance
For cookware with a 12 - 26 cm diameter
10 adjustable power and temperature levels
Shipping costs: from 0,00 €
The item is ready to ship and will be shipped immediately after receipt of payment.
VariCook XL Double Induction Hot Plate 3100W Timer 240°C Touch
Modern double induction hob with 3100W power, 10 variable power/temperature levels and integrated timer. Suitable for cookware with a diameter of 12 to 26 cm.
The Klarstein VariCook XL is a hot-blooded induction hob with 2 cooking areas for the modern couple or small family household.
Whopping 3100W power can be accessed in 10 power levels as needed. Alternatively, power may also be controlled based on the desired target temperature between 60 and 240°C so that soups, stews and boiling water can be placed and held at a constant ideal temperature.

The device's highlight is the possibility of programmed cooking. Thereby the desired watt power or temperature may be coupled to the desired operating time so that when the cooking timer runs down, the device is automatically switched off. This is especially handy when cooking rice and pasta, casseroles or steaming vegetables to-the-minute. The Klarstein double induction field also has an alarm signal that announces the end of the program.
The setting of the various parameters is carried out easily and intuitively via the touch interface control and can be read easily on the LED display.

Designed to accommodate cookware from 12 to 26 cm, the induction hob is sufficiently large for the most common pot and pan sizes. The modern design makes the VariCook XL hob an understated, yet fashionable eye-catcher, whose glass surface reduces the resulting cleaning time to a minimum.

Due to its moderate proportions and flat design, the Klarstein VariCook XL is suitable for installation in all sorts of kitchen sizes and is a welcome chef in gardens or mobile homes.
User manual PDF
Product details
Top features:
3100W strong 2-field induction hob -1300W, 1800W or max. performance
For cookware with a 12 - 26 cm diameter
10 adjustable power and temperature levels
Adjustable timer - automatic shutdown
Touch interface control with LED display
Modern design and easy to clean
Properties:
Power levels: 200W, 400W, 600W, 800W, 1000W, 1100W, 1200W, 1400W, 1600W, 1800W
Temperature setting: 60-240°C - in 20°C steps
Timer function for automatic shut-off - 0:01 to 3:00 hours
Automatic pan detection
Low heat dissipation at ambient
Overheating protection
Double-ventilation cooling
Acoustic signals
LED display
Non-slip rubber feet
Off switch
Power supply: 220-240V, 50/60Hz
Scope of delivery:
1 x Device
English manual (other language: German)
Dimensions:
60 x 7 x 36cm (WxHxD)
Weight: about 5.6 kg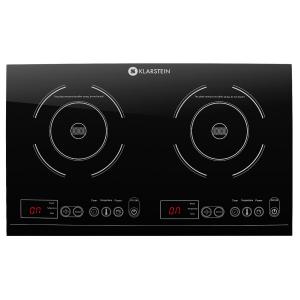 VariCook XL Double Induction Hot Plate
3100W strong 2-field induction hob -1300W, 1800W or max. performance
For cookware with a 12 - 26 cm diameter
10 adjustable power and temperature levels